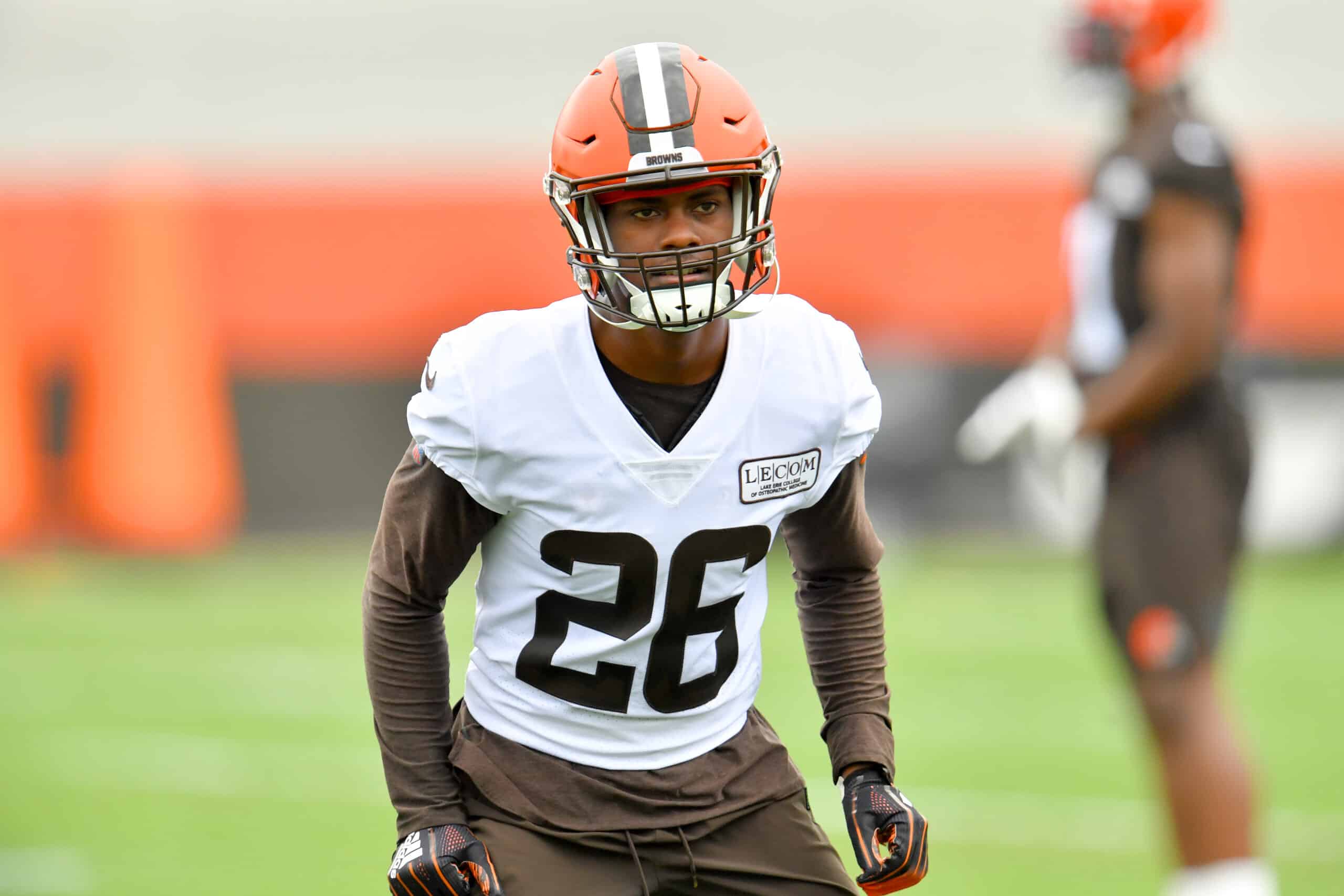 It was a great sight to see both Greedy Williams and Grant Delpit in organized team activities this week.
They were in helmets and participating in drills for the first time since last August.
#Browns Grant Delpit and Greedy Williams have helmets on and are participating in drills at OTAs

— Mary Kay Cabot (@MaryKayCabot) June 9, 2021
Last season, Williams and Delpit went down with season-ending injuries during training camp.
They were mainly during defensive activities on Wednesday and dialed it back when it came time to do 11-on-11 drills.
Obviously, the Browns are going to ease them back into action, but it's great to see both players back at practice.
Williams Return
The Cleveland Browns are eager to get Williams back after he missed all of last season due to a nerve issue in his shoulder.
He attempted to practice in September, but his shoulder wasn't ready yet.
However, Williams is back now and is ready to compete and get back to playing the game he loves.
"I definitely feel like myself,'' he said. "When I'm out on the field, I don't really think about my injury. I'm just ready to compete." "It's a great feeling,'' Williams said. "Just being reunited with the team, going through the drills with them and things like that, it gives you the happiest moments."
Greedy Williams says he's 'fully prepared' for comeback after missing 2020 season

📰 » https://t.co/Y6GtBtWe5c pic.twitter.com/uRUXxKvBL9

— Cleveland Browns (@Browns) June 9, 2021
Cleveland isn't quite sure what they will get out of Williams during the 2021 campaign.
His rookie campaign was a disappointment, Williams recorded 47 tackles and two passes defended in 12 games.
It sounds like Williams is excited to get back on the field and hopefully the results are better this time around.
The Emergence Of Newsome
Cleveland is hopeful that Williams can be a key contributor, but brought in some reinforcements anyway.
The Browns used their first round pick in the 2021 draft to select defensive back Greg Newsome.
He was graded as one of the top defensive backs in the league, but somehow fell to the Browns at No. 26 on draft day.
The good news is, Williams is happy that the Browns added Newsome and appears eager to work with the rookie.
"I feel like the team made a great decision on what they need,''

Williams said

. "Last year, we were lacking at depth in cornerback. Just trusting (GM Andrew) Berry and the coaching staff and the organization to build a great team that will give us a chance to compete for that trophy."
It's uncertain which of the two is going to be the starter heading into the regular season.
However, both players should have a significant role on the defense, assuming they stay healthy.
Browns fans should be happy that Williams and Delpit are finally going to be able to contribute in 2021.