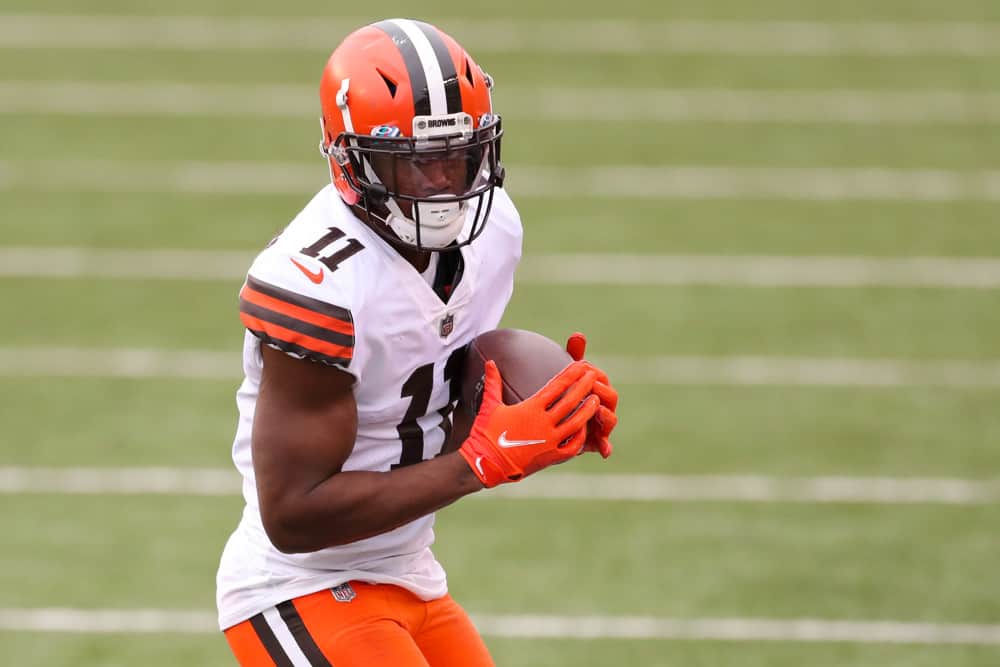 Donovan Peoples-Jones is entering his second season with the Cleveland Browns.
DPJ was an instrumental part of the Browns success in 2020 on both special teams and offense.
The 6th round pick in the 2020 NFL Draft out of Michigan is just starting to fulfill the high hopes Urban Meyer believes he is capable of in the NFL.
Meyer was always impressed by DPJ; he offered him a scholarship to play at Ohio State.
"I still think that guy should be a top-10 draft pick. I think he's that good…I coached against him. He's one of the best punt returners…In high school, Donovan was one of the best receivers I've ever seen."
Here are three bold predictions for DPJ in 2021.
1. At Least One Game-Winning TD
This is a repeat achievement from 2020 so that's why it is phrased as "at least one".
There is a possibility for more than that.
DPJ's great hands caught the game winner against the Bengals.
THE ROOKIE DONOVAN PEOPLES-JONES GAME WINNER🔥

— PFF College (@PFF_College) October 25, 2020
Everyone hones in on OBJ, Jarvis Landry, Rashard Higgins, and the arsenal of tight ends, but this is the year that the Browns will utilize DPJ more in the midst of all of that offensive weaponry.
2. Special Teams TD
His longest kick return was 33 yards in 2020, and the longest punt return was 13 yards.
DPJ had 18 kick returns and 18 punt returns with 379 and 77 yards respectively.
In his second year and now that he is more settled into his special teams role, this is the year he will take one to the house.
DPJ will have the added maturity and experience to take the advice of his special teams coordinator given last October.
At that time, Coach Priefer said:
"I told him to play faster, cut it loose, believe in your talent."
3. Second Highest Receiver on Browns Team in 2021
DPJ ranked fifth in receiving yards in 2020 with 304 yards and 20 targets.
He maximized his opportunity with 14 catches on those 20 targets.
Rookie WR Donovan Peoples-Jones had zero NFL catches entering today. He posted 3/56/1 vs. the Bengals.

He had 3 targets (all in the 4th Q) and made the most of them:

19 yard catch, 1st down
13 yard catch, 1st down
24 yard catch, GW TD#Browns

— Dane Brugler (@dpbrugler) October 25, 2020
DPJ finished behind Landry, Higgins, Hooper, and OBJ.
He had significantly less targets than the other four.
Consider that Landry had 101 targets, and the rest of the players ranked ahead of him had at least twice as many targets as DPJ.
In 2021, he will jump a few places and finish second because he will not only get more targets, but he will also convert those targets into big plays.
DPJ's future is bright, and 2021 is the year he breaks through with significant achievements.