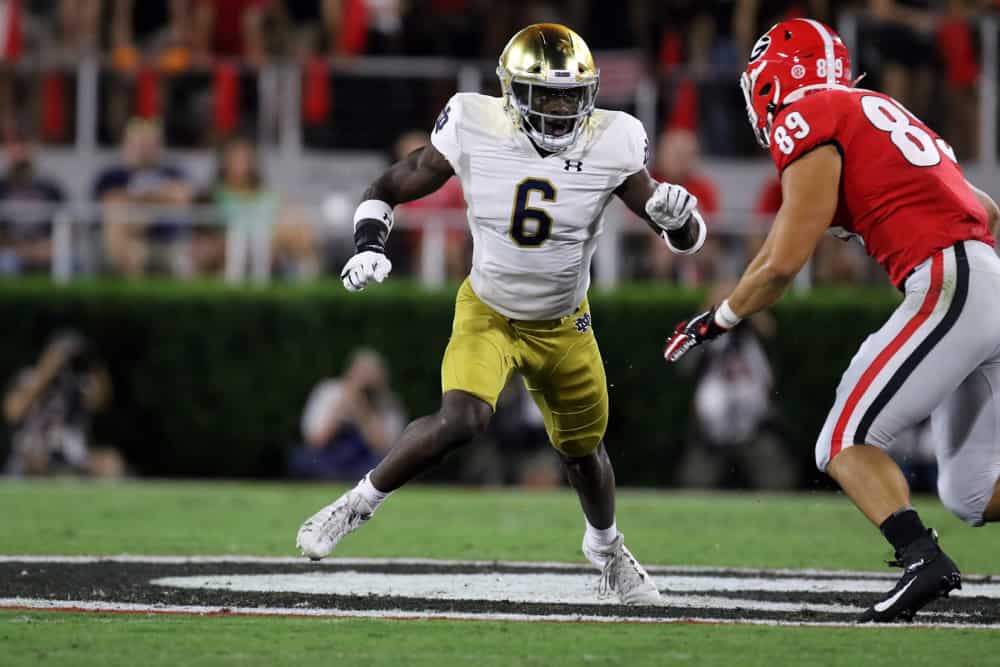 The Cleveland Browns continue to tick away at signing their 2021 draft picks.
Today, the team signed the sixth of their eight draft picks.
Linebacker Jeremiah Owusu-Koramoah (JOK) from Notre Dame signed his rookie contract.
God I love Jeremiah Owusu-Koramoah

— Thor Nystrom (@thorku) April 6, 2021
High Hopes
Of course, the Browns have high hopes for all of the draft picks; however, JOK is one whom higher hopes and expectations are placed upon his shoulders.
Analysts considered him a first round pick that inexplicably fell to the second round so the Browns traded with the Bears to move up seven spots to 52nd overall to draft JOK.
Browns snag JOK at FIFTY TWO?

OK, wrap the draft up, they win.

— Sam Monson (@PFF_Sam) May 1, 2021
JOK is the winner of the 2020 Dick Butkus Award given to the top linebacker in college football.
Following the selection, GM Andrew Berry talked about how JOK can help the Browns.
"We really do see him as the classic fit in this defense at WILL (weak inside) linebacker because of his range, speed and coverage ability. I think the other thing with Jeremiah is his versatility as well. They really walked him out as a nickel or dime, played him at WILL, played him at MIKE, and so that allows us to get creative when we get into some of our different personnel packages. It makes it very difficult for the offense to identify the front."
JOK has already impressed some of his new teammates.
Anthony Walker, the free agent linebacker from the Colts, who joins the Browns in 2021 praised JOK for his raw skills.
"Elite athlete as far as explosiveness, quickness, speed, instincts and all of that stuff, he has all of the tools. Now, it's about transitioning the game to the NFL level. We all struggle with it coming in from college and now you're seeing a pro-style offense and understanding different route concepts and all of that stuff.''
Let's hope JOK can handle the expectations and pressure while making the leap from college-level to NFL competition.
Remaining Draft Picks To Sign
With JOK's contract finalized, that leaves only first round draft pick defensive end Greg Newsome II and third round draft pick wide receiver Anthony Schwartz's deals to be completed.