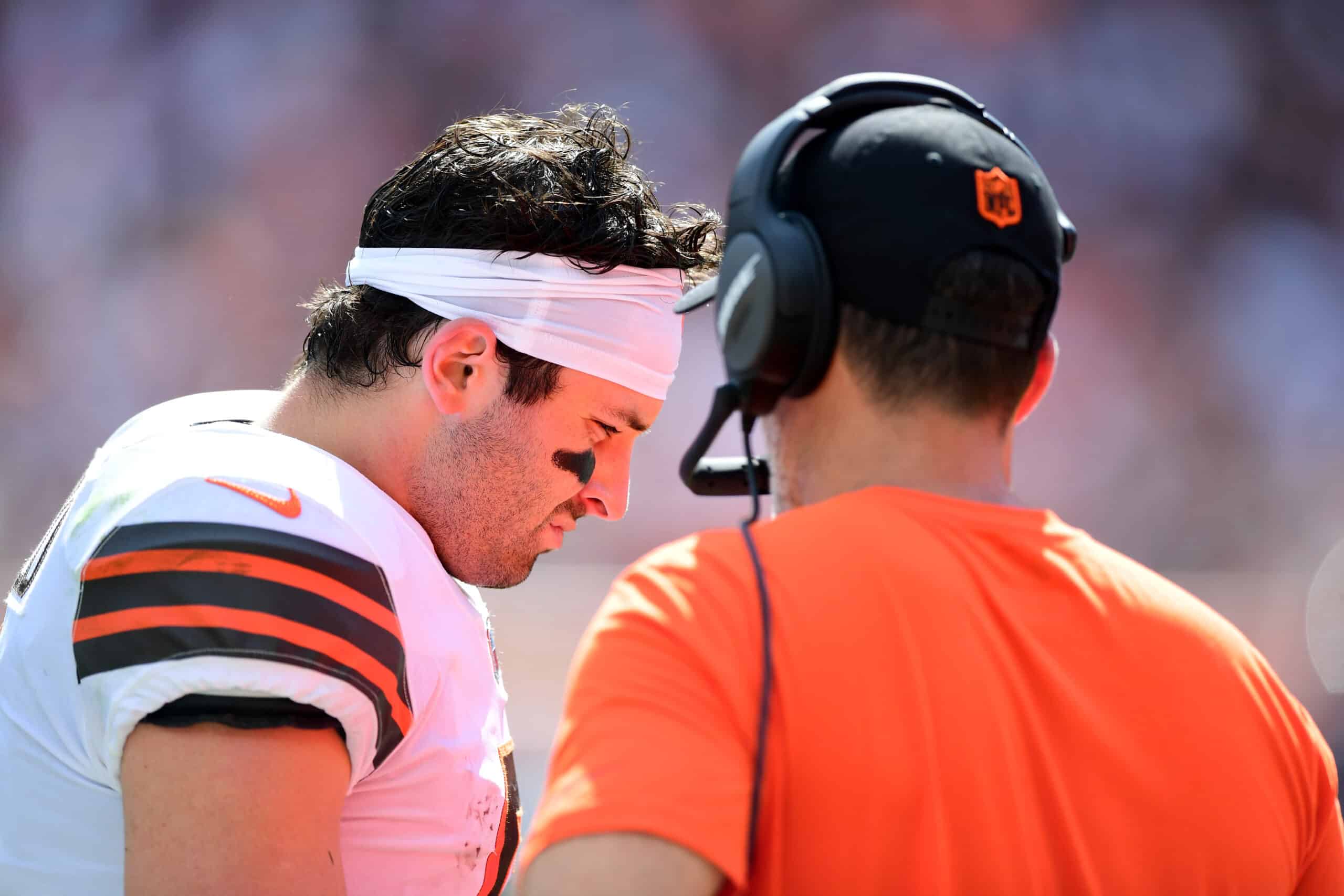 Kevin Stefanski struts into his old stomping grounds this weekend trying to lead his team to a third straight victory.
Minnesota won for the first time last week, but the Cleveland Browns can't take them lightly.
Only an overtime fumble and a missed last-minute field goal keep the Vikings from being 3-0.
#Browns HC Kevin Stefanski on returning to Minnesota to face the Vikings in Week 4: "It's really going to be a great challenge for our team. I understand what's at stake. It's a really big game against a really good team."

— 92.3 The Fan (@923TheFan) September 27, 2021
And quarterback Kirk Cousins is off to a career-best start with 8 touchdowns and 0 interceptions.
Stefanski downplays his return to Minnesota as just another game Cleveland has to win.
But it is hard to imagine there isn't a little extra urgency, and maybe a few tricks, in this week's offensive game plan.
This has the makings of a full-on shootout unless the Week 3 defenses show up.
The Browns held the Bears to 47 yards of offense.

It's the fewest yards Cleveland has allowed since 1946.

Yep. 1946. pic.twitter.com/INXzzeEOZK

— NFL on CBS 🏈 (@NFLonCBS) September 26, 2021
Minny held the Russell Wilson-led Seattle offense to 13 points and the Browns held Chicago to 47 yards of total offense.
Something has to give in this Week 4 matchup in the Great White North.
Here are 3 bold predictions for the Browns versus Vikings game.
1. Baker Breaks Out With 3 Touchdown Passes 
Baker Mayfield was a little off the mark last week, posting a mediocre 19/31/246 passing line.
Chicago's front 7 harassed Mayfield consistently all day, registering 5 sacks and double-digit hurries.
Mayfield scrambled for several first downs but overthrew a bunch of receivers while on the run.
It was the kind of performance we don't expect with the league's best offensive line protecting the passer.
This @bakermayfield spin move was nasty! 🔥

📺 NFL Game Pass | @Browns pic.twitter.com/Jhl70bczYt

— NFL UK (@NFLUK) September 26, 2021
And that is why Mayfield will have an excellent time of things come Sunday.
Cleveland's offensive line will not allow Mayfield to get rushed and chased two weeks in a row.
Stefanski's running game will be front and center, but Mayfield will make the most of his passing opportunities.
Mayfield's dearth of touchdown passes starts to correct itself with a multiple score game against Minnesota.
2. Browns Cause Cousins' First Pick
Cleveland's pass rush got to the quarterback consistently last week, using motion to accent their speed and power.
The front-4 made the secondary look better, and Jeremiah Owusu-Koramoah's breakout performance iced the cake.
Now they face an offensive line who thinks they finally figured things out.
In Week 1, the Vikings offensive linemen had 13 penalties and allowed 10 pressures, including 3 sacks.
Through three weeks of play, the Arizona Cardinals and Cleveland Browns are the only teams ranked among the top seven in both total offense and defense.

— Brent Sobleski (@brentsobleski) September 27, 2021
The following week, they improved their PFF score from 27.4 to 56.6 before posting a solid 76.9 rating vs. Seattle.
Kirk Cousins had his best game as a Viking with that third-week effort and the team expects that to continue.
But it won't as Myles Garrett and friends give Cousins little time to make plays, bringing him back to earth for a while.
And Cleveland's vaunted pass rush will get an assist on Cousins' first interception of 2021.
3. Nick Chubb's First 100-Yard Game
Cleveland's offensive linemen aren't the only players unhappy with their effort against Chicago.
The Bears held Nick Chubb to a subpar 3.8 yards per carry on the day.
Chubb handled 22 carries, a season-high, but could not get the wheels rolling against a run-prevent defense.
It didn't help Chubb's psyche when Kareem Hunt managed 8 yards per carry against the same defense.
#Browns RB Nick Chubb is averaging 5.5 rushing yds/att (48 att) and RB Kareem Hunt is averaging 5.7 rushing yds/att (29 att) thru 3 games. pic.twitter.com/873lxyV3S0

— MoreForYouCleveland (@MoreForYou_CLE) September 28, 2021
Winning is all that matters, and Chubb will gladly take a win over a 100-yard rushing day.
But that doesn't mean he won't come out looking to re-establish himself against the Vikings.
Chubb will carry defenders all over the field if he has to in a bounce-back effort.
But his determined offensive line will make that unnecessary as Chubb goes for 100 yards on just 17 carries.