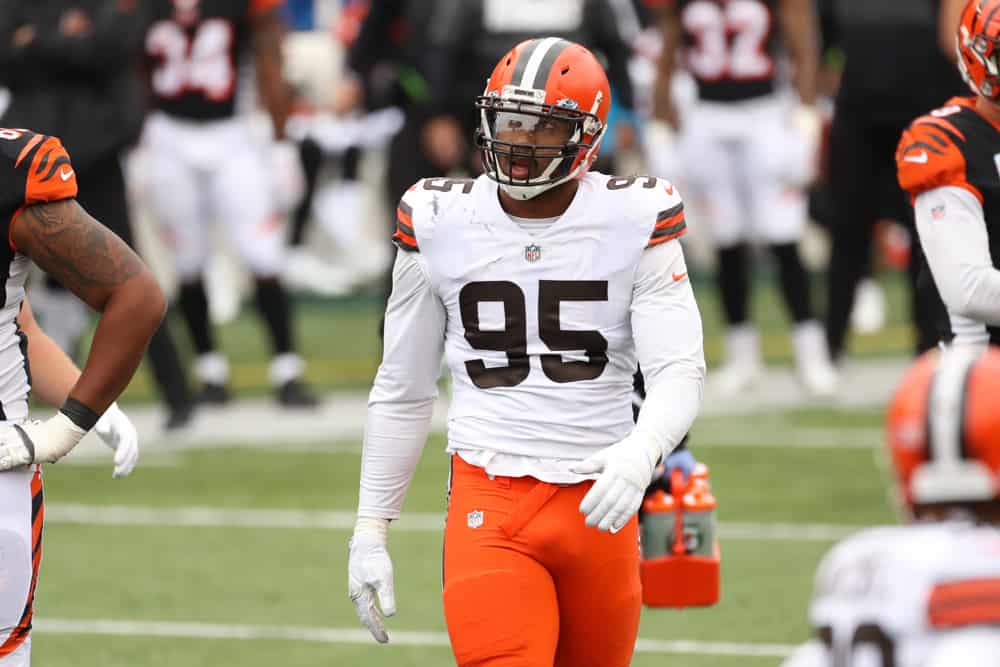 By now everyone has heard that Cleveland Browns defensive end Myles Garrett broke the franchise record for sacks in a single game.
He tallied 4.5 sacks in the Browns Week 3 game against the Chicago Bears.
Myles Garrett, the Destroyer of Worlds. pic.twitter.com/kixHy7rZDK

— Michael Killi (@MikeKilli) September 28, 2021
Garrett has been with the Browns since 2017 when the Browns selected him first overall in the 2017 NFL Draft.
The Browns roster, in all three facets: offense, defense, and special teams, is loaded with superstars.
Trying to select the best player on the entire roster could be considered challenging with all the talent to choose from.
That being said, Myles Garrett is the best player on the entire Browns roster.
It's not just me saying it; Coach Stefanski agrees.
#Browns Kevin Stefanski said Myles Garrett knows they need him to play great each week:

"He's our best player."

— Camryn Justice (@camijustice) September 27, 2021
Here are the reasons why.
1. Performance
Garrett has played in 54 career regular season games.
He has started in 52 of them.
In those games, he has 115 solo tackles, 51 assisted tackles, 92 quarterback hits, and 48 sacks.
He is just 14 sacks away from breaking the franchise record for sacks held by Clay Matthews.
After Myles Garrett history game, setting the Browns franchise record for sacks in a game, he is only 14 sacks shy of tying Clay Matthews(62) for the Cleveland Browns All-Time Franchise record!

Can he break it this year???👀👀 pic.twitter.com/CgBwz7AsFa

— Dangerous80 Podcast (@Dangerous80Pod) September 28, 2021
Doing the math shows that he is a force to be reckoned with in every game.
Every offensive coordinator facing the Browns has containing Myles Garrett as his number one task.
2. Heart And Soul
Going into 2021, we have seen a more reflective Myles Garrett.
He seems aware of the moment and the talent of the team surrounding him.
Garrett is just 4 years removed from a winless rookie season.
He wants to bring a championship home to Cleveland a la LeBron James when he was with the Cleveland Cavaliers.
His very presence with the Browns attracted the likes of free agents Takk McKinley, Jadeveon Clowney, and John Johnson III to name a few.
They wanted a chance to play with him in Cleveland.
Another example of his leadership and heart was on display last week leading up to the Bears game.
He knew the defense had not been playing as well as it could or should.
What did he do?
He called out his defensive teammates and urged everyone to step up in a shirtless interview.
Not everyone could get away with doing that without ruffling feathers.
Garrett did, and it worked.
3. When He Is Less Than 100%, The Team Suffers
While it was a different roster of players in 2020, the Browns defense suffered mightily as Myles Garrett missed games because he contracted COVID-19.
Even when he came back and was visibly less than 100%, the defense did not have the edge or polish it has when a healthy Garrett is on the field.
His athleticism is often discussed and sometimes taken for granted.
When the speed and power were not there, it was difficult for the Browns to navigate those games.
Myles Garrett admits he was operating at 50% after COVID-19 because of his asthma and how much it hurt to lose a shot at #NFL Defensive POY https://t.co/TVy7IPorWh

— Mary Kay Cabot (@MaryKayCabot) June 2, 2021
Conclusion
Some people will say that Garrett cannot be the best player on the team because he does not score points.
Though Garrett has recovered fumbles, he has never scored a touchdown as a Brown.
However, he prevents opposing teams from scoring points with his play.
Yes, there is the argument that defense does not win Super Bowls, but that is not 100% true.
Good defense keeps teams in the game when the offense is not clicking.
That is exactly what happened with the Browns against the Bears.
The offense struggled initially, but the defense stepped up and kept the game under control until things turned around.