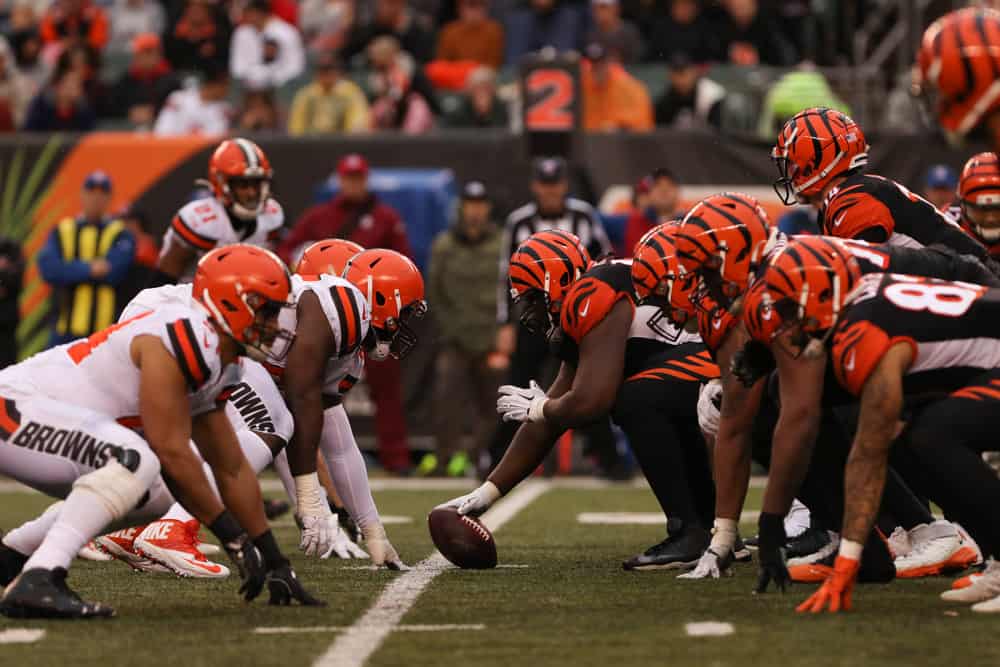 On Sunday, the Cleveland Browns will travel to Cincinnati for the second installment of The Battle of Ohio in 2020.
The Browns need to rebound from the total beat down they got from the Steelers last week.
Cleveland is a respectable 4-2, but this game is huge.
There is a big difference between going to 5-2 or falling to 4-3 in an extremely competitive AFC North division.
Here are 3 key Browns players that can help secure that win in Cincinnati.
1. Andy Janovich
Everyone expected Baker Mayfield to be the top name on the list.
And yes, he has to play well, but the difference between the middle 3 games and the season opener and last week's is that Baker's supporting cast helped him tremendously.
This is where Andy Janovich comes into the picture.
I had high hopes when I heard Janovich was signed by the Browns.
But I have yet to understand how they plan to use him.
He is versatile and could be playing a lot more minutes.
For instance, he could provide extra blocking for Kareem Hunt.
He could block for Mayfield.
Catching short passes would be possible too.
It's not his stats that I think need to be huge (but it would be nice).
Rather, it's his presence on the field and able to lend a body and hands particularly with Nick Chubb out.
He had a big role in the first game against the Bengals so it's not a reach to assume he will have a big role again on Sunday.
2. The Browns Tight Ends
Okay, technically, I didn't pick a player but instead a position.
For the same reasons that Janovich needs to get involved so do the Browns' tight ends.
The Browns are stacked here so getting Hooper, Bryant, and a semi-disgruntled Njoku in the game plan is a good idea.
Short passes, blocks, trick plays, and tacking on yards after the catch are necessary.
#Browns TE Austin Hooper has 5 catches in each of his last 3 games pic.twitter.com/hDFjjy8Fpw

— MoreForYouCleveland (@MoreForYou_CLE) October 18, 2020
Everybody knows that Coach Stefanski loves to use multiple tight end schemes.
Now is the time especially with Chubb injured.
Here's Harrison Bryant's offensive snap counts in the three games Njoku missed: 52%, 63%, 69%. And that's going up each week. Cleveland won all three games. So keep Harry B playing. He's not stuffing the fantasy stat sheet but he's helping his team secure the win. https://t.co/avqhQWJlWL

— Jake Elman (@JakeElman97) October 9, 2020
3. Myles Garrett
Come on, this is not a surprise pick.
Garrett is having a great year overall.
He sets the tone for the defense and is their leader.
When he gains traction in a game and starts to dominate, it seems like the rest of the defense steps up their play too.
Joe Burrow and the Bengals offense went on an early tear last week against the Colts, largely because the Colts defense could not shut them down on big third and fourth down plays.
Garrett and the gang need to shut that down beginning in the 1st quarter and keep the momentum until the last seconds of the game.
The defense can also lighten the load on Baker by getting turnovers or pick 6's.
Next week, the Browns are playing the Bengals who blew a big lead on Sunday.
Hopefully, the offense can get it together. Myles Garrett and the defense should come more to life.
I remember that after the bengals win in week 2, the browns went on a streak Let's keep our good record

— Browns Dubs (4-2) (@DubsRockets) October 20, 2020
And just a quick note that Coach Stefanski, Joe Woods, and Alex Van Pelt need to have a solid game plan.
Perhaps they did last week, but the game got away from them too quickly.
But that would also be the case for the Baltimore game too.
The game plan needs to be creative and flexible so if the Browns get off to a slow start, there are surefire plays to get them back into drives and into the game.