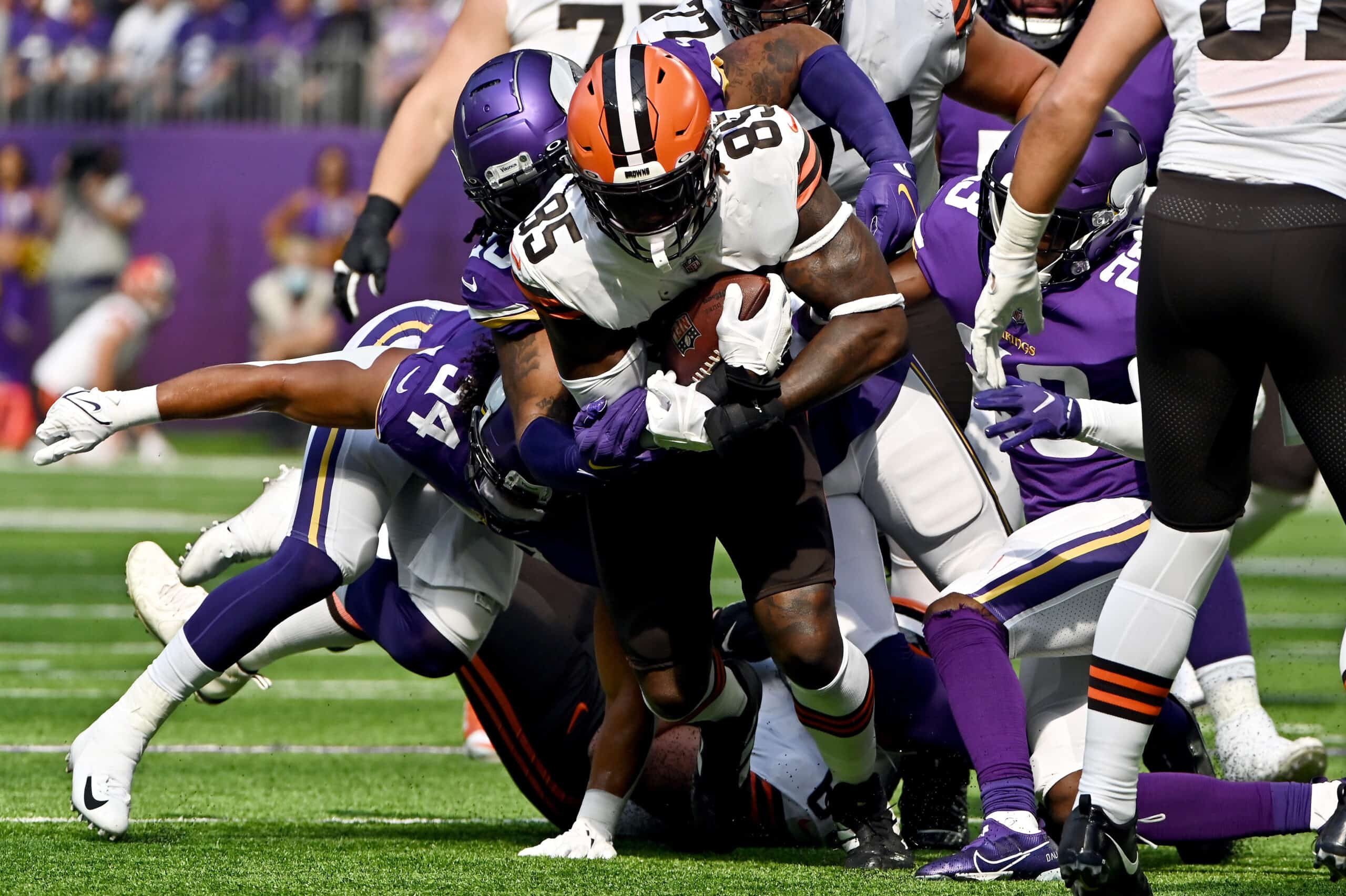 It wasn't pretty, but the Cleveland Browns were able to come away with the win in Week 4.
They escaped with a 14-7 victory over the Minnesota Vikings.
The Browns still have plenty to improve upon on offense heading into their next contest.
There were quite a few players who saw a decrease in stock after a rough matchup with Minnesota.
1. Baker Mayfield
We'll start out with the most obvious one which is quarterback Baker Mayfield.
The former No. 1 overall pick is going to have hefty expectations all season long.
He is without a long term deal and is coming off a fantastic 2020 campaign.
Mayfield has shined at moments this season, but it was an ugly outing for him in Week 4.
He completed 15-of-33 passing attempts for 155 yards without a touchdown or interception.
Baker Mayfield had an extremely rough game on Sunday, and perhaps no play was more egregious than this one.

(audio on🎙️) pic.twitter.com/dwvqmZgWC7

— Carter Donnick (@CDonnick3) October 4, 2021
It was an all around rough game for Mayfield and he knew it and said himself that he needs to step it up.
Through four games, Mayfield does not have a single multi-touchdown performance.
This is obviously concerning since the Browns organization is hopeful that Mayfield can be the long-term option at quarterback.
It's still early, so there's no reason to write off Mayfield after a few bad performances.
Although, the Browns are lucky that the defense stepped up in Minnesota.
2. Wyatt Teller
Everyone remembers the epic season that right guard Wyatt Teller had in 2020.
He was one of the best guards in the entire league, but things haven't started well for him this season.
In fact, in three of his first four games he has been graded as backup level.
Last week versus the Vikings, Teller finished with a 65.4 grade, which is backup level play, according to Pro Football Focus.
Teller was a player that shined analytically last season, but has been nothing special through four games.
There's certainly still time for him to turn it around with plenty of games left on the schedule.
However, the Browns front office is probably thankful they didn't offer Teller a long-term deal last offseason.
3. Anthony Schwartz
Remember Anthony Schwartz?
The rookie wideout has been invisible on the field since the Week 1 battle with the Kansas City Chiefs.
In that game, Schwartz hauled in three of his five targets for 69 yards.
44-yard catch by @AH__Athletics HS (FL) alum, former #Auburn #Tigers & #Cleveland #Browns WR Anthony Schwartz (@TheRealF1ash) vs the #Chiefs @ahspatfootball pic.twitter.com/PcOm4j7cdf

— IG: @SleeperAthletes (@SleeperAth1etes) September 12, 2021
Since then, Schwartz has three total targets through the last three contests.
It's not completely his fault, but it is quite concerning that he hasn't been involved in the gameplan.
The Browns are without wide receiver Jarvis Landry and need help on offense.
Despite that, the Browns have barely used Schwartz whatsoever in their offensive attack.
There is certainly still plenty of potential with Schwartz, but his lack of targets is concerning.
He saw one target during last week's matchup with the Vikings.
It's not all his fault, but his stock is decreasing rapidly as the Browns continue to keep Schwartz out of the gameplan.