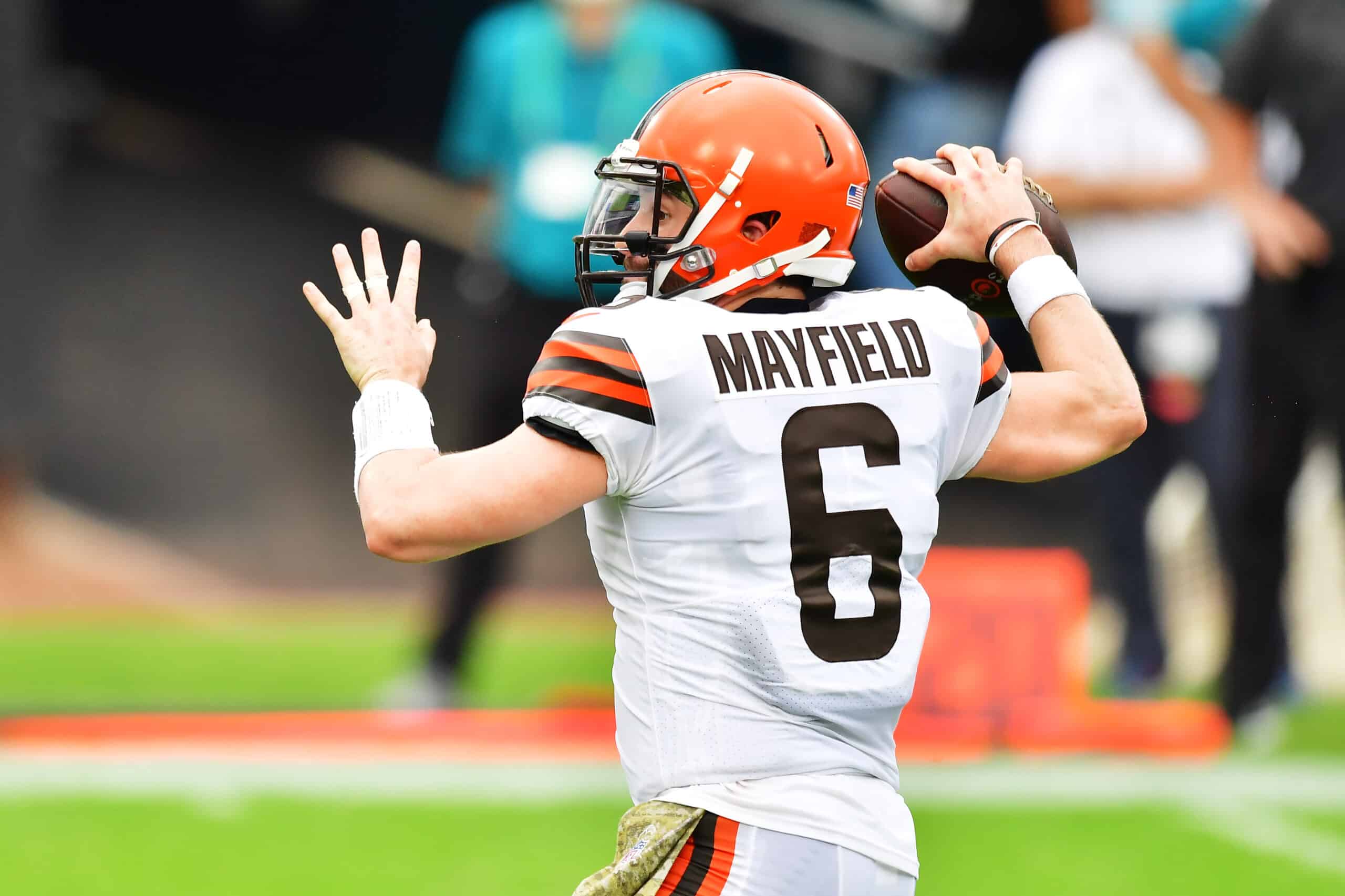 Fox Sports personality Colin Cowherd has seen enough from Cleveland Browns quarterback Baker Mayfield in 51 career starts.
During Thursday's edition of "The Herd," Cowherd might quite the analogy of what Browns general manager Andrew Berry, head coach Kevin Stefanski and the front office must consider.
"One of my favorite sayings is, 'Outline your life in pencil, not pen. Be willing to erase it anytime,'" Cowherd said. "Cleveland has to consider everything now, including let him play hurt if you privately don't think you're going to re-sign him anyway. Let him play, let him go."
Cowherd's commentary came after the NFL Network's Ian Rapoport reported that Mayfield is expected to need surgery following the 2021 season.
The Browns need to consider moving off Baker Mayfield, according to @ColinCowherd:

"Put the pom pom's down… You have an injured, average QB in a division with Lamar Jackson and Joe Burrow." pic.twitter.com/KisyzNfrVE

— Herd w/Colin Cowherd (@TheHerd) October 21, 2021
#Browns QB Baker Mayfield is expected to need surgery on his torn labrum following the season, sources say, the result of the hits he's taken on his non-throwing shoulder. The belief is he can deal with it through the season, but incurring more damage would make it challenging.

— Ian Rapoport (@RapSheet) October 21, 2021
Cowherd said he didn't think the Browns could win Super Bowl 56 if Mayfield isn't fully healthy.
"You have to consider shutting him down for the year, getting him completely healthy, one more year, go with Baker and then make a decision," Cowherd said.
Backup Case Keenum will start for Mayfield on Thursday night against the Denver Broncos.
While Mayfield is under contract through the 2022 season, the Browns could also look to use the franchise tag on him for the 2023 season.
"You also have to consider, I know it's going to hurt your feelings, put the pom-poms down, moving off him," Cowherd said. "Shutting him down (and) moving off him."
On Monday, Cowherd admitted Mayfield is a franchise quarterback, but said "everything has to be perfect" for him to succeed.
On Thursday, Cowherd compared how Mayfield stacks up to the rest of the AFC North quarterbacks.
"You have an injured, average quarterback in a division with Lamar Jackson and Joe Burrow, both getting better by the minute, and it should be noted in March, the Pittsburgh Steelers will be first in line to make a run at Aaron Rodgers," Cowherd said.
If the Steelers add Rodgers, Cowherd said Mayfield would be the fourth-best AFC North quarterback.
Mayfield has a 26-25 record as a starter, a 62.4% completion percentage, 81 touchdowns, 46 interceptions and 242.1 passing yards per game.
"Don't just take this year with the best offensive line in the league," Mayfield said. "That's not what quarterbacks have for years."
Cowherd said it's important to evaluate how Mayfield plays while dealing with the torn labrum in his left shoulder since Week 2, and without starting offensive tackles Jedrick Wills Jr. and Jack Conklin.
Wills and Conklin did not play during the 37-14 loss in Week 6 against the Arizona Cardinals.
"You clearly have a coaching staff that keeps their thumb on him and does not believe him. Just go to the Chargers game for that," Cowherd said. "And, this league does not reward passive."
Cowherd mentioned how the Browns could clear salary-cap space if they move on from Mayfield after 2022, trade wide receiver Odell Beckham Jr.'s $18 million average annual salary and allow tight end David Njoku to become a free agent in the upcoming offseason.
Plus, the Browns could get defensive end Myles Garrett to restructure his contract so the team could reallocate the payment on his $25 million average annual salary through the 2026 season to free up even more cap space.
"The smart teams manipulate the cap," Cowherd said. "You got to consider moving off him. You've got an injured quarterback who is average."
Cowherd mentioned how when Mayfield got hurt in Week 2 against the Houston Texans, it came when he was trying to tackle safety Justin Reid on an interception.
"Even the way Baker got hurt was classic Baker," Cowherd said. "He threw an interception, and then as he always does (he) overvalued his athletic ability and tried to square up a safety and got hurt."
Here's the Baker Mayfield interception and subsequent injury.

Seems like Anthony Schwartz gave up on his route, so it ends up being an overthrown INT.

Baker gets in on the tackle, and Justin Reid drove hard right through Mayfield's left shoulder.pic.twitter.com/20MA6sTH2b

— Billy Heyen (@BillyHeyen) September 19, 2021
Cowherd said he wasn't sure whether the Browns would offer Mayfield a contract extension, and if they do, how much to offer.
"I know one thing they're not sure on today is giving him an extension, and I think they're leaning 'no,'" Cowherd said.
Regardless of what the Browns do, Cowherd said aggressive franchises have had NFL success in the last three years, including the Tampa Bay Buccaneers getting Tom Brady, the Los Angeles Rams trading for Matthew Stafford, the Kansas City Chiefs rebuilding their offensive line, the Arizona Cardinals' and Baltimore Ravens' improvements and the Buffalo Bills' combination of Josh Allen and Stefon Diggs.