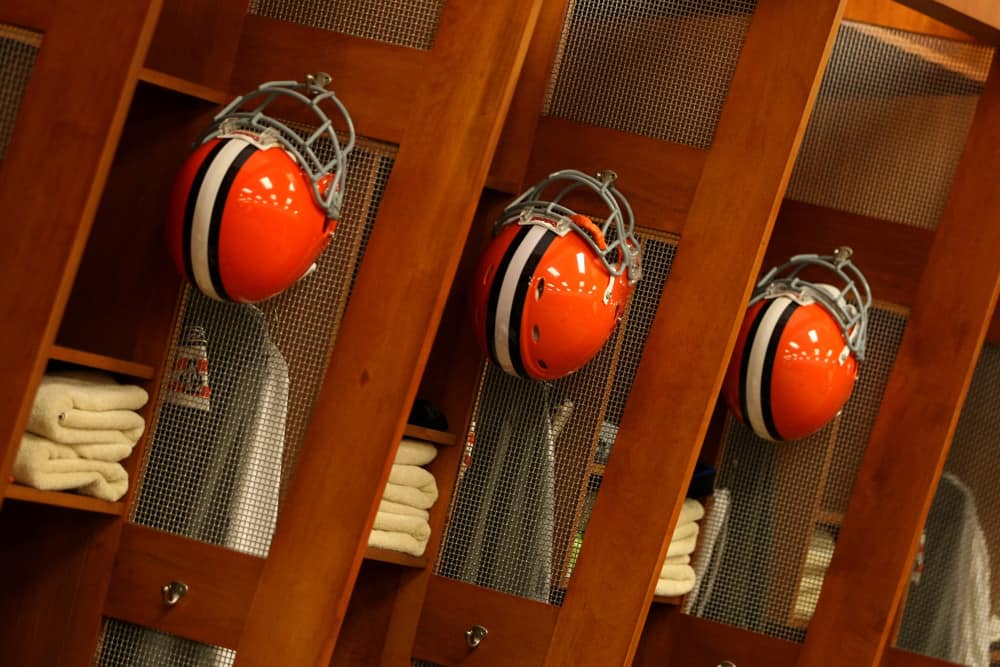 Every season there are a few surprises and some snubs from the Pro Bowl.
It's never an easy task deciding which players are worthy, but usually a majority of the selections are correct.
At the end of the day, it's nothing more than just another accolade, but it's nice for the players to get recognition.
There are a few players on the Cleveland Browns roster that should be locked-in on the 2021 Pro Bowl roster before the season even begins.
1. Myles Garrett
It makes sense to get the most obvious one out of the way right away.
Superstar defensive end Myles Garrett is one of the best pass rushers in the entire league.
The 25-year-old already has two Pro Bowl appearances and a third in 2021 shouldn't shock anyone.
In July of 2020, the Browns gave Garrett a five-year $125 million extension.
At first glance, that seems like a ton of money to pay one player, but Garrett has shown to be worth every penny.
Myles Garrett's spin move before the sack 😤

(via @thecheckdown)pic.twitter.com/QypEuGatcK

— Bleacher Report (@BleacherReport) October 4, 2020
Last season, Garrett recorded 48 tackles, 12 sacks, four fumbles forced in 14 games.
He earned himself a Pro Bowl appearance despite missing two games.
It's worth noting he put up those stats and had a lackluster second half of the season.
A fully healthy Garrett playing a full 17-game season is something no offensive line is ready to see in 2021.
2. Nick Chubb
It's never easy ranking running backs and it's especially difficult with how many studs are in the league right now.
Despite how you order it, Chubb should always have his name near the top of the running backs list.
He's a top tier workhorse back that seems to find open lanes with ease everytime he touches the ball.
It's honestly unbelievable that he can be that dangerous with the football and still seem like an underrated running back.
NICK CHUBB TOUCHDOWN.

Browns 7-0 pic.twitter.com/dAyBmq8pk4

— Barstool Cleveland (@BarstoolCleve) January 3, 2021
Nonetheless, Chubb has been selected to two straight Pro Bowls and is showing no signs of slowing down.
He has managed over 1,000 yards rushing in each of the last two years.
Last season, he missed four games due to injury and still was able to surpass the 1,000-yard mark.
The 25-year-old is no doubt one of the best in the league and should continue to do that in 2021.
Chubb has a legitimate shot at the rushing title, assuming he can stay healthy next season.
3. Joel Bitonio
Certainly not the most flashy of players, but left guard Joel Bitonio deserves respect.
The former second-round pick has succeeded every season since being drafted in 2014.
He has been through the rough years in Cleveland and stuck it out to see the light at the end of the tunnel.
Every fan should respect Bitonio and the players certainly know how reliable he is on the field.
#Browns Guard, Joel Bitonio, has played at an All-Pro level.

Bitonio ranks 6th among Guards with an Overall Grade of 81.6, per @PFF.

His Pass Blocking Grade of 87.2 is 2nd among Guards in the #NFL.

Through 8 games Bitonio has 0 penalties, while only allowing 1 sack.💫 pic.twitter.com/p9TjgXRtKO

— The Hottest Take Sports Podcast (@Hottest_TakePod) November 3, 2020
Bitonio has not missed a regular-season game in four straight seasons, which seems unbelievable.
He has earned himself three straight Pro Bowl appearances, which are all well-deserving.
A leader on the offensive line and someone who has been worth every cent since stepping on the field.
He continues to grade as one of the best in the league and it shouldn't surprise anyone to see Bitonio in the Pro Bowl next season.