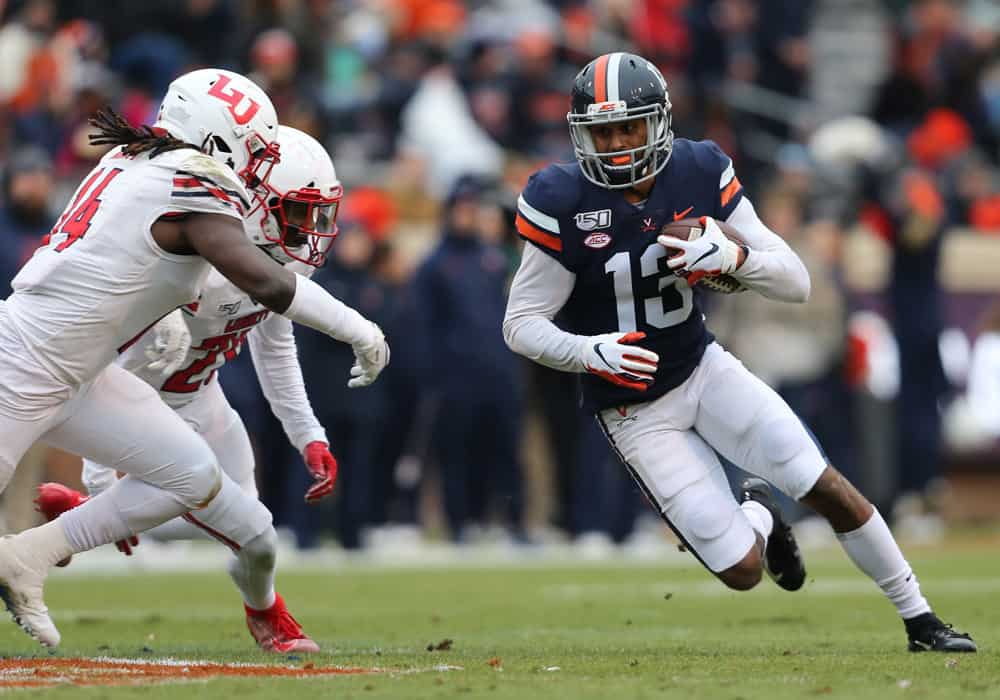 The Cleveland Browns are eager to see their newly drafted players take the field in 2020.
They added superstar offensive tackle Jedrick Wills Jr. and LSU safety Grant Delpit during the first two rounds of the 2020 NFL Draft.
They've added some exciting young talent to their roster, but some of those players came after the draft.
After the draft concluded, the Browns signed 15 undrafted players to their team.
Those players will battle it out during training camp to see which of them can make the final 53-man roster.
A few of these undrafted players have a real shot at making an impact in Cleveland next season.
3. Solomon Ajayi
Liberty linebacker Solomon Ajayi is coming off a fantastic senior campaign.
He recorded 92 tackles, five tackles for loss, and one sack through 13 games in 2019.
Ajayi put together two reliable seasons at Liberty, but fell through the cracks on draft day.
The Browns are weak at the linebacker spot, so Ajayi has a real shot at seeing playing time in 2020.
He's currently projected as the third-string linebacker behind Jermaine Grace.
However, Grace has only recorded nine total tackles through three seasons in the league.
Cleveland does not have many experienced players at the linebacker position and Ajayi might be able to take advantage of that.
It's unlikely that he becomes a full-time starter, but Ajayi could work himself into a rotational type of role with a solid performance in camp.
2. A.J. Green
Oklahoma State three-year starter defensive back A.J. Green earned himself a guaranteed deal from Cleveland.
The Browns gave Green $145,000 guaranteed, which is the largest for any undrafted free agent.
The Cleveland #Browns wanted Oklahoma State corner A.J. Green badly. They signed him to a free agent deal that includes $145,000 guaranteed, with $130,000 base salary guarantee and $15,000 signing bonus, according to a league source

— Christopher Reiss (@ReissReport) April 26, 2020
He earned the contract during his three seasons at Oklahoma State.
Green recorded 147 tackles, 5.5 tackles for loss, and six interceptions during his college career.
Clearly, the Browns see a future for Green in their system otherwise they wouldn't have paid that much to get him on their team.
He'll have an uphill battle for playing time with Kevin Johnson and Terrance Mitchell projected as the second string defensive backs.
A strong showing in camp might land him right behind Johnson and Mitchell on the depth chart.
The Browns aren't going to pay Green that much and keep him on the bench doing nothing.
Cleveland will find a way to utilize his skillset, but Green is not expected to start.
1. Tony Brown
The Browns added plenty of depth at the wide receiver position during the offseason.
However, many of them lack experience and aren't guaranteed roles on the team.
Colorado wide receiver Tony Brown might be able to quickly move up the depth chart during camp.
Brown spent four years in college, but really stepped up his game during his senior year.
He hauled in 56 receptions, 707 receiving yards, and five touchdowns through 12 games.
Steven Montez to Tony Brown! #Colorado ties it up with Nebraska! pic.twitter.com/nYv03QjIDS

— Bobby Skinner (@BobbySkinner_) September 7, 2019
He'll have a bit of an uphill battle to climb during training camp, but Brown has plenty of potential.
His main competition will be Taywan Taylor, Damion Ratley, and KhaDarel Hodge for the final spots at receiver.
Brown could put himself at the fourth or five receiver role on the depth chart, assuming he's able to impress the coaching staff in camp.
None of the receivers he is competing against have a big lead in terms of depth chart positioning.
He won't have a huge impact on offense, but Brown could see playing time at receiver or on special teams this season.
Vote!
[socialpoll id="2657555″]