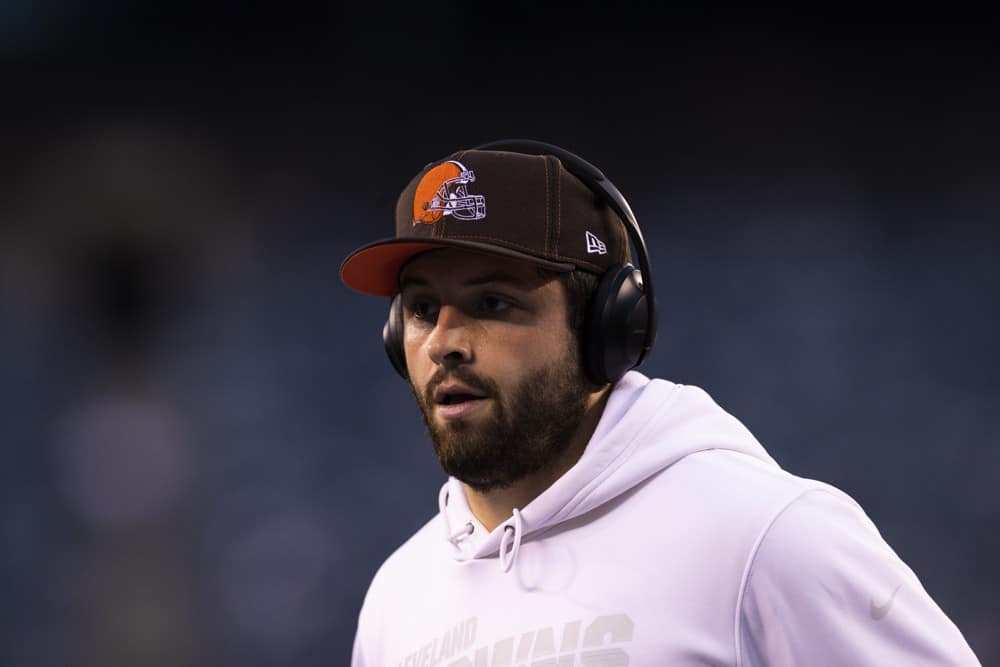 Most men would not pose for a shirtless photo next to Saquon Barkley and Aaron Colvin.
After the social media reaction to such a photo last February, Baker Mayfield might never do it again.
Baker Mayfield laughed off the criticism of his noticeably soft physique.
But fans and critics worried his "Dad bod" reflected a lack of training commitment.
The Cleveland Browns quarterback promised to be in great shape before the NFL season starts.
To that end, Mayfield recently released a highlight video to show he kept his word.
With his career arguably at a turning point, Mayfield looks trim, and solid as he works out.
Fans are relieved to see their quarterback is in much better condition.
Why Were We Worried? 
Baker Mayfield is coming off a disappointing season for the team and himself.
Not much went right for any of the Cleveland Browns, resulting in another franchise reset.
Despite a significant dropoff from his rookie performance, Mayfield scoffed at working with a quarterback guru in the offseason.
He insisted he could spot his own flaws and would work hard to correct them by himself.
Then the February photo of Mayfield on vacation went viral in Cleveland,
Baker Mayfield, Saquon Barkley Flaunt Beach Bods On Caribbean Vacation https://t.co/GcnoBel5iX

— TMZ (@TMZ) January 30, 2020
Looking soft and small next to Alec Ogletree, Sterling Shepard, Colvin, and Barkley played into concern over Mayfield´s commitment during the offseason.
Barkley was the first to defend his friend, telling a TMZ reporter,
"He´s a quarterback. He´s not supposed to be ripped," said the Giants running back, before adding, "We´re in the offseason. He has time to get his body right. He can throw the ball 80 yards. That´s the only thing that matters."
During an appearance on Pardon My Take, Mayfield admitted he looked terrible. He explained,
"You know what shape I´m in there? Vacation shape. It´s the first day there."
But if it appeared Mayfield was shrugging off the photo, his post-vacation workout regimen reveals otherwise.
Maybe he would pose for that photo again if asked.
It´s About More Than Physique 
Mayfield is preparing for the most important season of his young career.
Not only do the Browns and their fans have high hopes with the 2020 playoffs on their minds, but the Browns have to decide whether to pick up Mayfield´s option after the season.
He has to improve on last year´s performance with a new coaching staff and game plan.
Mayfield appears to be up for that challenge.
Browns OC Alex Van Pelt: Baker Mayfield voluntarily jumping into other position meetings, showing great leadership https://t.co/kVNybjIY7w

— Ross Major (@sargent3) June 5, 2020
Coaches expect players to study their playbook and attend meetings.
But Mayfield is attending meetings of the other offensive groups, too.
Quarterback coach Alex Van Pelt is among those impressed with Mayfield.
He told a cadre of reporters on a Zoom call last week:
"(Baker) is doing everything I´d expect from a starting quarterback. His work ethic is great."
For his part, Mayfield seems unperturbed by the NFL´s handling of the current crisis in America.
He told the same group on Zoom,
"It is just time to go do it. Right now, it is moving in silence, which is fine by me. That´s how I used to do it before getting on a bigger stage, so I am happy to return to those roots, and get back to the fundamentals."
There is little reason to doubt Mayfield´s game and mental prep is as intense as his body transformation.
That would put worries about his work ethic to rest and offer more promise of a great 2020 season for Cleveland.