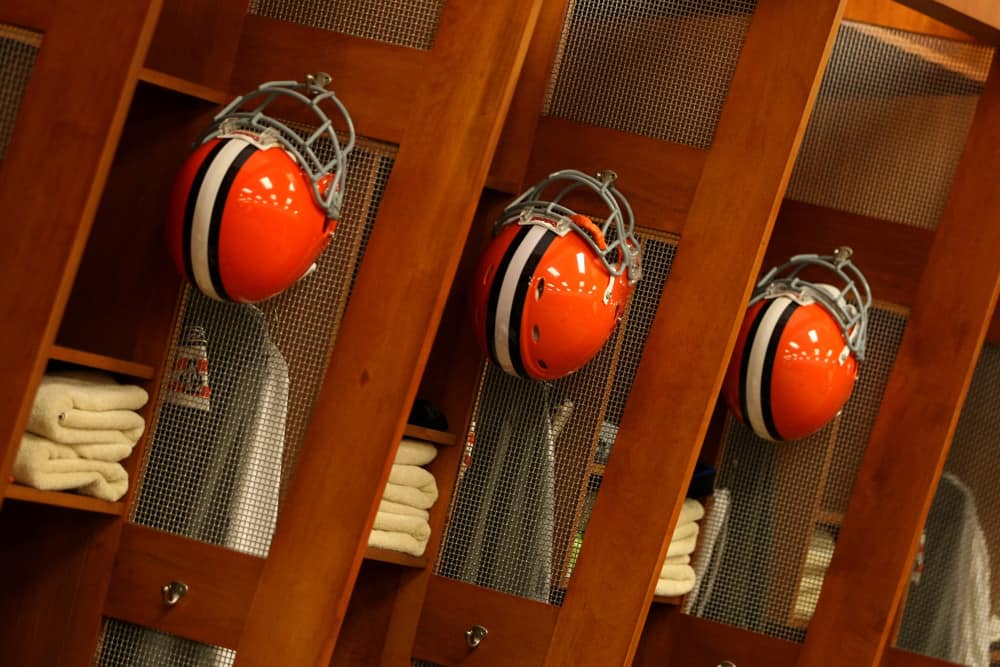 With training camp barely underway, it is the perfect time to speculate on Pro Bowl selections, right?
The 2020 Cleveland Browns have a young roster so it is not difficult to believe the team will send players to their first ever Pro Bowl.
Nobody is wrong this time of year so here are my predictions for the 3 Browns Pro Bowl 1st Timers.
1. Baker Mayfield
Come on, you had to see this one coming?
Baker Mayfield, in the much ballyhooed year 3 of his NFL contract and career, has a lot on the line.
It's been well documented that this is his make-or-break year.
So I am going out on the limb right here and saying he makes it, all the way to the Pro Bowl.
Now, I won't stick my neck out so far as to say he will be named the Pro Bowl starting QB, but he will make the team.
Why do I think so?
I like the maturity, mindset, and fitness he has shown in this zany offseason.
Alex Van Pelt's efforts to help him with footwork and mechanics will pay dividends.
Locked in. 🔒@bakermayfield pic.twitter.com/vTAM3fgk5T

— Cleveland Browns (@Browns) July 31, 2020
And an extremely talented offensive unit has been drafted or acquired to help him.
2. Jedrick Wills Jr.
Rookie offensive tackle Jedrick Wills during strength and conditioning phase of training camp. Photo courtesy of the Cleveland Browns. pic.twitter.com/CWd7hIR0pd

— Nate Ulrich (@ByNateUlrich) July 31, 2020
A big reason Baker will make the Pro Bowl is because rookie Jedrick Wills will hit the ground running as the left tackle.
He will keep Baker upright and give him a chance to go through his progressions.
Browns new OT Jedrick Wills Jr. career at Alabama:

929 Pass-block snaps
1 QB sack allowed pic.twitter.com/kXMHDcHJP6

— PFF College (@PFF_College) April 24, 2020
Remember how good Joe Thomas was?
Well, he is mentoring Jedrick Wills and has shown a lot of confidence in his ability to switch from right tackle (where he played at college) to left tackle.
What will make Wills 2020 season even more impressive is the fact that he didn't have preseason games to get his feet wet in the NFL.
Which means he has to start strong and live up to the expectations that the 1st round draft pick inevitably finds himself carrying in his rookie year.
3. Jamie Gillan
No, the punter is not exactly the most exciting Pro Bowl position in the world.
But when your team punter is called the Scottish Hammer, he makes the position much more interesting.
Gillan's rookie season was stellar; he was the AFC Special Teams Player of the Month in September 2019, and he earned a spot on the Pro Football Writers Association All-Rookie Team.
Yes, I'm aware he is off to an unexpected start since he is on the Browns COVID list, but with Jamie Gillan, I really don't think it matters.
I spoke to #Browns punter Jamie Gillan, who landed on the Reserve/COVID-19 list today. The Scottish Hammer says he actually had COVID-19 almost a month ago, and tested negative for the virus (and positive for antibodies) on Tuesday … before a positive test yesterday. 🤔🔨 pic.twitter.com/o8Kqz9PLMv

— Tom Pelissero (@TomPelissero) July 30, 2020
He has always had a strong leg, but it appears that he spent quarantine growing out his hair (even more) and building muscle.
That's why he will be a Pro Bowler this year.
Had he not been on the COVID list, I would have ventured a guess that he would have been the Pro Bowl starting punter.
He is young and much lesser known around the league, but this is his year.
Like I said, your guesses (and mine) are still 100% correct.
Cross our fingers that we get a full season and a Pro Bowl so we can revisit this article at that time and see how right (or wrong) I was.