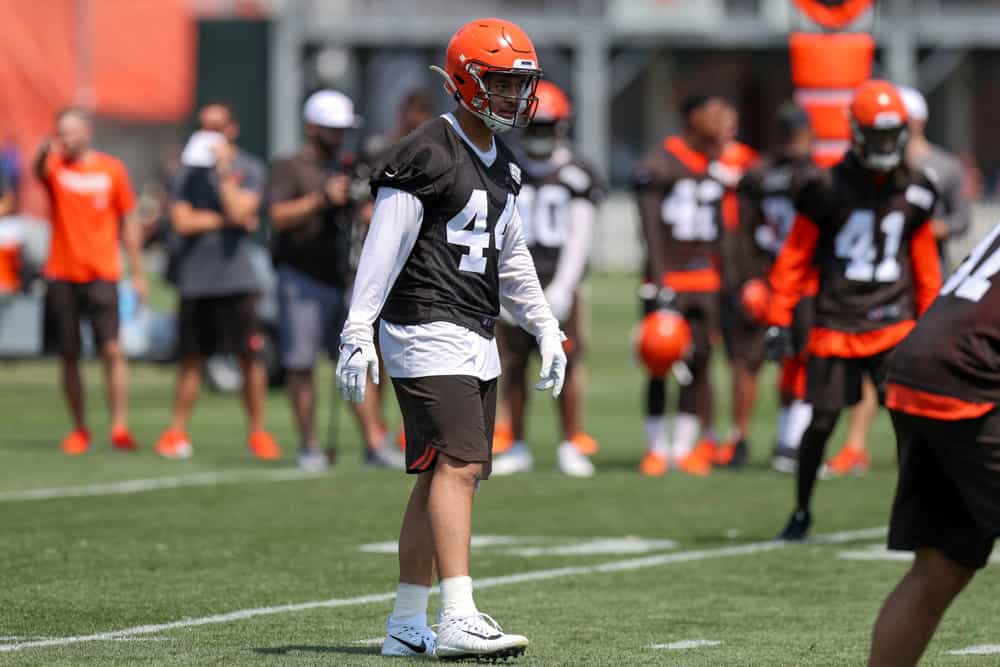 The Cleveland Browns are going to enter 2021 with plenty of cap space to chase big-name free agents and also focus on handing out extensions for those worthy on the roster.
The 2020 squad appears to be good, but not great, and that means there should be the usual turnover next season.
That means there is a group of players on the current roster already fighting for jobs in 2021.
This includes players who will be free agents and also those with small dead cap figures.
A solid second half could earn a few players nice new contracts.
Here are three to keep an eye on.
3. Cody Parkey
This is Cody Parkey's second stint in Cleveland.
He spent nearly a full season with the team in 2016 and was waived before the start of the 2017 season.
That is just how life as a kicker goes in the NFL.
Parkey is now on a one-year deal and set to be a free agent following the season.
His past success earned him a four-year deal worth $15 million with the Chicago Bears.
Of course, that relationship had to end following the 2018 season because of his "double doink" miss in the playoffs that shattered his name in town.
So far this season he is 10/11 on field goals and 22/23 on extra points.
Those are great marks and now Parkey should have a chance to earn a new contract by kicking some clutch field goals in games that have playoff implications.
The Browns should know by now not to draft a kicker.
Parkey is already here and keeping at his current pace should easily earn him a new deal with some guaranteed money attached.
Making a clutch kick in a playoff game would only cement his status on the team.
Of course, he could also be chased out of town like he was in Chicago with one missed kick at any point during the remainder of 2020.
2. Sione Takitaki
Sione Takitaki is playing for his future in Cleveland after being a third-round pick by John Dorsey's front office in the 2019 NFL Draft.
He is on the second year of a four-year deal and has a $480,000 dead cap figure in 2021.
The second-year linebacker also has a grade of 57.9 from PFF so far this season, which qualifies under the "replaceable" designation.
PFF grades of our linebackers

Sione Takitaki – 57.9
Mack Wilson – 29.1
BJ Goodson – 62.3
Malcom Smith – 67.0

Fairly big YIKES. #Browns

— Michael (@big_mike9169) November 2, 2020
Takitaki has played in all eight games this season and has made 37 total tackles.
He is just not doing much to change games and that is true for a majority of the Browns defense outside of Denzel Ward and Myles Garrett.
Rookie linebacker Jacob Phillips is expected back soon and has a chance to get plenty of playing time considering how back the entire position group has been.
Takitaki is not making key plays and at this point that bodes well for the team deciding to stand pat at linebacker this upcoming offseason.
He needs to change that or risk being another casualty in the eventual turnover seen under Andrew Berry.
1. Rashard Higgins
Rashard Higgins is finally back on the field after being incognito in 2019 and at the start of 2020.
His breakout performance came two weeks ago against the Cincinnati Bengals when he finished with six receptions for 110 yards.
He is now the number two receiver with Odell Beckham Jr. out and seemingly has great chemistry with Baker Mayfield.
Browns' WR Rashard Higgins, now replacing the injured Odell Beckham Jr., told @ByKimberleyA that he feels so close to Baker Mayfield that he feels like his "mama gave birth to him."

— Adam Schefter (@AdamSchefter) November 1, 2020
Sunday's game was a rough go as the wind was swirling and Higgins only hauled in one catch for 14 yards.
However, that game was a wash on offense in general.
Higgins has shown flashes of success during his time with the Browns.
But the flashes have not equaled sustained success.
The receiver is in a contract year and the Browns will have several decisions to make at the position following the season.
Will Beckham be cut or traded?
What about Jarvis Landry?
The same is true for Higgins and he now has a chance to prove he belongs by having a great second half of the season.