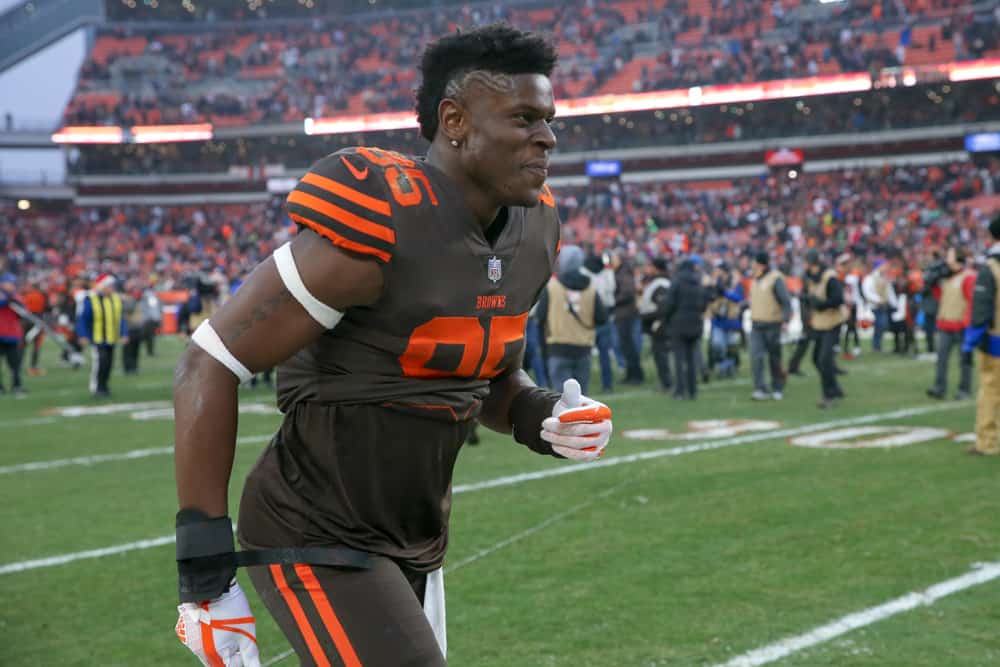 Yesterday at 4:00 pm EST was a quiet hour for the Cleveland Browns organization.
That was the NFL imposed deadline to make trades for the 2020 season.
The Browns made no transactions.
Many wondered if TE David Njoku would be on the trading block.
But he wasn't.
Should the Browns have traded Njoku yesterday?
The answer is yes.
And here's why.
1. Production
Through 5 games, Njoku has caught 8 balls.
(Note: Njoku had a knee injury that kept him inactive for 3 games.)
What was good is that 2 of those receptions ended up in touchdowns.
So the 2017 1st round draft pick (29th overall) can do well in competitive situations which should have piqued the interest of other NFL teams.
But his 2020 production is not worth the off-the-field drama associated with him.
2. Attitude
It is impossible to figure out where David Njoku's head is on any given day.
What we do know is that he probably didn't welcome the added competition at TE that came from signing free agent Austin Hooper from Atlanta in March and from drafting Harrison Bryant from Florida Atlantic University back in April.
At the halfway point of the 2020 season, the David Njoku drama has already had many twists and turns.
Here's a recap.
Part 1 – Njoku wanted to be traded.
The David Njoku trade saga began in early July.
After changing agents from Malki Kawa to Drew Rosenhaus, Njoku asked the Browns to trade him before training camp.
 "It's in David's best interest to find a new team at this time.''
At the time, the Browns had no interest in trading Njoku.
Part 2 – Njoku rescinds trade request.
David Njoku had a perceived change of heart.
Rosenhaus stated that his client:
 "has had some good meetings with the new Browns organization including GM Andrew Berry, and he has decided to give the team his full commitment right now and go from there."
At which point, Njoku tweeted:
I'm all in Cleveland. Time to work.

— Chief David Njoku (@David_Njoku80) August 1, 2020
Part 3 – Njoku Wanted To Be Traded – Again
A source told Mary Kay Cabot of cleveland.com reported that as of mid October, David Njoku wanted to be traded again before the November 3 deadline.
TE David Njoku still wants the #Browns to trade him by the Nov. 3 deadline, a league source tells clevelanddotcom https://t.co/MeP2tIlM1L

— Mary Kay Cabot (@MaryKayCabot) October 19, 2020
Part 4 – Or Does He?
I did not say anything to Mary Kay about a trade request

— Chief David Njoku (@David_Njoku80) October 19, 2020
For the record, Mary Kay Cabot said her information came from a source, not Njoku himself.
This cat and mouse game that Njoku and Rosenhaus have played with the Browns organization and media has gotten old.
And the fans are growing weary too.
When David Njoku dropped the wide open first down pass today, I proceeded to yell at the top of my lungs, "TRADE THAT MAN FOR A DISHWASHER AND A COUPLE OF HAND TOWELS, CUS HE ISNT WORTH MUCH MORE THAN THAT!! PUSH THAT MAN IN FRONT OF A BUS FOR CHRIST SAKE!!" #Browns

— Tyler Emmert (@iamthunder_0) November 1, 2020
Browns' Front Office
For their part, the members of the Browns' front office have stayed out of the Njoku foray.
And Coach Kevin Stefanski has spoken highly of Njoku.
Back in August, Stefanski said:
"We believe in David, excited to work with him.  I'll get to finally be in the same room as him this weekend – he's coming in for physicals – and then get out on the field with him Monday. Excited to work with him."
He followed it up with support for Njoku after missing 3 games with a knee injury.
#Browns coach Kevin Stefanski said David Njoku is 100 percent coming off knee injury that had him on IR for last 3 games.

— Scott Petrak ct (@ScottPetrak) October 8, 2020
Maybe the Browns wanted to make a trade but couldn't find a team that would give them what they wanted for Njoku.
No one really knows.
#Browns elect to go with what they got. No deals prior to #NFLTradeDeadline. David Njoku's trade request will also have to wait until March.

— Daryl Ruiter (@RuiterWrongFAN) November 3, 2020
The only known fact is that the Njoku saga is over for 2020; barring a major injury, he will be on the Browns' roster for the rest of the season.