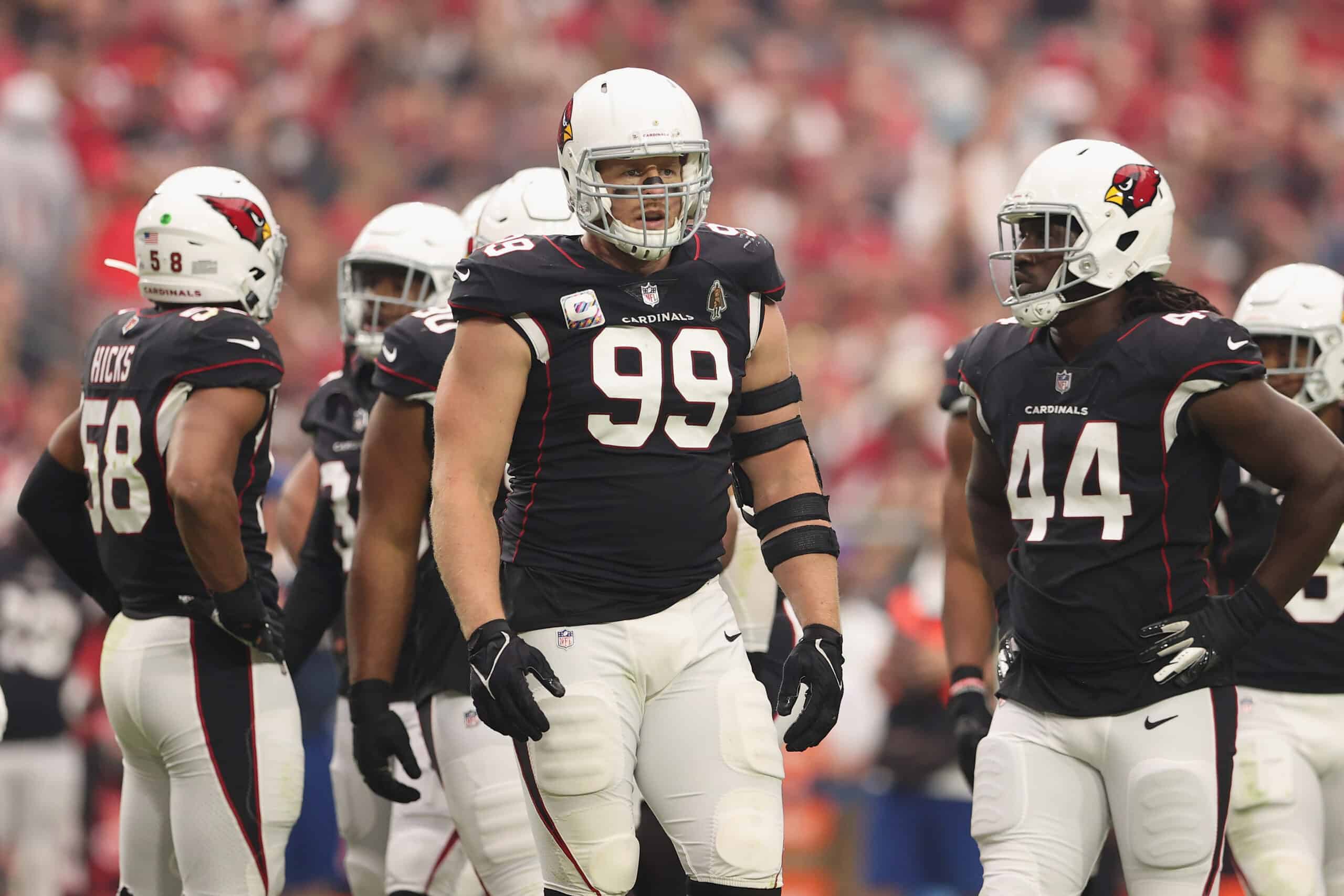 The Cleveland Browns are coming off a shocking loss at the hands of the Chargers.
The Browns seemingly had control of the game.
Then, out of nowhere, it was a track meet.
The team ahead at the finish line was Los Angeles.
Into Cleveland comes the 5-0 Arizona Cardinals.
The Cards just happen to be the only undefeated team in the NFL.
It's not an accident as the franchise is strong on both sides of the ball.
Although the Browns are at home this Sunday, here are three Arizona players to watch out for.
Not accounting for these three (plus a host of others) could spell Cleveland's third loss of the year.
1. Quarterback Kyler Murray
This is an obvious choice, but a choice nonetheless.
Arizona drafted Murray in 2019 because he can cause serious damage with his arm and legs.
In successive years, Murray has been a Heisman Trophy winner (2018), NFL Offensive Rookie of the Year (2019) and a Pro Bowler (2020).
On the heels of last year's 8-8 improvement from 2019, the Cards entered this past offseason and loaded up.
As part of the free agent and draft haul, Murray was gifted with former Cincinnati Bengal receiver AJ Green.
As if the offense wasn't talented enough, Murray now has five receiving threats.
EARLY MVP FAVORITE? 🤔

Kyler Murray has led the Cardinals to a 5-0 record, the last undefeated team in the NFL. pic.twitter.com/hBO8WCyaOj

— ESPN (@espn) October 11, 2021
Green, DeAndre Hopkins, Christian Kirk, Ronald Moore and tight end Maxx Williams all have 16 receptions or more.
Running back Chase Edmonds has hauled in 23 catches as well.
Murray might be short in stature (5'10", 207 pounds) but he has passed for 1,512 yards, 10 touchdowns, four interceptions and has completed over 75% of his passes.
Additionally, Murray has rushed 30 times for 110 yards and three touchdowns.
Remarkably, he is the third-leading rusher on the Cardinals.
Should the Browns defense continue to blow coverages like they did last week, Murray will have a huge day.
2. Receiver DeAndre Hopkins
Another obvious choice.
Hopkins arrived in Arizona before last season and immediately made a connection with Murray.
During the 2020 season, Hopkins tied his career-high in receptions with 115.
He also had 1,407 yards and six touchdowns.
This may be Hopkins' ninth year in the league, but he is playing as fast as ever.
DeAndre Hopkins passed Larry Fitzgerald for the most catches before 30 in NFL history 💪 @ESPNNFL pic.twitter.com/WtehLhsESw

— ESPN (@espn) October 13, 2021
So far in 2021, Hopkins leads the Cards in receptions with 23 and has 312 yards and four scores.
Last week, Hopkins had his best game of 2021.
In Arizona's narrow 17-10 victory over San Francisco, Hopkins caught six balls for 87 yards and a touchdown.
It will be interesting to see what Cleveland defensive coordinator Joe Woods cooks up for Sunday.
With so many talented Cardinals receivers, the Browns secondary will have their work cut out for them.
3. Linebacker Jordan Hicks
On a Cardinals defense that includes JJ Watt, Budda Baker, Isaiah Simmons and Zaven Collins, why would I choose Hicks?
Quite simply, he is a co-leader in this sixth-ranked defense with 36 total tackles including 23 solo, one sack, two passes defended and one forced fumble.
Hicks is an unsung hero for the Cards' defense, always in the right place at the right time.
He came to the Cardinals in 2019 from Philadelphia, where he won a Super Bowl with the team in 2017.
Hicks' leadership is part of the backbone of the Arizona defense.
The Arizona Cardinals' nine captains for 2021: Kyler Murray, DeAndre Hopkins, J.J. Watt, Budda Baker, Dennis Gardeck, Rodney Hudson, Chandler Jones, D.J. Humphries and Jordan Hicks.

— Bob McManaman (@azbobbymac) September 8, 2021
He paces the D with a mean streak and penchant for big hits.
Last week, he collected six total tackles against the Niners.
His best game of the year so far was a Week 3 victory against Jacksonville where he had 12 total tackles and a sack.
The Browns injury riddled offensive line already has a good Cardinals defensive line to keep out of the backfield.
Hicks' presence just gives Cleveland another headache.
Honorable mention: Cornerback Byron Murphy Jr.
Murphy has 14 total tackles for the Cards secondary, but he also leads the team with three picks.
One of his INTs was returned 36 yards for a touchdown.
Murphy is a ball hawk and is savvy enough to bait Baker Mayfield into a poor throw or two.