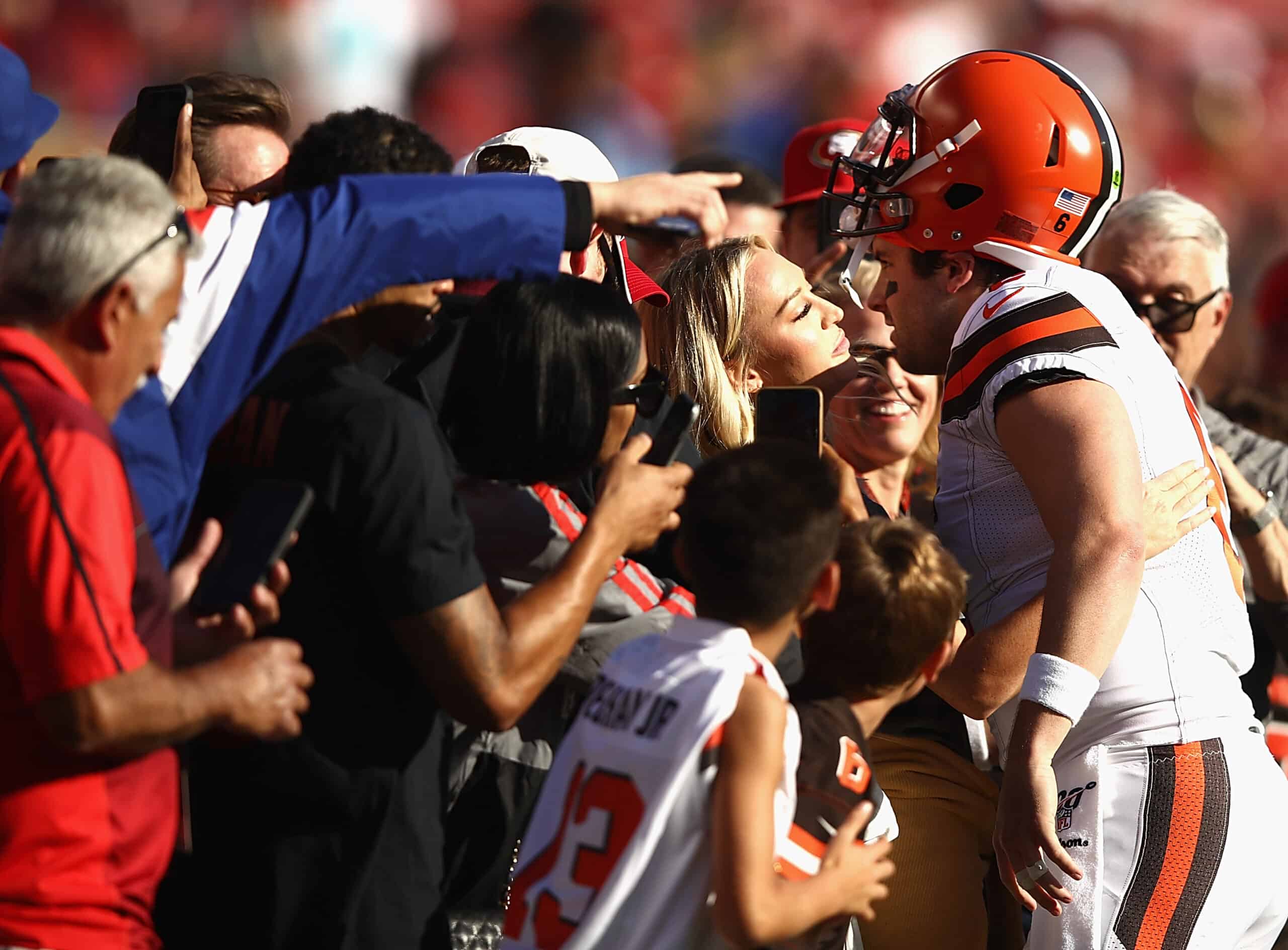 The wife of Cleveland Browns quarterback Baker Mayfield, Emily, took to Instagram on Monday to cajole the Cleveland fans and defend her husband after their reactions to the Week 5 loss to the Los Angeles Chargers.
Here is her Instagram post.
Baker Mayfield's wife, Emily, on her Instagram this morning: #Browns pic.twitter.com/mdT6RC0Ibf

— Noah Weiskopf (@BrownsWithNoah) October 11, 2021
It got mixed reactions; there was both backlash and support.
No one is surprised that Colin Cowherd read the IG post.
He explained his view on what she wrote and Baker's future in Cleveland on Tuesday's episode of his show, The Herd with Colin Cowherd.
Fill in the blank: Baker Mayfield is a top _____ QB in the AFC@ColinCowherd: The GM who inherited him is going to have to make a decision pic.twitter.com/GaEnSOPe9J

— Herd w/Colin Cowherd (@TheHerd) October 13, 2021
Cowherd's Thoughts
We should preface the discussion with the fact that Cowherd has been critical of Baker Mayfield for years.
Cowherd talks through some of the points Emily Mayfield mentions in her IG post.
He says that Baker is not solely responsible for the changing culture, and he is a .500 quarterback.
Regarding his desire not to have the spotlight, Cowherd talks about Mayfield's national advertising campaign for Progressive Insurance.
Cowherd says the Ohio media that has misjudged and not correctly covered Mayfield from the beginning of his career is starting to be critical.
These are the same people who were overly critical in his rookie year and got in Mayfield's camp for his second and third seasons.
In the fourth year, the waves of criticism within the state are beginning to happen; he suspects that is the impetus behind Emily Mayfield's IG post.
Cowherd argues the Ohio media's perceptions of Mayfield were reversed.
He should not have been criticized in his rookie year.
Criticism was appropriate in his second and third seasons.
How Cowherd Ranks Him
Cowherd ranked him 7th among his like-aged peers in the AFC.
He has Lamar Jackson, Josh Allen, Patrick Mahomes, Justin Herbert, and if their careers pan out as expected, Joe Burrow and Trevor Lawrence ahead of Mayfield.
That brings the Browns to a critical decision point.
What will they do after his rookie contract is up?
GM Andrew Berry did not draft him so perhaps he will not have allegiance to him.
Daniel Jeremiah's Take
To further solidify his position of Mayfield being 7th best in his age group, Cowherd refers to Daniel Jeremiah's perception of the Browns' two-minute drive against the Chargers.
Jeremiah believes that Mayfield changed the 3rd and 10 play.
The check-downs and playing it safe with the game on the line is due to Mayfield's decision making, according to Jeremiah.
It is not clear if Jeremiah has confirmed his assessment with sources, but we do know his preliminary reporting was based on his observations.
Conclusion
The sky is not falling.
The Browns are 3-2.
Mayfield can quell the naysayers by playing well in a huge Week 6 game against the Arizona Cardinals.
I don't know who needs to hear this but Baker Mayfield is not a finished product.

He can improve. He can grow. pic.twitter.com/bO4ejavLs4

— Nick Karns (@karnsies817) October 5, 2021
The Browns do have decisions to make as Mayfield and other players' rookie contracts are expiring.
For now, Mayfield is the Browns quarterback through the end of the 2022 season.
Berry is in an unenviable position on Mayfield and other young players.
We will wait and watch to see what happens.