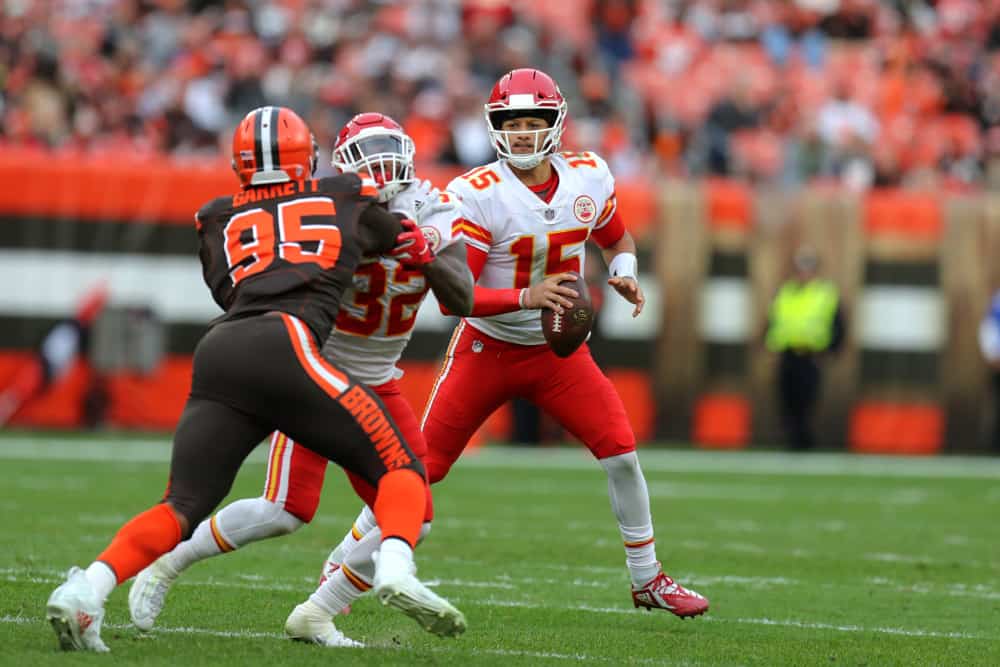 The Cleveland Browns have a king-sized challenge on their hands on Sunday afternoon.
They are taking on the defending Super Bowl Champion Kansas City Chiefs at Arrowhead Stadium.
Kansas City has a lot of talented players and coaches, but let's narrow it down the three most concerning for the Browns.
These are the players giving Coach Stefanski and his staff sleepless nights this week as they prepare.
1. Patrick Mahomes, QB
Under Patrick Mahomes, here's how the Chiefs perform in the playoffs:

⁃ 35.8 points per game
⁃ Never scored lower than 31 pts
⁃ Every win by 11 points or more
⁃ ONLY loss was in OT where Mahomes never got the ball

Just some perspective for #ChiefsKingdom pic.twitter.com/L4UOAo4kCe

— CBS Sports HQ (@CBSSportsHQ) January 13, 2021
Of course, Patrick Mahomes is the biggest concern.
The 2018 NFL MVP, 2019 Super Bowl MVP, and the quarterback of the Super Bowl Champion Chiefs already has a miles-long highlight reel in his short 4 year career.
He can do it all with the ease of a savvy veteran.
In 2020, he has thrown for 4,740 yards (bested only by Texans QB Deshaun Watson), 38 TDs, and only 6 INTs.
Mahomes' passes average 8.1 yards which means the Chiefs avoid long yardage situations and continually move the chains.
He plays smart and is not prone to making bad, costly decisions.
If his progressions don't produce a good option, he uses his legs to keep plays alive.
This season, he has 308 yards rushing and 2 TDs.
Once he turns on the jets, he is hard to stop.
He averages 5 rushing yards each time he decides to run the ball.
2. Travis Kelce, TE
Tyreek Hill (14.0) and Travis Kelce (13.5) finished No. 1 and No. 2 in scrimmage yards-per-touch among eligible players in 2020. No other team had multiple players in the top 10. Best duo of pass-catchers in football.#Staturday pic.twitter.com/zyuIzlJfj0

— Matt McMullen (@KCChiefs_Matt) January 9, 2021
Kelce is a go-to guy for Mahomes.
He has 1,416 yards in 2020 with 11 TDs.
Kelce's reliability is evident in his ratio of targets to receptions.
He was targeted 145 times this season and caught 105 passes.
The Mahomes and Kelce combination also moves the chains; each of Kelce's receptions average 13.5 yards.
3. Tyreek Hill, WR
Over the top. On the sticks. Across the middle.

How you want it?

They got it. And they produce.

Here's #Elite's Top 10 Wide Receivers this season, by @totaltroutmove! pic.twitter.com/jiaOvSI9bs

— Elite Media Group (@TheEliteMedia_) January 8, 2021
The other rock Mahomes relies on is Tyreek Hill.
Hill has 15 TDs on 1,276 yards receiving.
Because he has lightning speed, his average yards per reception are 14.7 yards.
This Threesome Is Dominant.
Of Mahomes 38 passing TDs, 26 of them were caught by either Kelce or Hill.
57% of his passing yards for the season resulted from throws to these two guys.
How Did The Raiders And Chargers Do It?
The Chiefs are 14-2 on the season.
Their two losses came to teams who did not make the playoffs.
Those are the Las Vegas Raiders (on October 11) and the Los Angeles Chargers (on January 3).
Against the Chargers, the Chiefs rested starters so we will look at the Raiders game instead.
Mahomes had one of his interceptions against the Raiders as he was looking to complete a pass to Kelce.
Also, the Raiders were able to score 16 points in the fourth quarter.
What does this mean for the Browns?
The defense needs to figure out a way to disrupt Mahomes' timing.
They will not get as many free points as they did against Pittsburgh so it will be about creating opportunities.
Worlds Collide
Of course, everyone knows that Kareem Hunt started his career with the Chiefs so it's a homecoming for him.
Also, Baker Mayfield and Patrick Mahomes put on an impressive show when they met in 2016 as QBs of Oklahoma and Texas Tech.
Baker Mayfield vs Patrick Mahomes next week

Their 2016 game was legendary
🍿 125 points
🍿 1708 yards

— PFF College (@PFF_College) January 11, 2021
No matter what happens, it is shaping up to be a fun game to watch.
Kickoff is at 3:05 pm EST on Sunday January 17, 2021 on CBS.