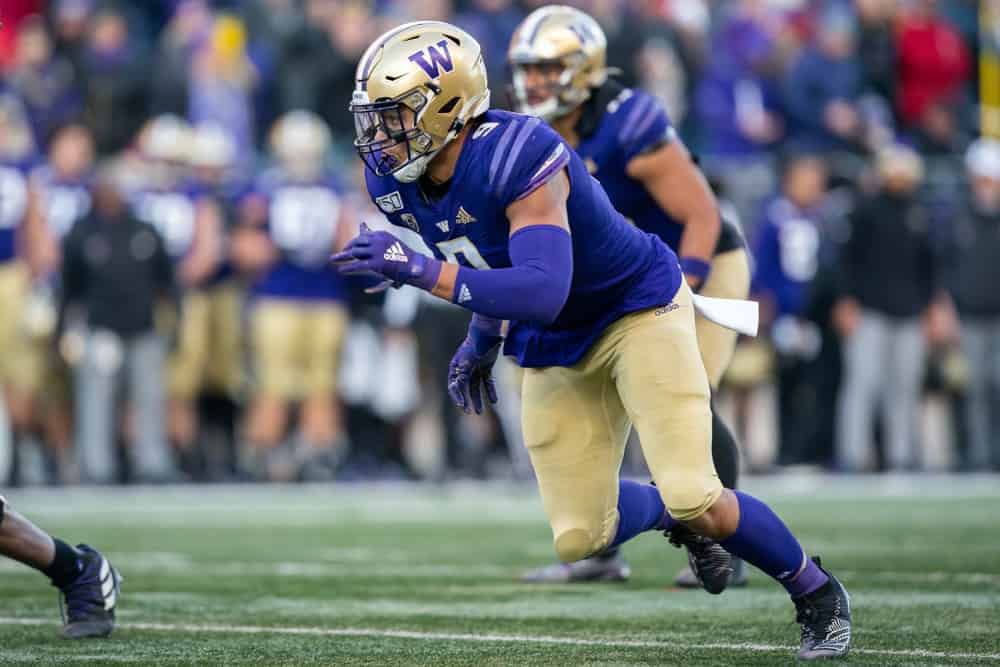 The NFL Draft is about to be here, which means it's time to discuss potential options for the Cleveland Browns.
Obviously, it's uncertain what the Browns plan to do on draft day.
It seems likely that Cleveland will use their No. 26 overall pick to select an edge rusher or defensive tackle.
After that, it seems cloudy on what the Browns plan to do with the rest of their selections.
The front office has stockpiled nearly 10 draft picks, so hopefully they will be able to find a few impactful players.
Often times, first-round players get the most attention, but there could be some potential steals in the second round.
1. Washington LB/DE Joe Tryon
This might be more wishful thinking than something that could actually happen.
Washington linebacker/edge rusher Joe Tryon is one of the better edge rushers coming out of this draft class.
He put together an impressive 2019 campaign before deciding to opt-out of the 2020 season.
Tryon is an explosive pass rusher with tremendous upside and is quick off the snap.
He plays with proper pad level, and gets leverage on opponents.
There aren't many negatives in Tryon's play, which is why he has such large upside.
Joe Tryon vs. Utah=dominant. EDGE2.

– wins with an inside counter/arm over from a wide-9
– next play: sack
– gladiator technique to take on pulling OL
– inside arm over for a sack
– forcing the QB off his spot
– setting the edge. good pad level/flat back
– beats RT with a hesi pic.twitter.com/gp8mOmWXcq

— KP (@KP_Show) April 20, 2021
That being said, Tryon does have a chance of being taken in the first round.
However, he really only has one year of solid production, which could potentially drop his stock.
The Browns are in need of an edge rusher and depth at linebacker.
Tryon is a versatile player that could contribute to the Browns roster in multiple ways.
He is well worth the gamble of a second-round pick, assuming he falls that far.
2. Washington DT Levi Onwuzurike
Another Washington product could be a potential option for Cleveland in the second round.
Cleveland is in desperate need of a defensive tackle after losing Larry Ogunjobi and Sheldon Richardson over the offseason.
Levi Onwuzurike is an explosive, athletic tackle who can be tough to stop.
He makes a habit of bull rushing opponents up the field and collapses the pocket.
This is a fairly weak draft class for defensive tackles, but Onwuzurike might slide into the second round.
Revisited '19 tape to refresh why @UW_Football DT Levi Onwuzurike was top-10 graded overall for 2021 Senior Bowl. @LeviOnw is an active & impactful do-it-all IDL that can play doubles and penetrate. Consistently creates for everyone around him. Stats don't do him any justice. pic.twitter.com/R3u4ZMg1Vv

— Jim Nagy (@JimNagy_SB) March 16, 2021
He did decide to sit out in 2020, but has put together multiple successful seasons at Washington.
During his three college campaigns, Onwuzurike recorded 95 tackles, 16 tackles for loss, and seven sacks.
He is not exactly known as a reliable pass rusher and still has some improving to do with his balance.
The Browns could certainly find a spot for him even as a potential rotational player.
3. LSU WR Terrace Marshall Jr. 
There seems to be a trend of the Browns getting LSU wide receivers.
Possibly, Terrace Marshall Jr. could be the next LSU product to join the Browns roster.
He was overshadowed by the outstanding performance of teammate Ja'Marr Chase.
Marshall deserves some love after two straight seasons with 600-plus yards, over 45 receptions, and 10 or more touchdowns.
He has quick hands, good eye/hand coordination, and an elite ability to track the ball in the air.
Terrace Marshall Jr. is stacked behind the DB to prevent press coverage. Marshall gets the free release and runs right by the safety and corner for a 75-yard touchdown. #TogetherBlue #NFLDraft pic.twitter.com/AtWJycsape

— WBG84 (@WBG84) January 30, 2021
Hopefully, the fact that the wide receiver group is fairly stacked will drop Marshall into the Browns' hands.
They don't exactly need a wide receiver, but Marshall has too good of upside to pass on.
Cleveland has a boatload of draft picks that they can use on potential depth players.
Marshall is worth missing out on a pass rusher or linebacker, assuming he is still available after the first round.