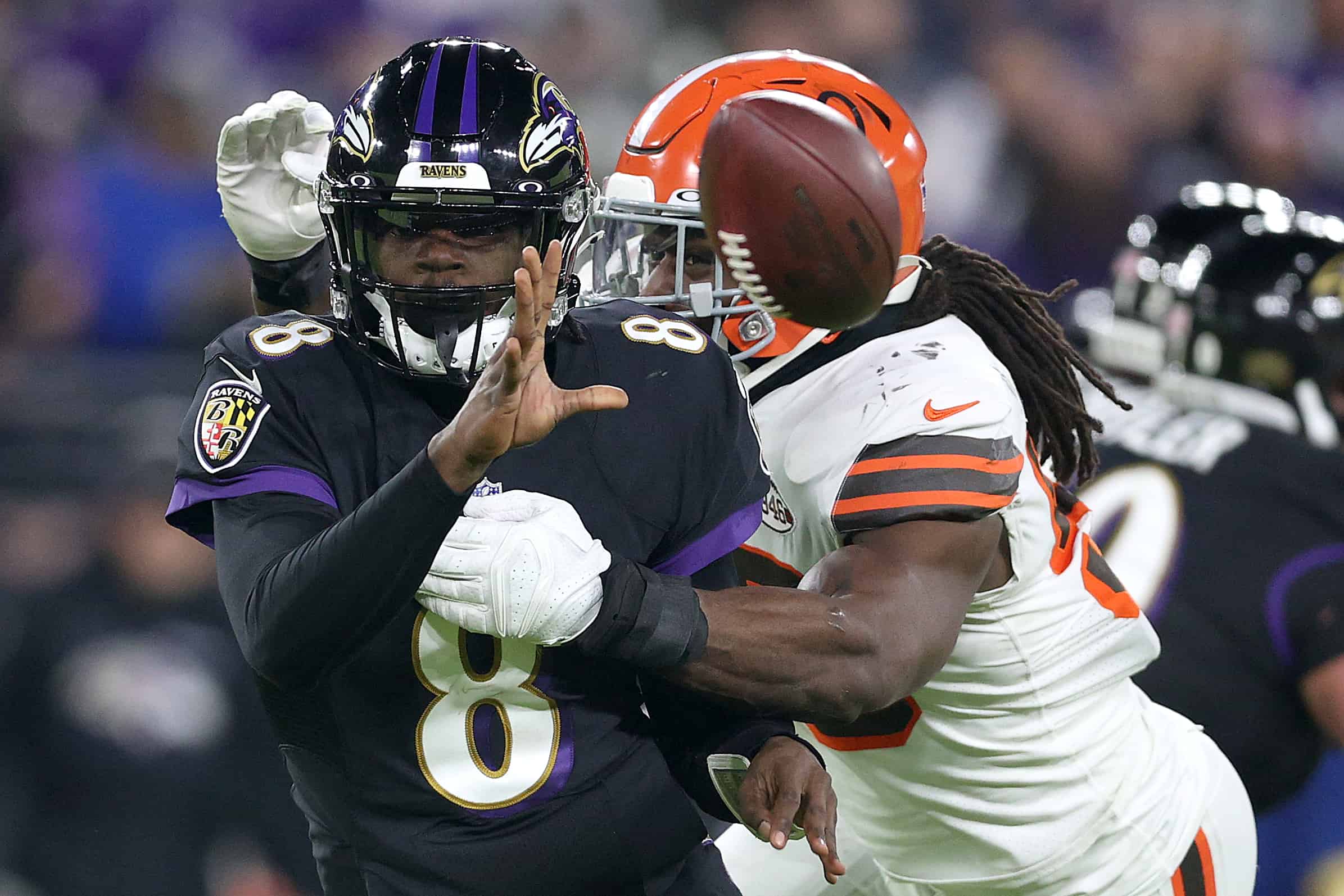 It is the second game of the Cleveland Browns vs. Baltimore Ravens series in Week 14.
The Week 12 game was a disappointing loss for the Browns, but it is time to turn the page and focus on securing a win.
Was that the longest bye week ever? It felt like it.

Browns have 5 games left and they need most of 'em, starting with Sunday's game against Baltimore.

Buckle up.#Browns

— Hayden Grove (@H_Grove) December 8, 2021
Here are the three keys to a Browns Week 14 win over the Ravens.
1. Good Offensive Play Calling
Practically every time I write a three keys article, I say that running the ball is vital.
Don't get me wrong, running the ball is still very important.
However, in this game, a mix of run and pass plays with different offensive formations could be the winner.
The talk about having Hunt and Chubb on the field together is part of giving the Ravens a different look than they saw in Week 12.
This is the only true game footage I can find of the "CHUNT" 2 back set in 2019. Would be really cool if we saw some of this on Sunday

*Video courtesy of the @Browns youtube channel* #Browns pic.twitter.com/tee5IPSLFd

— Mac (@tha_buffalo) December 6, 2021
What good offensive play calling does not mean is abandoning the run game.
The Browns have done that in other games.
Moving the ball with smart pass plays is also good.
Tight end David Njoku is on the Reserve/COVID-19 list so this may be the game for Rashard Higgins or Donovan Peoples-Jones to step up.
The Ravens are banged up on defense so that should be factored into the game plan.
2. Stop Lamar Jackson
Jackson and the Ravens have been stymied more so than in the early days of the 2021 season.
Lamar Jackson is doing it to him self…

Hesitating to run.
Forcing bad throws.
Always looking for the big play.
Holding the ball too long in situations.

all of this can be fixed.

— 𝙕𝙖𝙘𝙝🦦 (@NewEraZach_) December 6, 2021
That is a double edge sword for the Browns to deal with because the Ravens too may show some variety in their offensive play calling.
Jackson is a constant threat to run or pass the ball so keeping him somewhat contained is a four-quarter challenge.
The home crowd at FirstEnergy Stadium needs to be extremely loud to add an extra element of disruption to Jackson and the Ravens offense.
3. Play Clean And Effective On 3rd Down
In general, minimizing the penalties would be a big help to both the Browns offense and defense.
As for third downs, the defense simply cannot give up big plays.
One sack away from team history.@Flash_Garrett | #Browns pic.twitter.com/gac2jAftRP

— Cleveland Browns (@Browns) December 1, 2021
Maybe that is Myles Garrett's time to sack Jackson multiple times and shatter the Browns single-season sack record.
Giving Jackson more time and an opportunity to move the ball will burn the Browns.
On offense, converting third-down plays has to be a foregone conclusion.
These three-and-out drives once again give Jackson more time to work his magic.
Conclusion
Winning the game is likely if the Browns do all three of these things.
A little bit of luck would also help.
The Steelers got a little lucky against the Ravens last week; that failed two-point conversion is something the Ravens likely convert in 98 out of 100 tries.
#Steelers LB TJ Watt is AFC Player of the Week. Stat line reads 3.5 sacks, but it was a much more game-changing performance. Watt's pressure caused Lamar Jackson's early momentum-killing EZ pick, and the failure of a game-winning 2pts. Like Jackson said: "He was doing his thing."

— Aditi Kinkhabwala (@AKinkhabwala) December 8, 2021
TJ Watt's 3.5 sacks had something to do with it also.
Being smart, consistent, and focused can lift the Browns to victory over the Ravens for the first time since September 2019.
Can you imagine how crazy FirstEnergy Stadium will be on Sunday afternoon if the Browns pull this off?
It will be a most pleasant sight that can help to wipe away the memory of the bitter Week 12 loss.