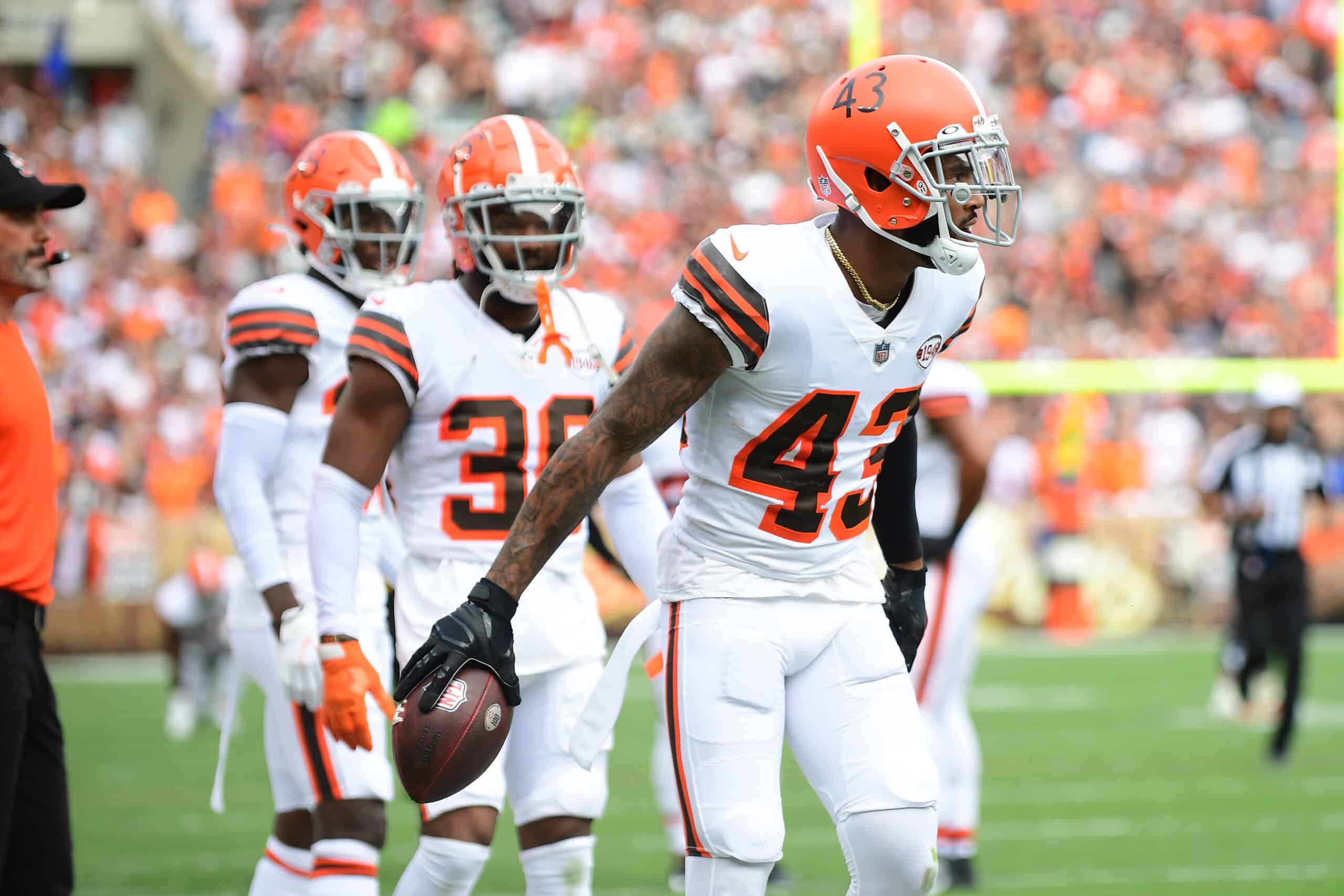 The Cleveland Browns and Denver Broncos will do battle to kickoff Week 7.
Neither team can afford to lose this game with both their records sitting at .500 heading into the contest.
Sadly, Cleveland is going to have to play this game shorthanded.
Both running backs Nick Chubb and Kareem Hunt will be sidelined.
It was also announced that quarterback Baker Mayfield won't play on Thursday.
#Browns and #Broncos injury/participation report. A.J. Green ruled out with Nick Chubb and Baker Mayfield.

OBJ, Jadeveon Clowney, Jack Conklin, Malik Jackson, Malcolm Smith, JC Tretter, Jedrick Wills Jr. and Mack Wilson all questionable. pic.twitter.com/Wrda82klQz

— Camryn Justice (@camijustice) October 20, 2021
The Browns are going to have to play this one without a handful of their key players.
There is still a way for the Browns to secure the win versus Denver, but it certainly won't be easy.
1. Stop The Passing Attack
It has been frustrating watching the Browns' secondary attempt to stop opposing offenses.
In fact, opposing quarterbacks have feasted on the Browns defense over the last two games.
This defense is allowing 220.7 passing yards a game, ninth in the league right now.
This secondary has allowed 14 passing touchdowns, which is tied for 28th in the league coming into Week 7.
Honestly, the saddest part is that most of the Browns secondary is actually healthy.
The only change in the Browns' secondary for Thursday will be defensive back A.J. Green being sidelined.
A.J. Green out tomorrow as well. #Browns

— Dawgs Unleashed (@dawgs_unleashed) October 20, 2021
That shouldn't change too much though since Green was mainly a rotational player.
This defense has the pieces to be above average, but cannot seem to stop a nosebleed right now.
It wouldn't be surprising to see Broncos quarterback Teddy Bridgewater air it out against Cleveland.
They've shown no signs of stopping anyone, but need to put up resistance on Thursday.
This offensive unit is too banged up to win a shootout, so the secondary needs to hold Denver in check.
2. Believe In Keenum
As already mentioned, Mayfield won't be suiting up for this game due to a left shoulder injury.
Honestly, it's uncertain if Mayfield will miss multiple games, but regardless the Browns are in capable hands.
Veteran quarterback Case Keenum has done some special things in the NFL.
In 2017, Keenum led the Minnesota Vikings to an 11-3 season while he was under center.
Then, Keenum actually beat the New Orleans Saints in an unbelievable fashion during the playoffs.
Just in Case you missed it…here it is! Keenum to Diggs for the win…and the celebration afterwards! @Vikings FIRST playoff game at @usbankstadium had a storybook ending! The look in @stefondiggs eyes during the celebration says it all! #Vikings #Skol pic.twitter.com/rphskIVWrg

— FOX 9 Sports (@Fox9Sports) January 15, 2018
The 33-year-old has proven he can help lead a team to success.
Sadly, Keenum hasn't quite had the same success since leaving Minnesota.
Although, Keenum is reunited with Kevin Stefanski in Cleveland after their epic run with the Vikings in 2017.
There is a chance that they can work their magic once again versus the Broncos in Week 7.
The Browns are going to be limited in terms of offensive support for Keenum.
We've seen Keenum succeed before, so give him the benefit of the doubt.
To be honest, Keenum is a much better option at quarterback than an injured Mayfield.
3. Pick Up The Slack
The Browns are going to be without a majority of their big playmakers on offense.
It's going to be tough to move the ball on the ground without Chubb or Hunt.
Also, it sounds like both Jarvis Landry and Odell Beckham Jr. are going to be sidelined.
That means, Donovan Peoples-Jones, Rashard Higgins, and Anthony Schwartz will be asked to do much more in the receiving game.
It's unlikely that D'Ernest Johnson will be able to succeed against the Broncos defensive line.
The Browns might be forced to abandon the running game and let Keenum air it out.
Sadly, three of the Browns' starting players on the offensive line are questionable.
#Browns coach Kevin Stefanski said OTs Jedrick Wills Jr. (ankle) and Jack Conklin (knee) won't practice today, but he's not ruling them out for Thursday night. He said they did work earlier today. https://t.co/LePRRj1nZP

— Action Network NFL Injury News (@ActionNetNFLInj) October 19, 2021
This looks like it's going to be a game where the backup players need to step up.
The defensive side was hit with injuries as well, but the offense is more worrisome.
It's going to be nearly impossible to contain the Broncos pass rushing attack with two or three starters out on the offensive line.
The backups in Cleveland are going to need to learn quickly if the Browns want to have a chance in this game.
Right now is the chance for the second-string players in Cleveland to make a name for themselves.