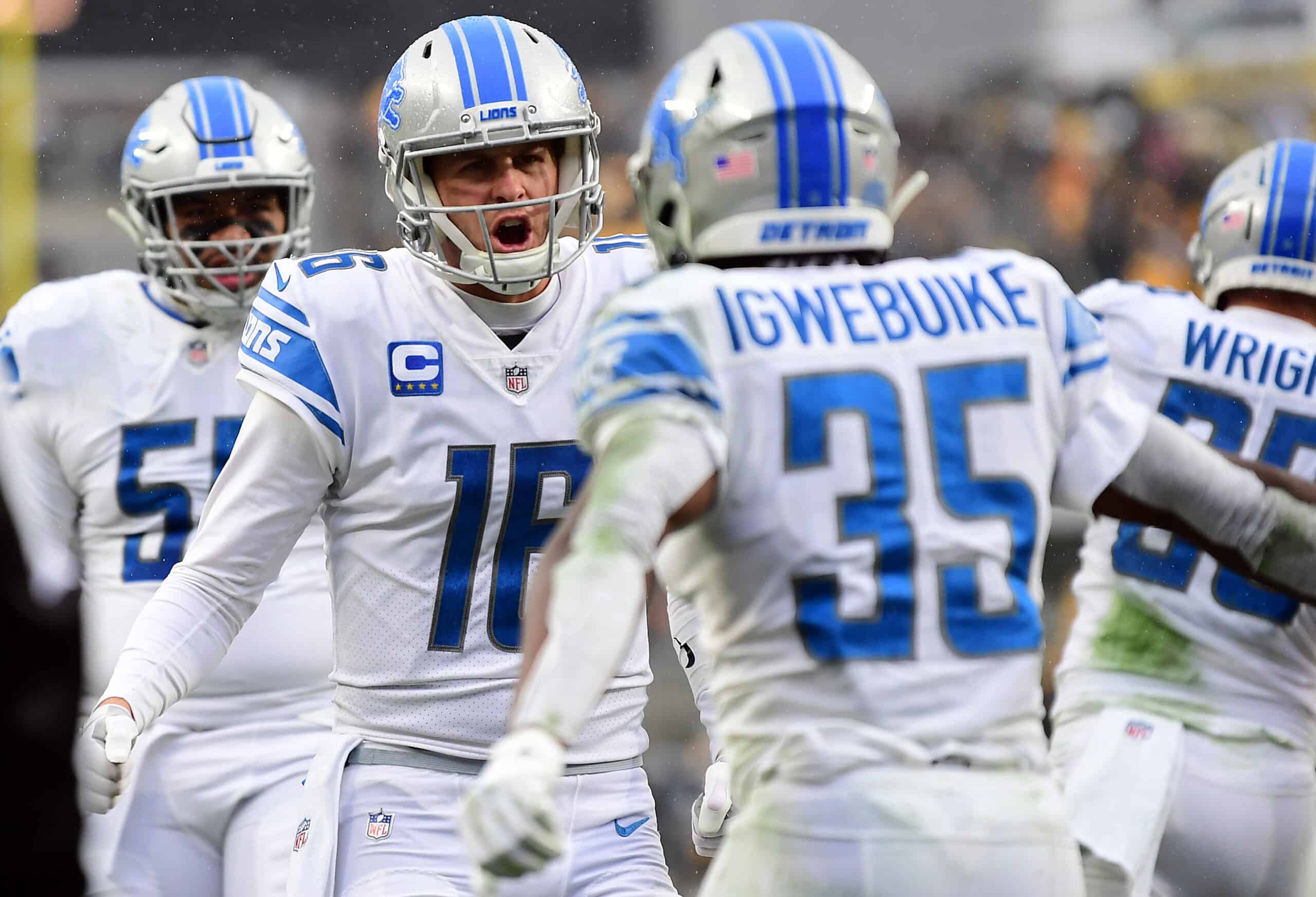 The Cleveland Browns are coming off a disappointing loss in Week 10 to the New England Patriots and look to rebound on Sunday.
The Browns will take on the winless Detroit Lions (0-8-1) who are coming off arguably their best game of the season where they tied the Pittsburgh Steelers.
Cleveland's loss to New England was a 45-7 shellacking that has Browns fans wondering what the rest of the season holds for them.
It's a game that they desperately needed to win in order to stay relevant in the AFC playoff race, but there's no time for mourning in the NFL.
The Browns will look to regain some momentum against the Lions as they head into the final 6 weeks of the regular season.
Sunday is a must-win game for the Browns to keep their already slim playoff hopes alive.
Here are three Detroit players that they'll have to slow down if they hope to come away with the W.
1. T.J. Hockenson 
Hockenson is Detroits' leading receiver and Jared Goff's favorite target to date.
He's a big, physical, and fast tight end similar to Hunter Henry of the New England Patriots.
Cleveland struggled mightily to defend Henry, especially in the Red Zone, as Henry totaled 4 catches for 39 yards and 2 touchdowns against the Browns.
Cleveland has had difficulty all year stopping big tight ends and Hockenson provides another matchup dilemma for them.
He has 48 catches for 448 yards and 2 touchdowns and is averaging just under 10 yards per reception on the season.
TJ Hockenson is PFF's #8 overall TE. Has a receiving grade of 75.0 (9th/45 TEs) & a run blocking grade of 72.6 (8th/74 TEs). pic.twitter.com/jg6XAMQKPd

— Pierre (@DLFPtweets) October 30, 2020
Detroit isn't known for their passing game, and quarterback Jared Goff hasn't been able to get comfortable all season.
Compound that with the fact that he sustained an oblique injury on Sunday, and things stack up nicely for the Browns' defense.
However, Cleveland has been having Jekyll and Hyde performances all season, and depending on which version of them shows up, Goff or backup quarterback David Blough could have their best game of the season.
2. De'Andre Swift 
After splitting carries with Jamaal Williams for most of the season, Swift got his chance to shine against the Pittsburgh Steelers on Sunday.
He didn't disappoint either and had his biggest game of the season going off for 130 yards on 33 carries.
On the season, he has 123 carries for 419 yards and 3 touchdowns.
The Browns had one of their worst defensive performances against New England.
They surrendered 184 yards on the ground to the Patriots, including 100 yards to backup Rhamondre Stevenson.
Stevenson also scored twice and led New England to averaging 5.4 yards per carry against the Browns.
It was one of the worst performances of the season by Cleveland's defense and they have another tough matchup trying to slow down Swift on Sunday.
3. Amani Oruwariye
Detroit's defense has been a disappointment so far this season, but cornerback Amani Oruwariye has been one of their lone bright spots.
He has 3 of Detroit's 5 interceptions on the season and also has a fumble recovery, which means that he's accounted for 40% of Detroit's forced turnovers.
He's a young cornerback who's still coming into his own in the NFL.
Great coverage here by Amani Oruwariye. Is able to keep hands on his man and peek into the backfield. Nice pass break up.#DETvsPIT pic.twitter.com/LvJDOKsV5o

— Belal Halaweh (@HalawehBelal) November 14, 2021
Despite some growing pains, he's turning out to be a solid defensive back for the Lions and has generated more turnovers than anyone else on the team.
Whether it's Baker Mayfield or Case Keenum taking snaps for the Browns, they'll have to watch out for Oruwariye.