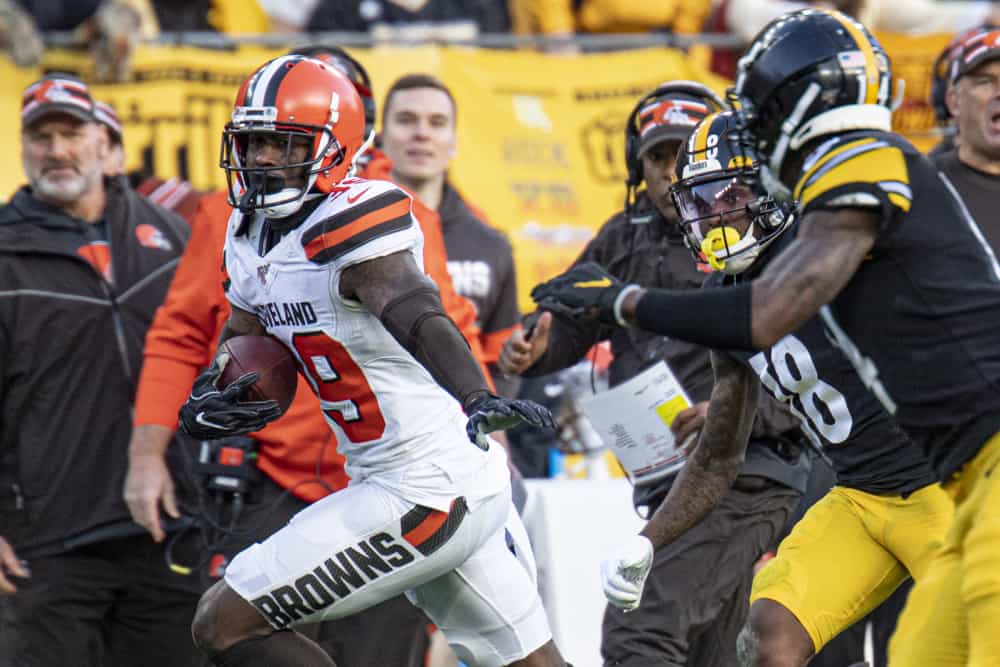 Lookout: the Cleveland Browns are 4-1 and are coming for the undefeated Pittsburgh Steelers.
Who would have thought that this Sunday's matchup with the Pittsburgh Steelers would have serious divisional implications?
It does and the 4-0 Steelers will look to keep their streak going against the 4-1 Browns.
With that said, these are the matchups we are looking forward to seeing.

No. 1: Browns Offensive Line vs. TJ Watt
Watt finished the Steelers win over the Eagles with three quarterback hits, three tackles for loss, and one sack.
However, the Eagles showed that there are ways to neutralize the powerful football player.
JESUS!!!!!! RT @EaglesXOs: I thought Jordan Mailata had a solid day vs the #Steelers, and this was my favorite run block. Always looks great on the move, and on this one he steamrolls TJ Watt in the hole on the goal line #FlyEaglesFly pic.twitter.com/2dbt7kxuID

— Clifford 🇭🇹 (@LucaBrasi718) October 12, 2020

Containing Watt will be difficult, which means the Browns will hopefully look to throw a couple of double teams his way.
The offensive line has looked stellar in blocking for Nick Chubb and Kareem Hunt.
The unit will have to show off once again in order to take over the division lead.
We know Chubb and Hunt are good. The world does. But Hilliard and Johnson? No disrespect to them, but the Browns offensive line was showing off yesterday.

I don't know if there's anything more satisfying as a football fan than a good OL. They've been excellent.

— Ken Carman (@KenCarman) October 5, 2020
No. 2: Chase Claypool vs. Denzel Ward 
To be fair, Ward will likely open the game against JuJu Smith-Schuster.
However, the second-round pick for the Steelers made a boom on the NFL scene this past Sunday.
Claypool scored four touchdowns and tied a franchise record in his 107-yard day.
4️⃣ touchdowns for @ChaseClaypool to help us go to 4️⃣-0️⃣#CLEvsPIT – Sunday at 1 pm on CBS pic.twitter.com/LGN7GuRZja

— Pittsburgh Steelers (@steelers) October 12, 2020
Smith-Schuster finished the game with 28 receiving yards but has been the team's No. 1 receiver.
Hopefully, Ward will get his chance with the up and coming Claypool.
Ward finished with four tackles and a pass deflection against the Colts.
He will look to build on that in one of the biggest games he has ever played.

No. 3: Myles Garrett vs. Anybody
How can you not be excited to watch Garrett on Sunday?
Garrett added another sack in the team's win over the Colts and is currently second in the league with 6.0 sacks.
He trails just Aaron Donald of the Los Angeles Rams, who has 7.5 sacks.
Ben Roethlisberger has been sacked just six times this season.
Believe it or not, Baker Mayfield has been sacked more with seven.
If Garrett has an opening, he is going to find a way to get to the 38-year old.
And, that's absolutely terrifying and exciting at the same time.
In 5 games Myles Garrett:

🔸6 Sacks
🔸12 QB Hits
🔸3 strip sacks
🔸2 fumble recoveries#BROWNS 🦖🦖🦖🦖🦖🦖

— Donny Dangerous #D4L (@CyrusD4L) October 12, 2020