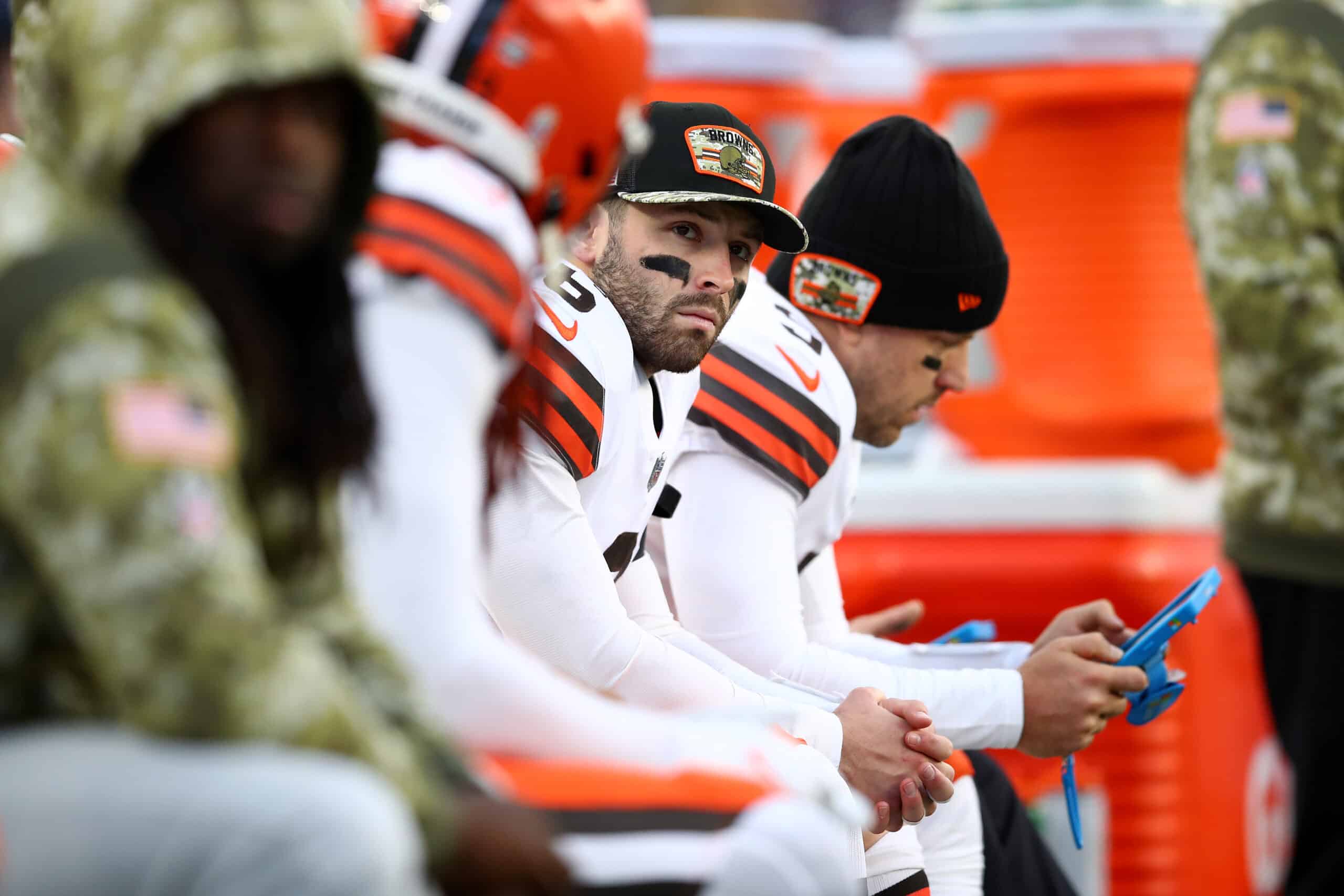 2021 was a season of stark contrasts for the Cleveland Browns.
There were great expectations that were not fulfilled.
And then there were the players who did not deliver as expected which contributed to the overall mediocrity of this 8-9 team.
Here are the three most disappointing players in 2021.
1. Baker Mayfield
Baker Mayfield was a huge disappointment.
Certainly, the injury impacted his performance, and it happened in Week 2 so there was a whole season of dealing with a less than healthy Mayfield.
Even before the injury, in Week 1 against the Chiefs, there were questionable decisions.
Most Interceptions since Baker Mayfield was drafted 2018:

Baker Mayfield: 56*
Sam Darnold: 51
Jared Goff: 49
Jameis Winston: 47

*10 INTs in last 6 games* 👀 #Browns

— John Sabol (@John_Sabol) January 4, 2022
Passes thrown that should not have been.
Baker Mayfield's injuries have nothing to do with his decision making.
Absolutely Nothing.

I get the guy is hurt. But that's not an excuse for the lack luster decisions over the last 2+ months.#Browns

— John Sabol (@John_Sabol) January 4, 2022
Perhaps that would have cleared itself up as the season wore on, but we never had a chance to find out.
Mayfield's handling of his injury was also disappointing.
The narrative about him knowing his body best seemed to run against the team's goals.
In the end, Mayfield's handling of the media finished the trifecta of disappointments about him this season.
He skipped out on a press conference after a winning effort by the Lions.
Regularly, he ripped on play-calling in the media but took offense when the media said there was a rift between himself and Stefanski.
It was not hard to connect the dots on this one; Mayfield showed us this all season long with his behavior.
2. Odell Beckham Jr.
We waited so long for the Odell Beckham Jr. comeback.
After he was hurt in October 2020, the team put all of its support behind his surgery and recovery.
OBJ came back on the field, but his grandest moves were left to the social media airwaves courtesy of his father.
Getting dad onboard to expedite the get-out of Cleveland plan was not something a team player would normally do midseason.
It's amazing and stunning to me that so many people simply gloss over how much damage Odell Beckham Jr. did to the Browns. He's a quitter. He quit.

— Mayfield Garrett Stefanski Era 🐶 (@MylesOffTheEdge) January 7, 2022
It worked, and he ended up in Los Angeles where his pregnant girlfriend lives.
OBJ Sr. tore away at the unity in his locker room with that 11-minute video.
His son left, but it seemed like the locker room issues and the vibe was dreary after the messy breakup.
#Browns WR Donovan Peoples-Jones on whether Odell Beckham Jr. leaving has weighed on close friend Jarvis Landry this season: Everybody deals with things. He's made sure he's there for his teammates. Have so much respect for him.

— Nate Ulrich (@ByNateUlrich) January 6, 2022
3. Austin Hooper
Austin Hooper is getting paid big dollars to catch passes.
It is that simple.
Austin Hooper with a pair of targets that hit him square in the hands.

Andrew Berry has been pretty great for the Browns as GM, but the Hooper move is very clearly a bad one.

— Danny Cunningham (@RealDCunningham) January 4, 2022
Dropped passes were a nagging issue for Hooper in 2021.
Death, taxes, and Austin Hooper drops.

— CHSbrownsfan🏈 (@chsbrownsfan) January 4, 2022
He was targeted 61 times and caught 38 passes so he caught roughly 62% of his passes.
Of course, not all of those passes were catchable, but it is still a low percentage of completions.
In his Pro Bowl seasons of 2018 and 2019 with the Atlanta Falcons, he caught between 75 and 80% of his targeted passes.
He does provide the intangibles of leadership and blocking ability, but football is a game driven by statistics, and Hooper's are not good in 2021.
Conclusion
To be clear, there are more than 3 disappointing players on this 2021 roster.
There is also a valid argument for saying the entire special teams unit was a disappointment this year.
The punter and kicker changed during the year, and the Browns were disastrous in onside kick situations also.
In the end, all of this needs to be fixed for 2022 to be a successful season for the Cleveland Browns.