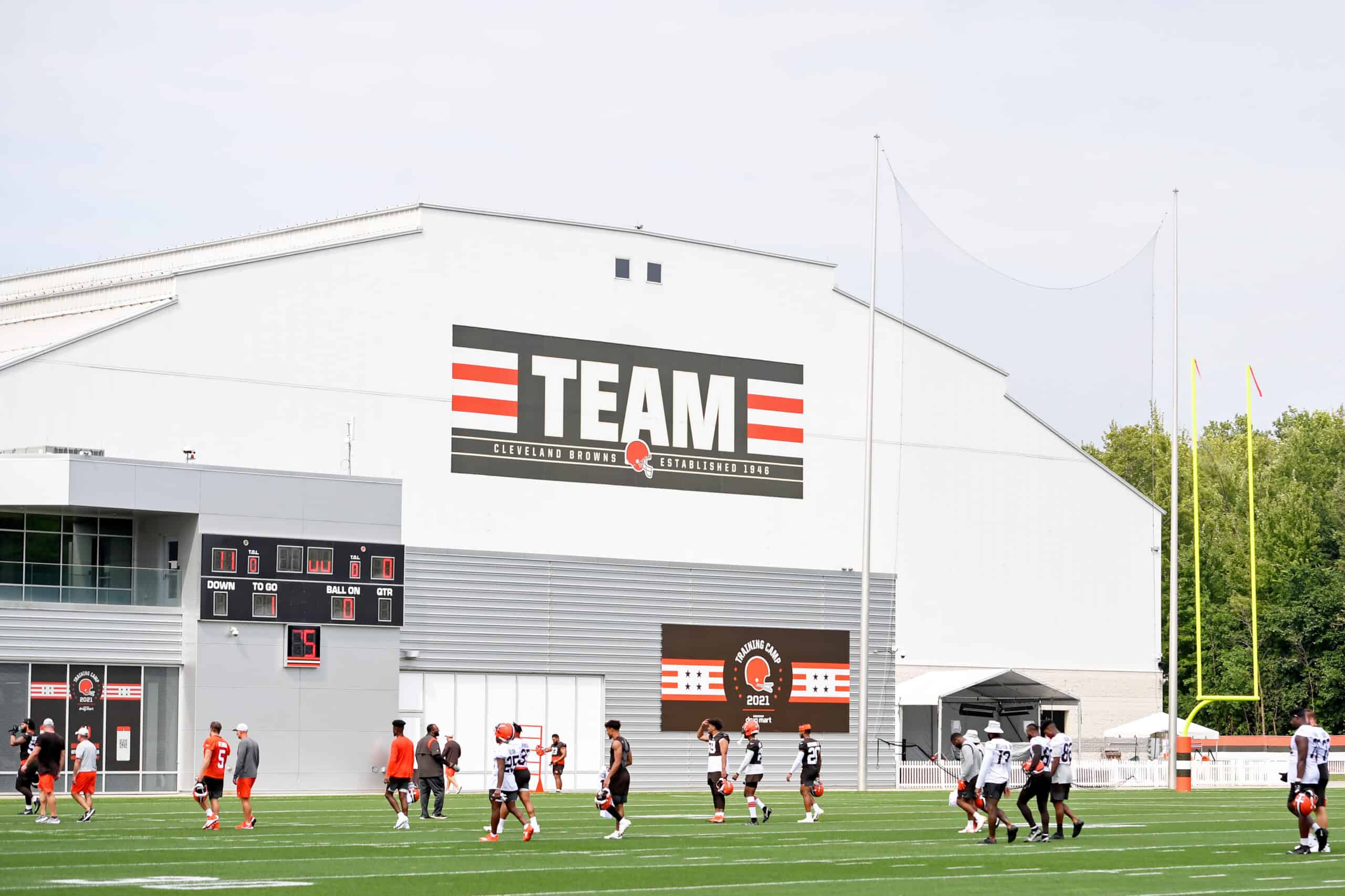 Normally, training camp and the preseason aren't the most exciting to watch.
It's mainly for the players to get back into the groove of the football season.
Hey, it's better than nothing and it means that the regular season is getting closer.
That being said, there are a few Cleveland Browns players that should grab the fans' interest during the preseason.
1. Donovan Peoples-Jones
The name Donovan Peoples-Jones has been thrown around quite frequently during training camp.
A second-year wide receiver with excellent speed that appears to be improving as a wideout.
Last season, the Browns mainly used Peoples-Jones as a returner, but he saw limited action as a receiver as well.
This time around, Cleveland is giving Peoples-Jones more reps as a receiver and it appears to be paying off.
He recently made a 60-yard catch from quarterback Baker Mayfield during a practice that got everyone in the crowd excited.
#Browns Baker Mayfield finds Donovan Peoples-Jones and the crowd goes wild. pic.twitter.com/c1ZddvWdY0

— Camryn Justice (@camijustice) August 6, 2021
The Browns do have plenty of depth at wide receiver, but the potential and growth of Peoples-Jones is something to watch.
He is a former sixth-round pick that wasn't expected to be anything more than an above average returner in the NFL.
However, Peoples-Jones is proving that he can do much more than that on a football field.
In fact, he could very well climb his way up the depth chart with an impressive performance in the preseason.
2. David Njoku
The Browns aren't ready to give up on tight end David Njoku.
He has put together two straight below average injury-riddled campaigns.
Despite that, Cleveland decided to accept his fifth-year player option for the 2021 season.
Njoku has played well in camp and has been making some impressive catches during practice.
Baker Mayfield finds David Njoku for the TD. #BrownsCamp pic.twitter.com/p16d4BWgqR

— cdotcombrowns (@cdotcombrowns) August 8, 2021
The biggest problem for Njoku has been staying on the football field.
Sadly, injuries continue to sideline him and hinder what could be a decent career.
The 26-year-old finally appears healthy and ready to make an impact.
It's a contract year for Njoku, so he has more incentive to play well to earn himself a nice payday next offseason.
A strong performance in the preseason could go a long way to increasing his role in Cleveland.
3. Greedy Williams
The 2020 season was a bust for defensive back Greedy Williams.
He suffered a nerve injury to his shoulder in training camp and never fully recovered.
A year later, Williams is back in Browns camp and is ready to make an impact.
He looks healthy and is quickly getting back to speed during training camp.
#Browns Greedy Williams and top pick Greg Newsome doing individual drills with other DBs pic.twitter.com/1qerm1pr05

— Fred Greetham (@FredGreetham) August 8, 2021
The former second-round selection out of LSU is expected to battle with recent first-round pick Greg Newsome II for the No. 2 defensive back spot.
There is only so much that can be done in camp, but the preseason should help the Browns better determine who should be the starter.
Williams struggled during his rookie season, but Cleveland has basically a completely different coaching staff now.
The hope is that head coach Kevin Stefanski can get a bounce back performance out of Williams.
Regardless of who wins the No. 2 spot, it'll be exciting to watch these two young defensive backs get into action during the preseason.