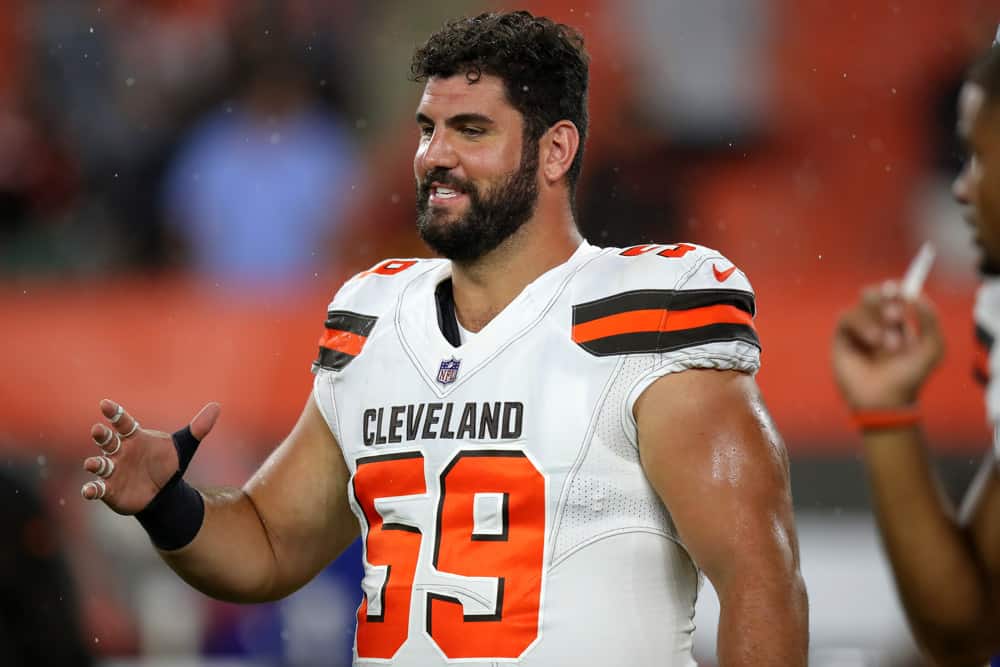 Anthony Fabiano is only 28 years old, but the offensive lineman has made his rounds to several NFL teams.
Those teams include the Cleveland Browns with whom he had three separate stints.
Fabiano started his NFL career as an undrafted free agent out of Harvard in 2016.
Though he has not officially retired, it appears his playing days are over at least for now.
Fabiano's current gig is as a scouting assistant with the Browns.
#Browns announced several hires and promotions. One is addition of former offensive lineman Anthony Fabiano as scouting assistant.

— Tom Withers (@twithersAP) June 4, 2021
His hiring was announced in June at GM Andrew Berry's press conference, but it was noted by NFL Network's Mike Garofalo yesterday.
Leftover note from my day with the #Browns yesterday: Former OL Anthony Fabiano has impressed as a scouting assistant. In January, he was on the roster. By June, he was helping fellow Harvard grad Andrew Berry build it. Fabiano could be a front-office name to watch.

— Mike Garafolo (@MikeGarafolo) August 11, 2021
Who Is Anthony Fabiano?
Anthony Fabiano had an outstanding career at Harvard.
Besides earning an economics degree, Fabiano played on the Harvard football team.
If any parts of Fabiano's story sound familiar, it is because Berry's story is strikingly similar.
Fabiano earned All-Ivy designation three of his four years.
He played in nine career NFL games.
Coincidentally, he has been on nine different teams also, mainly in a practice squad capacity.
Those teams include the Baltimore Ravens who initially signed him in 2016.
In addition, he was with the Washington Redskins (now Football Team), New York Giants, New England Patriots, Indianapolis Colts, Philadelphia Eagles, Tampa Bay Buccaneers, and the Green Bay Packers.
The Browns are the only team he returned to after arriving in 2016.
Congrats to Wakefield HS alum Anthony Fabiano on starting for the Cleveland Browns offensive line today. pic.twitter.com/RoB6lnND6T

— Wakefield Athletics (@WMHS_Warriors) January 1, 2017
He came back in 2018 and 2020.
Most recently, Fabiano played four special teams snaps in the Browns wild card win over Pittsburgh in January.
A Natural Fit With The Browns
Fabiano with his obvious intellect and Harvard degree in economics fits in well with Berry's front office loaded with intelligent people strong on analytics.
As young as he is and with valuable NFL experience across many organizations, Garafolo is correct that Anthony Fabiano is a person to watch as he works his way up the executive ladder in the NFL.