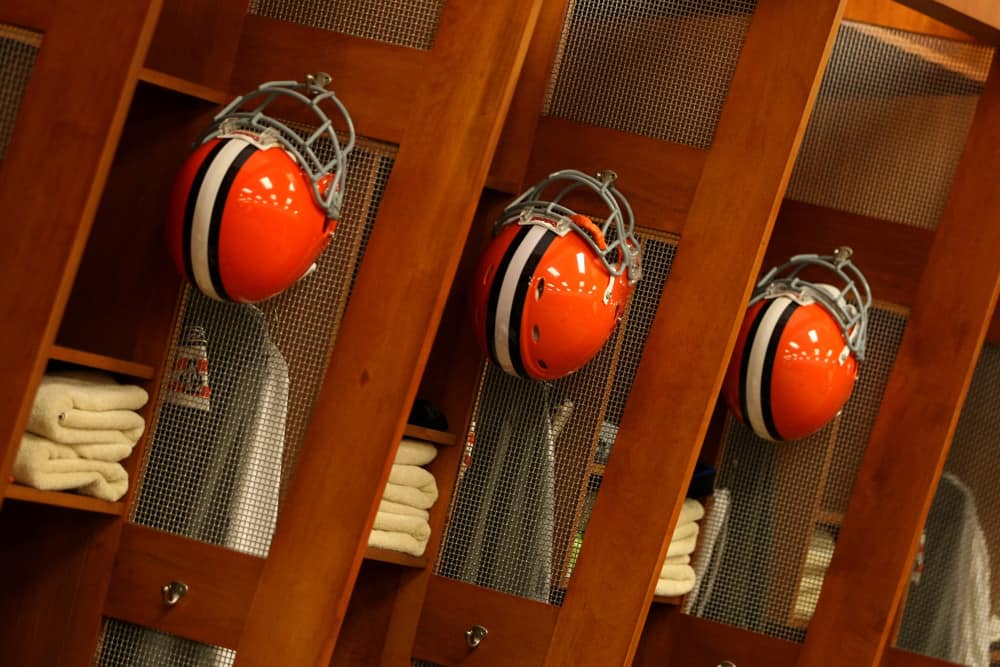 Everyone saw what the Cleveland Browns were able to accomplish in 2020.
First-year head coach Kevin Stefanski was able to get the most out of his players.
To be fair, the Browns roster is built to win and have some of the best talent throughout the league.
This roster is headlined with players like Baker Mayfield, Myles Garrett, Nick Chubb, and Denzel Ward.
Although, it took more than just those few players to make the playoff run that Cleveland did last season.
There were a handful of players that slid under-the-radar and should get praise for their performance on the Browns roster.
1. J.C. Tretter
The 30-year-old center has done nothing but succeed since joining the Browns organization.
In fact, J.C. Tretter has not missed a game since joining Cleveland in 2017.
Somehow, the veteran center has played all 16 games every season over the last four years.
He doesn't quite get as much credit as he deserves with Joel Bitonio, breakout stud Wyatt Teller, and youngster Jedrick Wills on the roster.
It's worth noting that in 2020, Tretter allowed only one sack with over 1,000 snaps played.
He finished with a 77.1 overall grade last season, according to Pro Football Focus.
Tretter goes out there and plays well every Sunday and has proven to be well worth his contract.
Sadly, Tretter gets lost in the shuffle with how loaded the Browns have made their offensive line.
He might not be a Pro Bowl caliber center, but Tretter has been an asset to this roster.
2. Sione Takitaki
One of the players that wasn't talked about much last season was second-year linebacker Sione Takitaki.
The 25-year-old had a breakout campaign, but it was muffled by fantastic turnaround seasons by Baker Mayfield and Wyatt Teller.
Takitaki went from being a rotational linebacker to basically a full-time starter in the matter of one season.
At times, Takitaki looked like a completely different player than he did during his rookie year in Cleveland.
SIONE TAKITAKI GETS THE PICK.

INT number 4 for Big Ben.

(via @NFLBrasil)pic.twitter.com/6lXszSGmh9

— Bleacher Report (@BleacherReport) January 11, 2021
In 2020, Takitaki finished with 67 tackles, one sack, and one interception through 15 games.
It's worth noting that Takitaki started in 12 of the 15 games he appeared in last season.
He'll have plenty of competition with Anthony Walker, Jeremiah Owusu-Koramoah, and Tony Fields II joining the roster.
However, Takitaki has done enough to prove himself and deserves a starting spot heading into training camp.
Obviously, he'll need to continue playing well in order to keep starting, but hopefully Takitaki continues to get better.
It's unlikely the Browns expected this kind of jump after what they saw in 2019.
Although, Takitaki has quickly become an important part of this defensive unit.
3. Cody Parkey
Journeyman kicker Cody Parkey has been given more hate than most kickers ever hear during their playing career.
We all know about Parkey missing the playoff field goal during the 2018 season with the Chicago Bears.
It was horrible to watch for everyone besides Philadelphia Eagles fans.
However, Parkey does deserve credit for his performance on the Browns last season.
Cody Parkey hits it from 46 yards. #Browns pic.twitter.com/IR10YmfgCu

— Justin Groc (@jgroc) January 17, 2021
Through 15 games, Parked knocked down 19-of-22 field goal attempts and 43-of-47 extra point attempts.
Those aren't bad numbers whatsoever, but everytime Parkey misses he'll be haunted by the "double doink" jokes.
Browns fans need to be realistic and understand there isn't another Phil Dawson waiting on the sideline.
The 29-year-old kicker is far from perfect, but it appears he has learned from his mistakes.
During the postseason last year, Parkey made all eight of extra point attempts and nailed down all three of his field goal kicks.
No one is going to be perfect, but Parkey has taken enough hate for his one mistake on obviously a huge stage.
The veteran kicker has done his job in Cleveland, whether fans want to admit it or not.