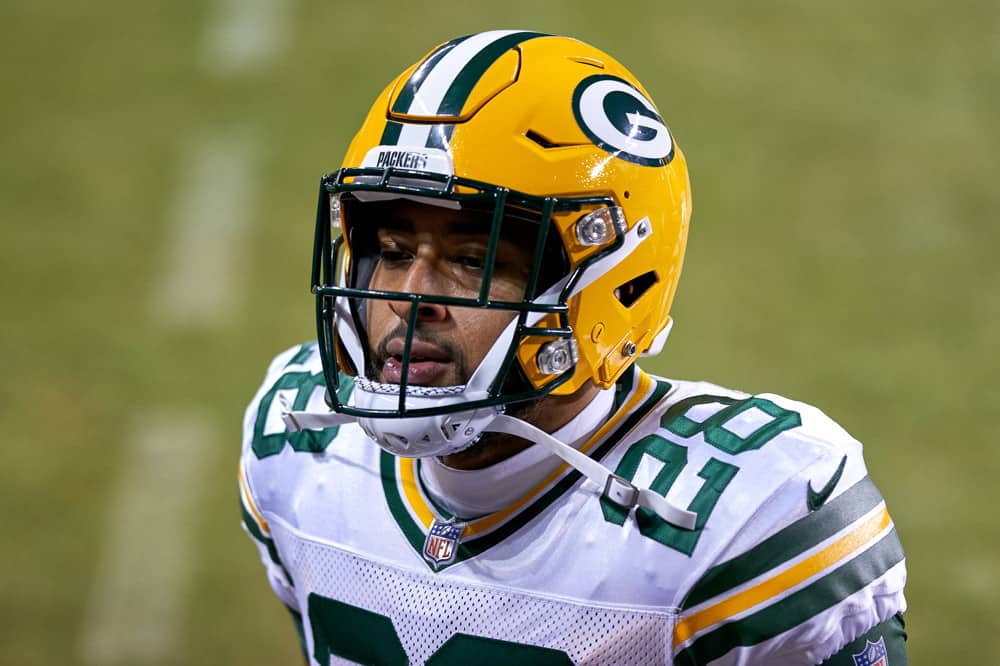 The Cleveland Browns have had an offseason to remember.
In addition to a 2021 draft class that includes up-and-comers JOK and Greg Newsome, the Browns signed a number of highly talented free agents.
This impressive haul will be mixed in with a veteran group that went 11-5 in 2020 and advanced to the second round of the playoffs.
More than a few NFL talking heads have already proclaimed the Browns the best roster in the land.
The Cleveland #Browns are the only team with an A+ NFL Draft grade in both 2020 & 2021 pic.twitter.com/RtG3G7Wg1n

— PFF College (@PFF_College) May 4, 2021
Of course, there are 31 other franchises that have something to say about that.
In particular, the Green Bay Packers have taken a shot across the proverbial bow.
As anyone with a pulse knows, the Pack hasn't exactly been quiet since 2020 concluded.
Franchise quarterback Aaron Rodgers is still unhappy after Jordan Love was selected in last year's draft.
The rumor mill has been in full spin and even the Browns have had to deny Rodgers was headed their way.
So, even before that drama is sorted out, Packers running back A.J. Dillon made a fairly bold statement yesterday to NFL.com.
During the interview, Dillon shared with the world who he believes is the best running back tandem in the league.
"I think we can be the best running back tandem in the NFL," Dillon said Wednesday, via NFL.com. "You look at us and you see thunder and lightning, which absolutely we are, but the lightning guy, Aaron (Jones), he can also grind out some yards, and the thunder guy, myself, I'd like to say I can still beat some guys running away from them."

https://twitter.com/ByRyanWood/status/1400166242607116288
It goes without saying that Nick Chubb and Kareem Hunt probably don't agree with Dillon.
Last season, Chubb missed four games yet still put together 1,067 rushing yards and 12 touchdowns, a career high.
Hunt started five games and rushed for 841 yards, six touchdowns, and added 38 receptions for 304 yards and five more scores.
Meanwhile, Jones had 1,104 yards rushing, nine touchdowns, 47 catches, 355 yards, and two reception touchdowns.
Then there was Dillon.
In 2020, he accumulated 242 yards and two scores.
Oh, he also had two catches for 21 yards.
The bulk of his rushing total came during a Week 15 game against Tennessee where he gained 124 yards and landed in the end zone twice.
The game against the Titans appears to be the impetus for Dillon's new found reason for optimism.
"The Tennessee game, definitely, I look back on as I'm preparing for this year as a big confidence boost," Dillon said. "Now going into year two, second year in the offense, knowing a little bit more and hopeful expanding my role, I definitely know what I can contribute. So just looking to build on top of that and having more games like that Tennessee game."
It should be noted that Dillon was a star at Boston College.
He rushed for 1,685 yards and 14 touchdowns during his final season in college.
In three years at BC, Dillon had 4,618 yards and 40 scores total.
He may very well be a future star in the NFL, but until that happens, Dillon may want to temper his expectations.
#Packers RB AJ Dillon took time to explain a few things about his quads today:

*He says his quads are the biggest/strongest in the NFL.
*He now has nicknames for both his quads
*One quad is "Quadfather"
*The other is "Quadzilla"

He was very serious. He also plans to sell merch. pic.twitter.com/uKB7PtKHvK

— NFL Update (@MySportsUpdate) June 2, 2021