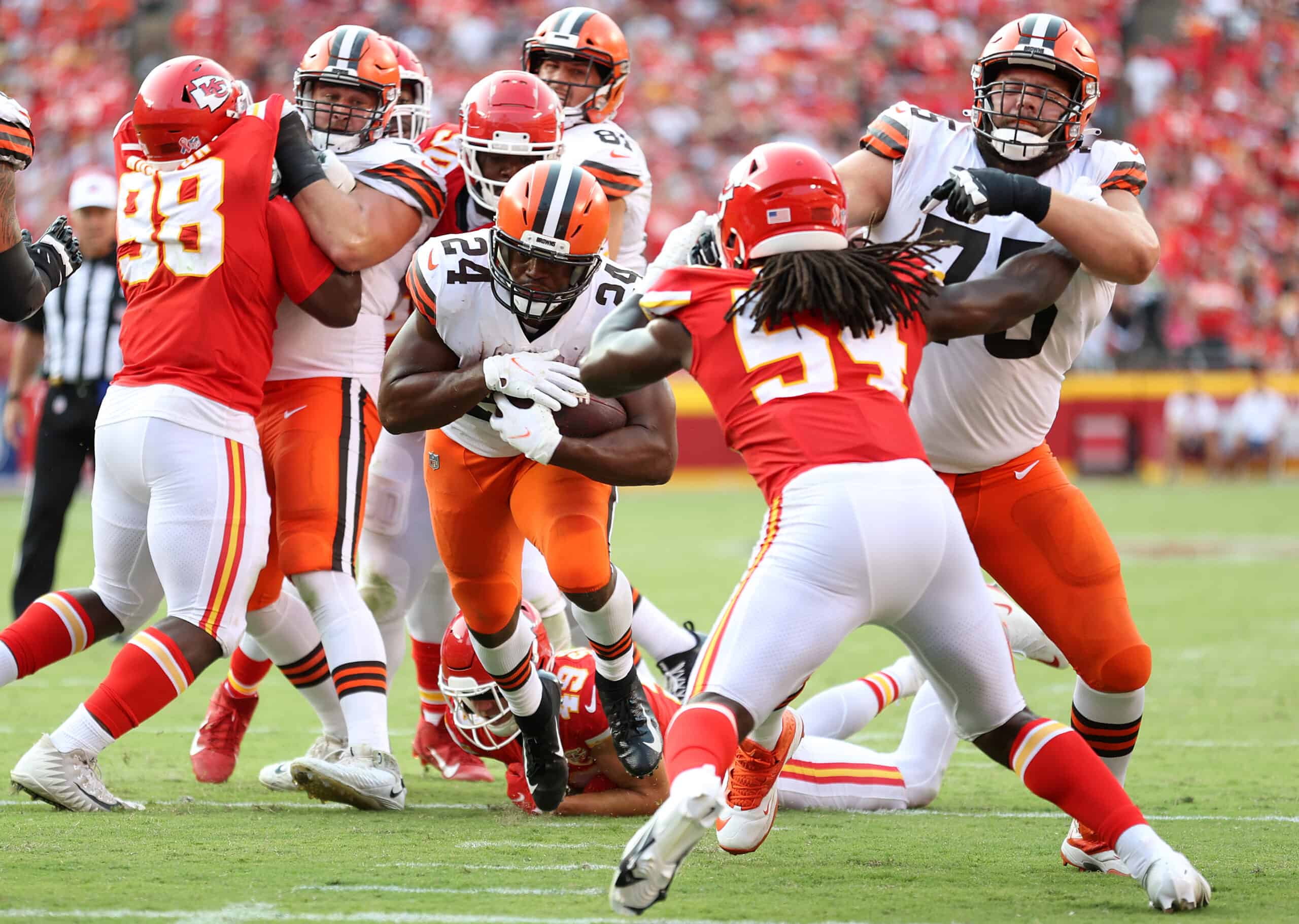 There are probably some Cleveland Browns fans who remember what a water cooler conversation is.
Workers used to gather around to share opinions about the latest dirt, a popular TV series, or the politics of the era.
But during the NFL season, Monday morning cooler talk was dominated by rants about that Sunday's results.
Nowadays, Browns fans don't have to wait until Monday to share what we're feeling, thanks to social media.
The Cleveland Browns are a LEGITIMATE threat! pic.twitter.com/u7bB2CYmzb

— Stephen A Smith (@stephenasmith) September 13, 2021
Twitter was on fire when the Browns threatened to go up by 3 scores just before the half Sunday.
But things got decidedly uglier when the wheels fell off in the 4th quarter.
And the post-game analysts didn't slow down with their suggestions and critiques come Monday.
Some deserve to be addressed, like these 3 overreactions to the Browns' loss in Kansas City.
1. Baker Mayfield Is Holding Cleveland Back 
Stop me if you've heard this before: Cleveland will never win the big one with Baker Mayfield at quarterback.
That's right, the man who promised to deliver Cleveland from the throes of 1-31, and did, is holding us back.
Baker Bashers still jump on every Mayfield interception like it is the norm, despite last season's stellar performance.
Even before folks realized Mayfield tried to throw the ball away, fingers pushed that message into their phones.
Baker Mayfield has been the most accurate QB in the NFL today. @Browns

— Dan Orlovsky (@danorlovsky7) September 12, 2021
They claimed Mayfield never will lead a game-winning drive, even though he has 6 in his first 3 seasons.
He had 2 game-winning drives last season in only 3 opportunities.
Critics complain he had no touchdown passes, as if his 321 passing yards played no part in Cleveland's 4 rushing TDs.
Maybe Mayfield should have thrown that last one away earlier, but one play won't kill the Browns 2021 playoff run.
2. Cleveland's Defense Is The Same As Last Year 
Count me in as one of the few who think Joe Woods did a good job with a substandard roster in 2020.
And count me in as one who expects much greater things with all the new pieces in place this year.
But don't think I agree with folks screaming about the defensive effort put forth on Sunday.
That's not to say I wasn't yelling at the TV as various Chiefs settled into gaps in the Browns zone coverage.
So many absurd Joe Woods takes… as if our defense didn't hold an all time great offense in the NFL to 10 in the first half , with entirely brand new personnel #Browns

— MoreForYouCleveland (@MoreForYou_CLE) September 13, 2021
But the defense forced a punt and gave the Browns a chance to go up by 3 scores before the half.
Then they preserved the lead after Nick Chubb's fumble and made another stop to give Mayfield the ball one last time.
And they did all that while chasing Kansas City's elite offensive weapons in a very hot and very hostile stadium.
This is not last year's defense, Joe Woods is not going to get fired, and Houston just might get shut out this week.
3. This Is Not a Division-Winning Team 
It is hard to imagine anyone who watched Sunday's game thinking the Browns are not a good team.
The offense finished with the highest yards-per-snap average in the league and put up 29 points.
The defense slowed the Chiefs' attack and had Patrick Mahomes on the run often.
Some critics rant about the mistakes as if Jamie Gillan won't catch every other snap this season.
Nick Chubb has 4 career fumbles. 4. In 4 years. 2 in a game in rainy weather vs Patriots. That's it 4. Yes, the one yesterday was critical but he will atone for it @Browns

— [email protected] (@JohnTelich8) September 13, 2021
Nick Chubb had the 4th fumble of his career– 2 of which came on the same rainy day.
The game-ending interception was a heartbreaker, but it does not define the effort of the Browns team.
Cincinnati and Pittsburgh sit on top of the division after Week 1, but neither played better than Cleveland this week.
And they should not get used to sitting in that perch, because the Browns are coming.