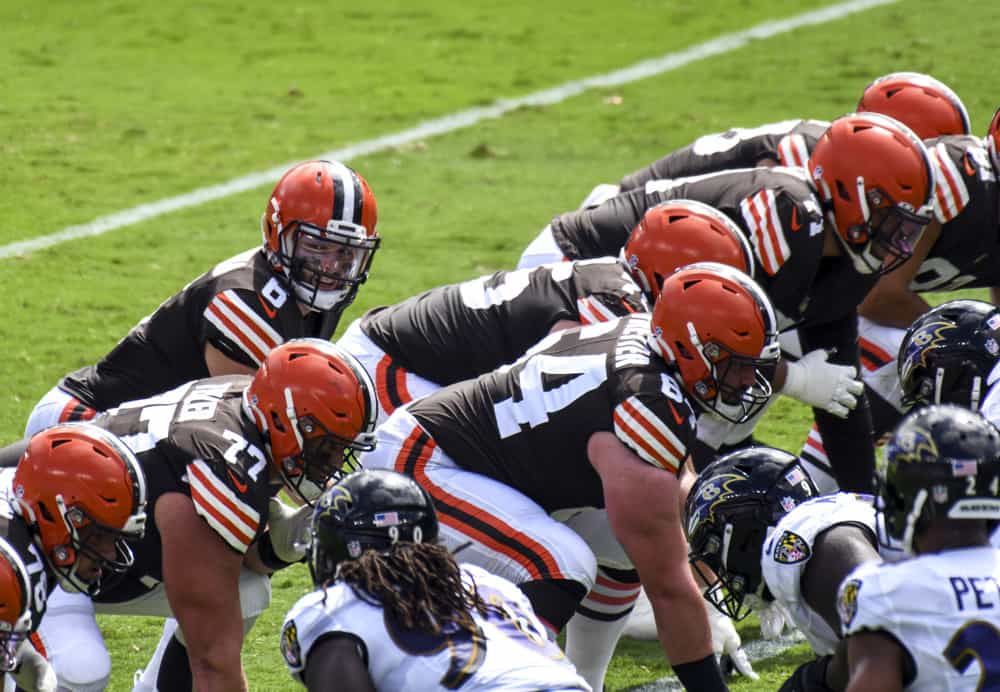 The Cleveland Browns have a loaded roster in 2021.
Some believe this is the year for the team to contend in the playoffs and beyond.
Injuries are a part of the game, but there are certain players whose injuries are difficult to overcome.
Here are three players the Browns can't afford to be injured in 2021.
To be fair, the list is longer than three, but we had to cap it somewhere.
1. Baker Mayfield, Quarterback
Baker Mayfield's 2020 regular season:

305-487 (63%) – 3,563 yards – 26 TD – 8 INT#Browns

— Hayden Grove (@H_Grove) January 3, 2021
Whether you like him or not, or think he's good or not, Baker is the man.
He has to stay healthy in 2021.
Does anyone really want to endure a season of Case Keenum under center?
While Keenum is a fine backup and mentor to Baker, he is not leading the Browns to the playoffs.
Yes, I am aware that Keenum has playoff experience with the Minnesota Vikings, but his career-best season does not match what Mayfield just accomplished in 2020.
He cannot take this team to the Super Bowl.
If anyone is going to do it, it has to be Mayfield.
2. Wyatt Teller, Right Guard
We already know what happens when Wyatt Teller gets hurt.
He dealt with several injuries during the 2020 season.
When he is out of the lineup, the Browns running game is not as effective.
The Browns averaged over 5 yards per rush when Teller was healthy but about 3 1/2 yards per rush when he was not.
Yes, Nick Chubb was also out when Teller was which did not help matters.
The fact remains that a healthy Teller leads to a more robust running game.
Browns RG Wyatt Teller is playing his butt off this season. You want to run a right-handed boot-action game and get consistent power running, your right guard had better be on point. Teller has been lights-out so far. Just sandwiched D.J. Reader on Baker's TD pass to Kareem Hunt.

— Doug Farrar (@NFL_DougFarrar) September 23, 2020
3. Myles Garrett, Defensive End
Myles Garrett freezes the blocker's feet with the jab step, clears the outside hand with the cross chop & finishes with a rip. Uses great body control to turn the corner & get to the QB! #passrush pic.twitter.com/9tmLj76jiu

— DLineVids (@dlinevids1) May 4, 2021
This story played out last season also when Garrett was out with COVID-19.
The defense is not as effective without him.
Even when he returned and was still suffering the after-effects of COVID-19, the defense was not the same as when a healthy Myles Garrett is on the field.
While the Browns definitely got Garrett some help this offseason by adding Clowney and McKinley to name a few, Garrett still needs to be healthy for the Browns to win.
Honorable Mention: Jedrick Wills, left tackle
I told you the list was longer than three.
I had to mention Jedrick Wills here also.
Wills had a fantastic rookie season.
Jedrick Wills Jr.: Only first-round rookie OL to not allow 4+ pressures in a game this season. pic.twitter.com/a0EZuFLq9o

— PFF Draft (@PFF_College) December 27, 2020
In the middle of a pandemic with an abnormal preseason, Wills switched from right tackle (his position at Alabama) to left tackle and did a great job protecting Baker Mayfield.
Mayfield was sacked less and threw fewer interceptions.
Some of that was attributed to Mayfield's maturity, but it also has to do with how well Wills played.
You could make arguments that Nick Chubb should be on this list too because the Browns running game works best with both Chubb and Hunt.
Hopefully, none of these guys get injured, and those who suffered serious injuries last season, Grant Delpit and Odell Beckham Jr., are back and ready to go when the season opens in September.
Speaking of the season opening, the Browns schedule will be revealed (along with the other NFL teams) on Wednesday, May 12 at 8 pm EDT on NFL Network.