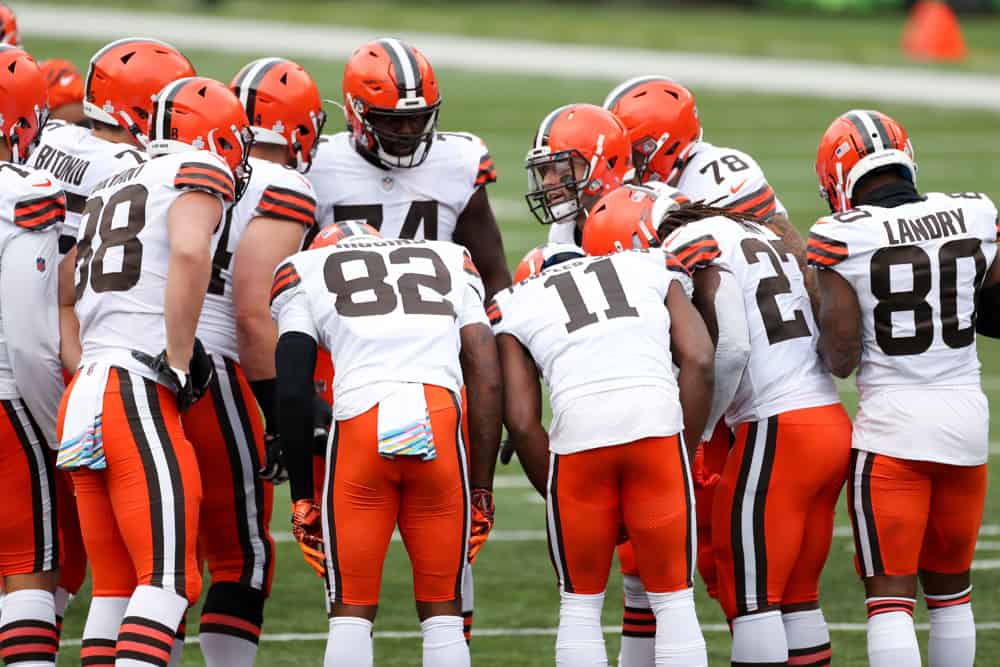 There's plenty of optimism around the Cleveland Browns right now, and for good reason.
They are coming off their first winning season since 2007 and first playoff victory since 1994.
Baker Mayfield has filled the need for a franchise quarterback and Kevin Stefanski excelled in his first season as a head coach.
Stefanski: "We're excited because we stayed true to the process."

— Andrew Gribble (@Andrew_Gribble) May 1, 2021
Still, there are questions this team faces heading into the 2021 season.
No situation is ever truly perfect, so let's take a look at some of the unknowns the Browns currently face.

1. What Kind of Shape is Odell Beckham Jr. In?
When Odell Beckham Jr. went down with a torn ACL in week seven last season, it shook up the Browns' offense.
Mayfield did not throw for over 300 yards in any of the games leading up to the Sunday of Odell's injury.
That game, Mayfield would surpass 300 passing yards and do it twice more before the end of the season.
Cleveland's offense operated smoothly even without OBJ.
Of course, that had some clamoring the Browns offense would be better off without their star wideout anyways.
Baker's grade without OBJ has been better

Are the Browns a more efficient offense without Odell? pic.twitter.com/sPzPsVoMGh

— PFF (@PFF) October 27, 2020
Baker Mayfield has since denied his belief in those claims and is eager to have Odell back on the field with him.
ACL injuries are far from minor though and it will be interesting to see what kind of shape OBJ comes back in.
The role he plays in the offense will be dependent upon where his abilities are at.
My brotha @obj sent this to me.. what acl? He's looking real scary… this will be is best year yet.. I'm calling it!!! 🔥 pic.twitter.com/ZJXBLqfVFn

— Dez Bryant (@DezBryant) May 2, 2021
2. How to Use the Linebackers
Cleveland's linebacker unit was the low point of the defense last season.
Signing Anthony Walker while drafting Jeremiah Owusu-Koramoah and Tony Fields II helped address that.
Still, the group is young and relatively unproven.
JOK's role could include some hybrid safety play like he experienced at Notre Dame.
Mack Wilson is looking to bounce back after a rough 2020 campaign but will compete with Walker for a starting spot.
Sione Takitaki is also back and made some big plays last season.
Big Ben finds an open Sione Takitaki for his fourth INT of the daypic.twitter.com/7Ws4lYulWa

— PFF (@PFF) January 11, 2021
TAKITAKI TO THE HOUSE 🔥 pic.twitter.com/5ycVy0ND0u

— Sports Nation Ohio (@SN_Ohio) November 22, 2020
This is a diverse group with guys who each bring something unique with their skill set.
Devising the right formula for success will fall on the shoulders of defensive coordinator Joe Woods.
Some were critical of Woods last season as well, so he'll be looking to quiet some of that noise this year.
The defensive front and secondary should shine early and often in 2021.
If the linebackers can follow suit, that's icing on the cake for Cleveland.

3. Tight End Situation
Offensively, the tight end position remains an intriguing one with Cleveland.
Austin Hooper was brought in last offseason and pieced together a quality season.
While the numbers were solid (435 receiving yards and 4 touchdowns), fans expected more from a guy who will eat about 4% of the team salary this year.
That number jumps up closer to 6% in the next two seasons.
Certainly, there will be pressure to make him an integral part of the offense.
Behind him is David Njoku, who's career in Cleveland has been a bit dramatic.
After trade rumors and talks of being unhappy, "Chief" will be sticking around for at least one more season before he becomes an unrestricted free agent next winter.
His athleticism is still something the Browns offense wants to incorporate.
Then there's Harrison Bryant.
While not as athletic as the two guys in front of him, he seems to answer whenever his number is called on.
🗣 "Harrison Bryant caught it! Touchdown!"@hbryant17's first @NFL TD + Jim Donovan's call pic.twitter.com/PvccVOvb9z

— Cleveland Browns (@Browns) September 29, 2020
None of these questions or concerns heading into this season are worth getting bent out of shape over.
OBJ will be doing everything he can to make sure that he is ready for 2021.
The linebackers and tight ends, while not the two best units on the team, have great coaching and leadership behind them.
Even with a few unknown elements, Cleveland sits in a great spot heading into the summer.