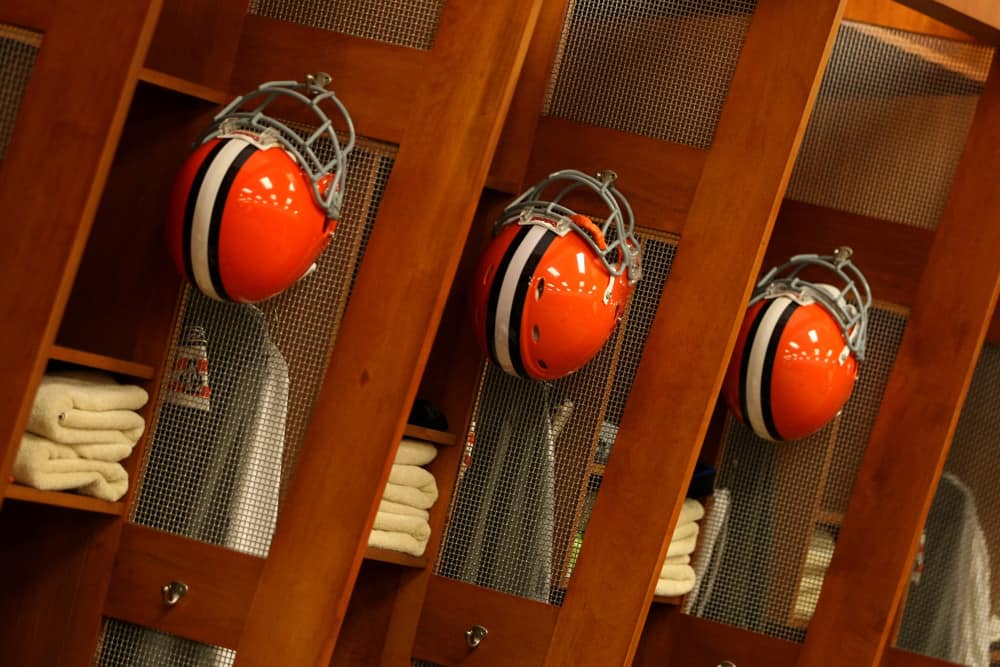 The Cleveland Browns performance on the field was disappointing in 2021.
However, the front office did a solid job of extending their young talent to long term deals.
In fact, the Browns have already locked up Myles Garrett, Nick Chubb, and Wyatt Teller to long term deals.
Also, long time left guard Joel Bitonio received a three-year extension as well.
✍️ We have signed G Joel Bitonio to a 3-year contract extension.

— Cleveland Browns (@Browns) November 10, 2021
The Browns front office has done a tremendous job of signing their players to reasonable deals that don't hurt the team in the long run.
That being said, Cleveland could be looking to lock up a few more of their key players this offseason.
1. Denzel Ward
Somehow, defensive back Denzel Ward has not earned himself an extension yet.
Although, the 2022 offseason could be the time to get a deal done for the former first-round pick.
He certainly proved himself during the 2021 season and is well deserving of a new deal.
In 15 games, Ward finished with 43 tackles, 10 passes defended, and three interceptions.
It's worth noting that one of those interceptions was a 100-yard pick-6 against the Cincinnati Bengals.
DENZEL WARD. 100-YARD PICK-6. #Browns

📺: #CLEvsCIN on CBS
📱: NFL app pic.twitter.com/6YCHI0bBH7

— NFL (@NFL) November 7, 2021
Ward earned himself his second Pro Bowl selection of his young career in 2021.
He has been a lockdown No. 1 defensive back for this organization since being drafted in 2018.
At this point, the biggest question is going to be how much does it take to keep Ward in Cleveland?
The Browns do have the cap space to get a deal done, but waiting might only make it worse for the Browns.
Another strong campaign by Ward in 2022 is only going to raise his demand in salary.
Ward has proven himself and it's time to pay him what he is worth.
2. Anthony Walker
One of the more underrated additions to this roster last offseason was linebacker Anthony Walker.
The Browns managed to sign the fifth-year linebacker to a cheap one-year deal.
Walker was a leader while with the Indianapolis Colts and known for his above average tackling ability.
He certainly lived up to his deal during his time with the Browns this season.
Through 13 games, Walker finished with 113 tackles, one sack, and two passes defended.
Somehow, Walker managed to record well over 100 tackles and missed four games of action.
The 26-year-old played well over expectations and is certainly deserving of a new deal.
Last offseason, the Browns were able to snag Walker on a fairly team-friendly deal.
Possibly, the organization can lock him up to a cheap two or three-year deal this offseason.
Walker is a fantastic tackler and certainly someone you want in the locker room each week.
3. Jadeveon Clowney
Another player the Browns gave a one-year deal to last offseason was pass rusher Jadeveon Clowney.
The former No. 1 overall pick has bounced around in the league since being drafted in 2014.
Despite that, Clowney has three Pro Bowl appearances to his name over his first eight seasons in the league.
The Browns are certainly happy that they gave Clowney a chance last offseason.
In 14 games, Clowney recorded 37 tackles, nine sacks, and two fumbles forced for the Browns this season.
He also earned himself a nice payday while recording his ninth sack of the year.
#Browns Jadeveon Clowney gets his ninth sack of the season, earning a $250k bonus. He also almost got a fumble recovery but lost the ball on the way up. He's not happy about not getting the fumble but the bonus should ease the pain a little.

— Camryn Justice (@camijustice) January 9, 2022
The concern of injury is also there for Clowney, but he looked fairly healthy with the Browns.
He looked strong alongside Myles Garrett and they could be a solid duo going forward.
Obviously, signing Clowney long-term is a bit risky because it'll involve significant money and a high risk.
Although, Clowney has proven to be a reliable option for Cleveland, so they should at least consider the idea.
If the two sides can agree from a financial side then the Browns should certainly bring back Clowney long term.