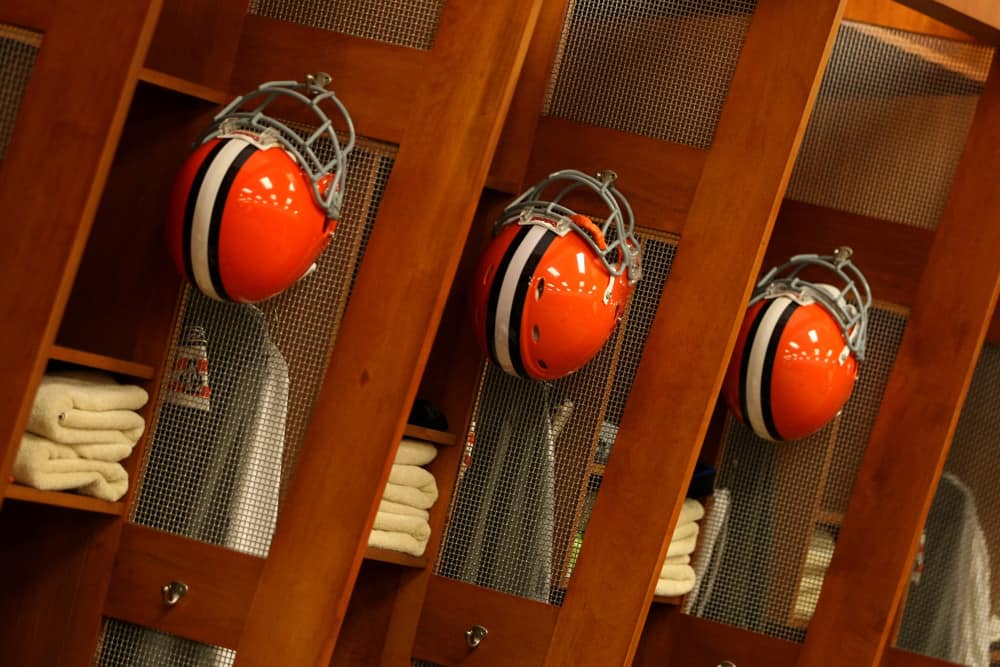 Luckily, the Cleveland Browns don't have too many impact players leaving in free agency.
The front office has done an outstanding job of extending their young talent long-term.
However, there are a few players who impressed the team and are deserving of a new deal.
Cleveland has the cap space in order to bring back a few of the studs from last season.
Obviously, the Browns can't bring back everyone, but there are at least three players deserving of a new contract with Cleveland.
1. Jadeveon Clowney
Last offseason, the Browns took a chance on defensive end Jadeveon Clowney.
The three-time Pro Bowl pass rusher was coming off a disappointing season with the Tennessee Titans.
Clowney was looking for a place to jumpstart his value and Cleveland gave him an opportunity.
This ended up being a great move by the Browns as Clowney played extremely well in 2021.
As expected, Clowney and Myles Garrett were a dangerous duo for the Browns' defense.
Myles Garrett executes a speed chop/rip & works through a holding call by Bolles while Jadeveon Clowney dips & rips. Both work on different levels & Garrett gets the QB down for the sack! #passrush #browns pic.twitter.com/NkyYXAw1VT

— DLineVids (@dlinevids1) October 22, 2021
Now, the Browns will likely have to give Clowney a significant contract, assuming they want to keep him in Cleveland.
He has re-established his value with 37 tackles, nine sacks, and two fumbles forced in 14 games with Cleveland last season.
That being said, Clowney is likely seeking a long-term deal after taking a few one-year contracts.
The Browns should try and find a way to keep Clowney in Cleveland long-term.
He looked great alongside Garrett and that's something the Browns have been seeking for a long time.
2. David Njoku
The Browns front office has a tough decision to make this offseason.
They have to decide if former first-round pick David Njoku is worth a long-term deal.
The 25-year-old came into the league and played well during his first two seasons.
Then injuries hindered Njoku over his next two years with Cleveland.
Although, he was able to revive his value with a solid season in Cleveland last year.
David Njoku paid homage to the one and only @DaveBautista with his touchdown celebration today pic.twitter.com/6EhkECEaMq

— Ben Axelrod (@BenAxelrod) November 8, 2021
The Browns have experienced trouble getting production from the tight end position lately.
The signing of Austin Hooper didn't seem to work out too well for Cleveland.
This team is in need of a playmaking tight end, which Njoku has shown flashes of being that guy.
Possibly, the Browns can bring back Njoku on a team-friendly deal this offseason.
They obviously don't want to pay another tight end big money with Hooper already under contract.
The front office has believed in Njoku for this long, so it's unlikely they let him walk away now.
3. Anthony Walker
One of the biggest steals of the offseason was the Browns signing linebacker Anthony Walker.
It was surprising he went under-the-radar considering his experience and success with the Indianapolis Colts.
Regardless, the Browns signed Walker to a cheap one-year deal last offseason.
He played well above expectations and finished the season with a team-high 113 tackles.
The former fifth-round pick has put together three 100-plus tackle seasons in the last four years.
Now, Walker is likely to head into free agency with new value after another successful season in 2021.
He has earned himself a long-term contract, so hopefully the Browns are willing to give Walker that this offseason.
Cleveland needs a reliable tackler alongside Jeremiah Owusu-Koramoah long-term.
Walker is someone who could be relatively cheap and give this Browns defense a boost going forward.