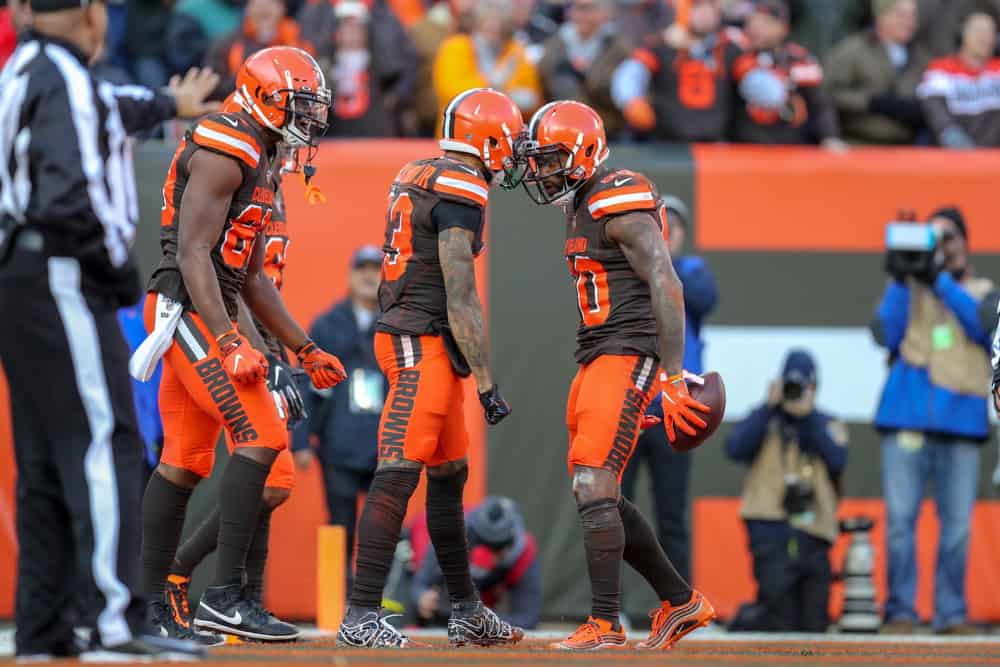 Did Jimmy and Dee Haslam finally get it right this year?
The Cleveland Browns have their cohesive "single vision" analytical-minded team in place.
They are winning the offseason so far.
Case Keenum adeptly deflected an attempt to sow controversy in his introductory interview.
Even the OBJ and Kareem Hunt incidents that could have blown up seem to have faded away.
Weve crowned the Browns free agency champs before This time things look different with Kevin Stefanski https://t.co/nC0GHMNRE7 pic.twitter.com/OPPR5yuRYR

— USA NewsChannels (@USANewsChannels) March 24, 2020
Everyone loves Kevin Stefanski.
And it´s not just because of his fun-loving personality or awesome beard.
He has a plan everyone on and around the team sees coming together.
But many of the Browns haven´t even met each other yet.
And we seem to remember an awful lot of "feel-good" vibes coming out of Berea last year, too.
https://t.co/7UmiYGltVj picks us as most likely to end playoff drought in 2019 🤔

📰 » https://t.co/Sl5tv2Wjwr pic.twitter.com/QAb9Ylze7U

— Cleveland Browns (@Browns) May 13, 2019
Can things really be as good as they seem for Cleveland Browns fans?
Here are three realistic improvements to expect under Kevin Stefanski.
1. Expect an Efficient Offense that is Fun to Watch
Nick Chubb averaged 5.0 yards-per-carry last season.
Jarvis Landry and Odell Beckham Jr each caught more than 1,000 yards of passes.
Kareem Hunt added a productive dimension in the second half.
Kevin Stefanski expects each of them to improve on their statistics dramatically in 2020.
With a bunch more offense to go to Austin Hooper and David Njoku.
He may have lost the rushing title in the final week, but #Browns Nick Chubb finished 2019 with the highest offensive grade (88.6) of any qualifying running back in the NFL.

🗣For the second straight year.🏆

— PFF CLE Browns (@PFF_Browns) December 31, 2019
Chubb was fun to watch last season.
Just ask his offensive linemen.
Because it seemed like that´s what they did when Chubb got his hands on the ball.
Stefanski and Bill Callahan will install a zone blocking concept for their revamped offensive line.
Jack Conklin already mastered the techniques and can´t wait to see how Chubb and Hunt run out of it.
Cleveland #Browns Scribbles: Jack Conklin, Austin Hooper offer glimpses of a fun offense https://t.co/P6fgzXGRCS

— Tom Moore (@Tom_RedRight88) March 25, 2020
But the key to zone blocking is that it disguises the pass.
It makes play-action more effective and addresses most of Baker Mayfield´s 2019 woes.
Defenses won´t be teeing off on him and receivers will run open earlier.
Expect the dominating running game to open up deeper pass plays.
It will be like nothing Browns fans have seen in this generation.
2. Expect a More Efficient and Disciplined Offense
Penalties are a sure sign of an undisciplined offense.
But the Browns players might have gotten a bum rap for a lot of the issues of 2019.
Uncertainty, unclear game plans, and lack of commitment reigned among the coaching staff.
That led to an inordinate amount of late play calls, rushed sets, and confusion among the players.
#Browns Jack Conklin emphasized how important for all five of the O-line to work together in cohesion in the wide zone scheme.

— Fred Greetham (@FredGreetham) March 24, 2020
Kevin Stefanski hasn´t announced who will call the plays in 2020.
But it appears he is leaning away from handling those duties.
That alone makes an offense more focused and cohesive.
Stefanski´s coaching theory is different, too.
He recognizes what a player can do and adapts to each player´s strengths.
Jarvis Landry complained that Freddie Kitchens relied on plays more than players.
#Browns Austin Hooper said he was drawn to the Browns from a leadership perspective with Kevin Stefanski and from a talent standpoint, it was just too good of an opportunity to pass up.

— Fred Greetham (@FredGreetham) March 24, 2020
Stefanski preaches individual player preparation and understanding.
He will put the right players in the right situations or adapt as needed.
It all starts with Baker Mayfield.
Clear plans utilizing Mayfield´s strengths will snowball into a smooth and disciplined offense.
3. Expect to See Several Reborn NFL Players
Kevin Stefanski says 2020 will be a big year for Kareem Hunt because he has plans for him.
He also said it will be a big year for Baker Mayfield… and David Njoku and Odell Beckham Jr.
Stefanski hopes the Browns sign Rashard Higgins because this could be a big… well, you know.
So far, there is no reason to believe Stefanski is blowing smoke anywhere.
Potential of Nick Chubb and Kareem Hunt tandem excites Kevin Stefanski » https://t.co/RGSWmrSdui pic.twitter.com/SDFQ3hKR7o

— Cleveland Browns (@Browns) January 18, 2020
In Minnesota, he had a pair of wide receivers, a premier rusher, and a tight end.
He also made good use of ascending rookies at running back and tight end.
And there is little doubt he wanted a third wide receiver, someone like Higgins, maybe.
It all bodes well for his skill position players.
Baker Mayfield is as good a bet as any for Comeback Player of the Year.
Even with Hooper on the field, Njoku could top his 2018 production (56/639/4).
I'll say this…..Hooper on one side and Njoku on the other in Stefanski's scheme is pretty drool-worthy

— Jordan Zirm (@clevezirm) March 16, 2020
And Odell Beckham can make the big plays that helped Stefon Diggs to a career-high yardage total.
Other players might rebound, too.
Bill Callahan just earned failed tackle Ereck Flowers a $30 million free-agent contract as a guard.
Chris Hubbard could be this year´s project, settling in nicely between JC Tretter and Conklin.
Even on defense, Joe Woods wants to make BJ Goodson more than a run stopper.
Case Keenum can root them all along after Stefanski made him a playoff quarterback one year.
Expect to see new life among individuals, and the Cleveland Browns as a whole in 2020.