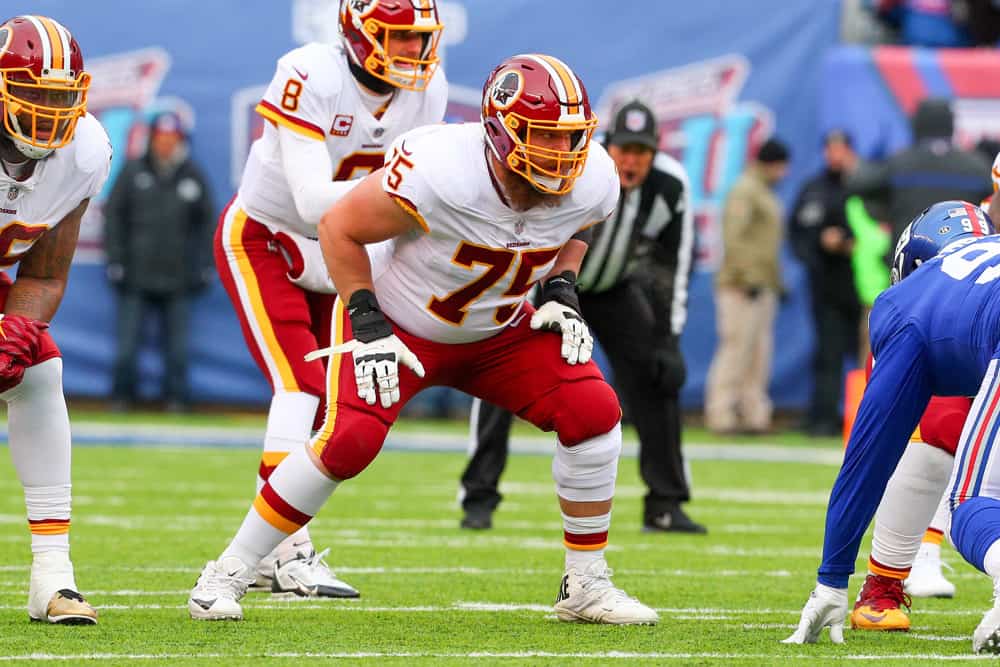 Cleveland Browns fans have lots of reasons to be optimistic about the 2020 season.
New head coach Kevin Stefanski brings a proven track record as an offensive innovator.
Baker Mayfield is saying all the right things.
He is as anxious as anyone to prove 2019 was a fluke season.
There are stars at all the offensive skill positions.
But nothing will get better unless the offensive line holds up better.
Its hard to throw when youre sprinting or on your back🆘 Its on the Browns to get him some offensive line help. Clevelands offensive tackles were terrible in 2019. Picking the right players in the 2020 draft will go a long way in determining if Baker bounces back for the #Browns

— Strange Brew (@strangebrew101) February 2, 2020
To that end, the Browns brought in one of the best offensive line coaches.
Bill Callahan will get the most out of his troops.
Stefanski was innovative in covering offensive line deficiencies in Minnesota, too.
But even with better coaching, the line will do better with some player upgrades.
Drafting some young big bodies is always an option.
But for immediate results, diving into the free-agent market might work quicker.
Why the Browns Should Try to Sign Brandon Scherff
Brandon Scherff enters free agency after five seasons in Washington.
The 6'5″, 324-pound Scherff was a member of the 2015 All-Rookie Team.
He is also a 3-time Pro Bowler.
He will command about $13-15 million per year on the open market.
Callahan worked with Scherff in Washington.
Callahan's relationship w/ free agent RG Brandon Scherff (28) could give #Browns a chance at signing him, would fill a huge need. https://t.co/zU8vy72mqd

— Chuck (@2Kalculated_) January 21, 2020
Here are three more reasons he is worth the investment:
1. Brandon Scherff Upgrades the Browns Personnel
If you believe in Pro Football Focus ratings, Brandon Scherff is a big upgrade.
Eric Kush and Wyatt Teller graded out at 45.4 and 56.7 respectively last season.
Scherff earned a grade of 75.0 from PFF.
3 of @PFF Top 10 OG's this year are FAs after the 2019 season – 4) Brandon Scherff 9) Graham Glagow 10) Joe Thuney

— CatNFL (@BrianCatNFL) November 2, 2019
He allowed only one sack in 2019.
Scherff allowed one pressure per 36 snaps, among the best in the league.
But, he's not just a pass blocker.
Scherff's bread and butter is power blocking for the running attack.
Neither aspect suffers with Scherff on the line.
2. Missing Link from 2018
Cleveland had consistent questions at tackle the past two seasons.
But they played noticeably better in 2018 than last year.
The difference was the downgrade at the right tackle from Kevin Zeitler to Kush and Teller.
So if #Browns move Zeitler in a trade, they enter season with 60 percent of their offensive line with major question marks. Sounds like a grand plan for Mayfield's short-term health.

— Tom Moore (@Tom_RedRight88) March 6, 2019
Scherff immediately solidifies the inside line.
That will make Mayfield more comfortable at the snap.
It also makes his natural drift to the right just a little safer.
3. Scherff is Getting Better With Age
Scherff's pressure rate in 2019 was a career-best.
In fact, it has gotten better in each of his five seasons.
In 2019 (out of 76 guards): Scherff ranked 4th with one pressure per 36.3 pass-blocking snaps)
2018 (out of 74): 11th (one pressure per 31.2 pass-blocking snaps)
2017 (out of 76): 33rd (one pressure per 23.0 pass-blocking snaps)
2016 (out of 74): 38th (one pressure per 18.9 pass-blocking snaps)
2015 (out of 83): 48th( one pressure per 16.3 pass-blocking snaps)
Any adjustment to Cleveland should be eased by his familiarity with Bill Callahan.
Why Wouldn't a Team Want Brandon Scherff?
Naysayers might point at Scherff's 9 penalties in 2019 as a problem.
He was the 2nd-most penalized right guard in the league.
Brandon Scherff is still the best offensive lineman on the Redskins.

I get the penalties have been a problem and Ereck Flowers has surprised everyone, but Scherff still has a 74.4 overall grade. That's the 9th highest among guards with at least 100 snaps.

— Nick Akridge (@PFF_NickAkridge) October 23, 2019
However, Scherff showed no signs of penalty problems in his third or fourth seasons.
This points to issues with rotating passers and linemen in Washington.
Scherff also missed 13 games the past two seasons with shoulder and elbow issues.
But he has a clean bill of health entering the 2020 season.
What Are the Browns' Chances of Signing Scherff?
Scherff's agent projects his client to the best-paid guard in the NFL.
Zach Martin's $14 million per year from Dallas is the mark to beat.
Cleveland has $57 million in cap space at this point.
He is the second-best guard in free agency.
Andrew Berry could make Scherff a top offer while other teams fawn over Joe Thuney.
The strength of the FO when Andrew Berry was here last time was free agency/trading. They bolstered the offensive line with J.C. Tretter and Kevin Zeitler. We acquired a 2nd for taking Osweiler, a 5th for Barkevious Mingo, and a 4th for Andy Lee. Hoping for a repeat. #Browns

— Nick Karns (@karnsies817) January 29, 2020
New England's left guard commands a tremendous raise after playing out his rookie deal.
Scherff played on a struggling team for his first five seasons.
But Ron Rivera and the Redskins will try hard to re-sign him.
Berry and Stefanski have to convince Scherff the Browns are a playoff-caliber team.
Cleveland will compete with at least 6 other teams for his services.
Are There Other Options?
Cleveland can go cheaper, for sure.
After Thuney and Scherff, the market drops off significantly.
But there are ten free agents with guard experience.
Callahan and the Redskins fans sang the praises of Ereck Flowers recently.
Redskins need to sign Brandon Scherff & Ereck Flowers back and get Trent Williams to return.

— Zac (@DCzWall) January 27, 2020
Flowers was run out of New York when the Giants put him in a dreadful position.
Washington (and Callahan) turned him into a credible guard option.
Flowers ended 2019 with a 69.9 PFF pass-blocking grade (and 60.0 run-blocking) at left guard.
Tampa Bay's Earl Watford would be an inexpensive addition that brings flexibility.
He allowed one sack and took no penalties in 332 snaps at guard and tackle.
However, Scherff would be a prize that brings credibility to the Browns pronounced commitment to winning.