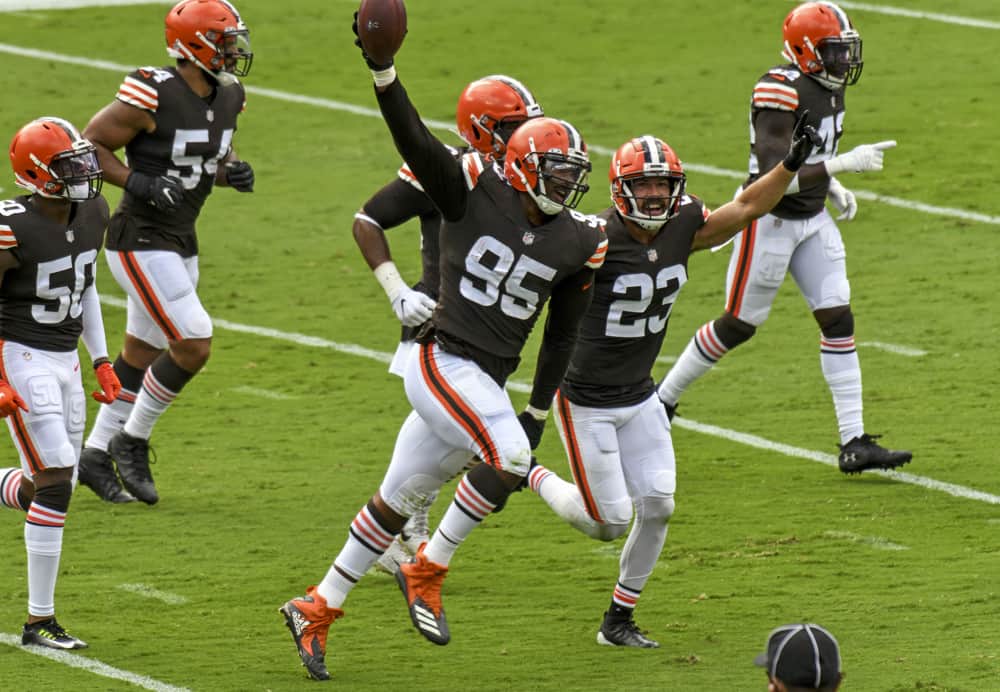 The Cleveland Browns have won 3 straight games and sit at 3-1 going into Week 5 of the 2020 NFL Season.
No, they haven't played perfectly, but it's time to believe in the Browns.
And here are 3 reasons why.
1. Coaching
The Browns have not been 3-1 going into Week 5 of the season since 2001 when Butch Davis was the head coach and Bruce Arians was the offensive coordinator.
For those who don't believe that coaching makes a difference, I beg to differ.
The Browns have replaced coaches more frequently than people replace shoes and for good reason.
But at this point, it looks like Coach Stefanski, offensive coordinator Alex Van Pelt, and defensive coordinator Joe Woods are a great coaching combination for this team.
When asked about leading the Browns to a 3-1 record, Stefanski said:
"I think it makes sense to break the season up into quarters. Finishing the first quarter 3-1 is well done by the guys, but it is a four-quarter game and it is a four-quarter season. Once we watch the tape and try to get better after this win, the focus goes right back to the next opponent for next week. There is really no time to really spend much time thinking about it."
Freddie Kitchens – 2019
Under Kitchens, the Browns went 6-10.
The high point from his tenure was that the Browns beat the Ravens at Baltimore by a score of 40-25 in Week 4.
To date, that is the last regular-season game the Ravens lost.
Otherwise, Kitchens mismanaged personnel, play calling, and practically everything else.
And the Browns passed over Kevin Stefanski to select Kitchens.
His firing was not a surprise.
In other news, Kevin Stefanski is a huge upgrade over arguable worst HC ever Freddie Kitchens

— Tyler (@TylerAtoms) October 4, 2020
Hue Jackson – 2016 through Week 8, 2018
Jackson's record was far worse than Kitchens at 3-36-1.
Hue Jackson led the team to 1 win in 2016 and 0 wins in 2017 so it's curious how he kept the job as long as he did.
Kevin Stefanski ties Hue Jackson's three Browns wins in just four games. Jackson had 40 games. #Browns

— Hayden Grove (@H_Grove) October 4, 2020
2. Game and Player Management
Play Calling
.@jake_burns18 writes about Kevin Stefanski and what he thought was the best scheming and play-calling in a single game from a Browns coach since perhaps 2010 or more. It was a masterful job en route to 49 points in Dallas.#Brownshttps://t.co/8WhEGgeIFz pic.twitter.com/oASK5afkVo

— Orange and Brown Rpt (@TheOBR) October 5, 2020
Eyebrows raised when Coach Stefanski announced he would be calling the plays during 2020.
But Stefanski's mix of run, play-action, pass, and trickery plays has worked.
It wasn't the original plan, but a lack of preseason games foiled that plan.
Alex Van Pelt was slated to call the preseason plays so Stefanski could evaluate how it would flow.
However, Alex Van Pelt, Bill Callahan, Joe Woods, and the others have worked well with this young team during quarantine, a shortened camp, and into the season.
Baker Mayfield
Van Pelt used a golf app to work virtually with Baker Mayfield on his footwork.
It's unclear if that is contributing to Mayfield's early success.
But he is playing cleaner and smarter games and not turning over the ball.
During this 3 game win streak #Browns  QB Baker Mayfield is 51/76 540 yards 67.1% completion 6 TD's 1INT. pic.twitter.com/Dk3YrVAOVv

— MoreForYouCleveland (@MoreForYou_CLE) October 4, 2020
Managing The Talent/Egos
There are plenty of extremely talented players on this team who want the ball.
Through 4 games, all have had an opportunity to shine at one point or another.
It seems everyone has bought into the team effort so the personnel issues appear to be minimal this year.
3. Wins and Losses
All of the rest is talk because the NFL is about wins and losses.
So the most important reason to believe in the 2020 Browns is their 3-1 record.
The team has two tough games coming up with Indianapolis and Pittsburgh so they will be tested, especially since Nick Chubb is not available.