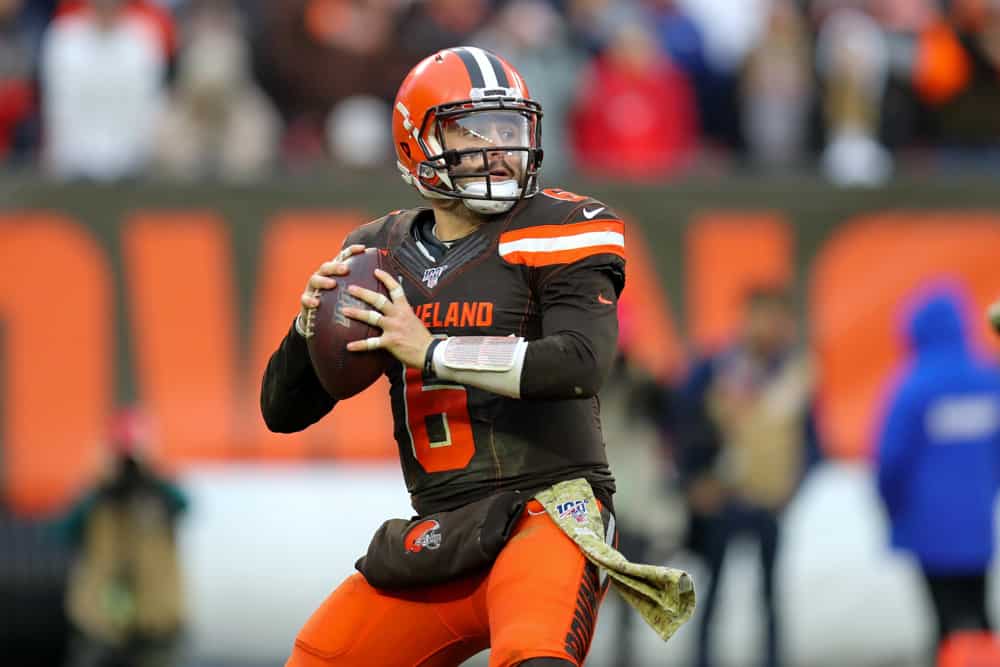 Baker Mayfield was talented enough through high school and college to end up being taken as the No. 1 overall pick in the 2018 NFL Draft.
That meant coaches may have just let him work without too much instruction.
There was no need to change what wasn't broken.
Mayfield's success continued during the 2018 Cleveland Browns season and his play was a key reason why the team was seen as a darkhorse contender in 2019.
Then the actual season happened and Mayfield showed clear regression under supposed quarterback guru Freddie Kitchens.
The second-year quarterback threw 21 interceptions compared to 22 touchdowns and has 3,827 yards in 16 games.
He threw for 27 touchdowns and 3,725 yards in 14 total games during his rookie season.
Now new head coach Kevin Stefanski and new offensive coordinator Alex Van Pelt are looking to get Mayfield back to his 2018 ways.
Changing up his footwork is a key part of that process.
Locked in. 🔒@bakermayfield pic.twitter.com/vTAM3fgk5T

— Cleveland Browns (@Browns) July 31, 2020
Baker Mayfield's New Footwork
This video is merely a source of hype for the average fan.
But those who have been following the news closely will see Mayfield have his left foot forward in his stance.
This is a change brought in by Van Pelt, who just so happened to work directly with Aaron Rodgers during his time in Green Bay from 2012-2017.
#Browns Baker Mayfield said on a Zoom call that the change in his footwork (leading with left foot) that Alex Van Pelt has requested is going well, starting to become second nature.

— Mary Kay Cabot (@MaryKayCabot) May 27, 2020
Van Pelt then went to the Cincinnati Bengals and worked with Andy Dalton before heading to Cleveland.
This is a major upgrade for Mayfield after the 2019 season.
Working with Kitchens led to disaster, offensive coordinator Todd Monken was openly bashing his own offense, and quarterbacks coach Ryan Lindley was tasked with molding a former No. 1 pick in his first year holding such a position.
The plan was terrible from the start and Mayfield's development suffered as a result.
Something as simple as changing up the footwork can help his rhythm and balance from both under center and out of the shotgun.
Mayfield is also a quarterback who was usually only seen out of the shotgun in college.
He still has a lot to learn in the NFL and never had the proper coaching until now.
Mayfield copying the footwork of Rodgers should only lead to improvement in year three.
The quarterback showed off he is capable of being a successful NFL quarterback in 2018 and did so without the current talent surrounding him on offense.
Simply relying on natural talent will only take a player so far, especially one who has a new set of coaches every season.
Baker's new footwork is one of those great offseason signs Browns fans are used to seeing.
The mechanics look great in slow-motion and it will be up to Mayfield to not panic and revert to his old ways during real live NFL games.
Having coaches actually focusing on the little things like this should make a world of difference for the better.
Mayfield's success is now up to him with this new instruction in place.
Another season of regression may lead to a benching in favor of Case Kennum.
No offense to Keenum, but him playing in 2020 means something bad has happened with Mayfield.