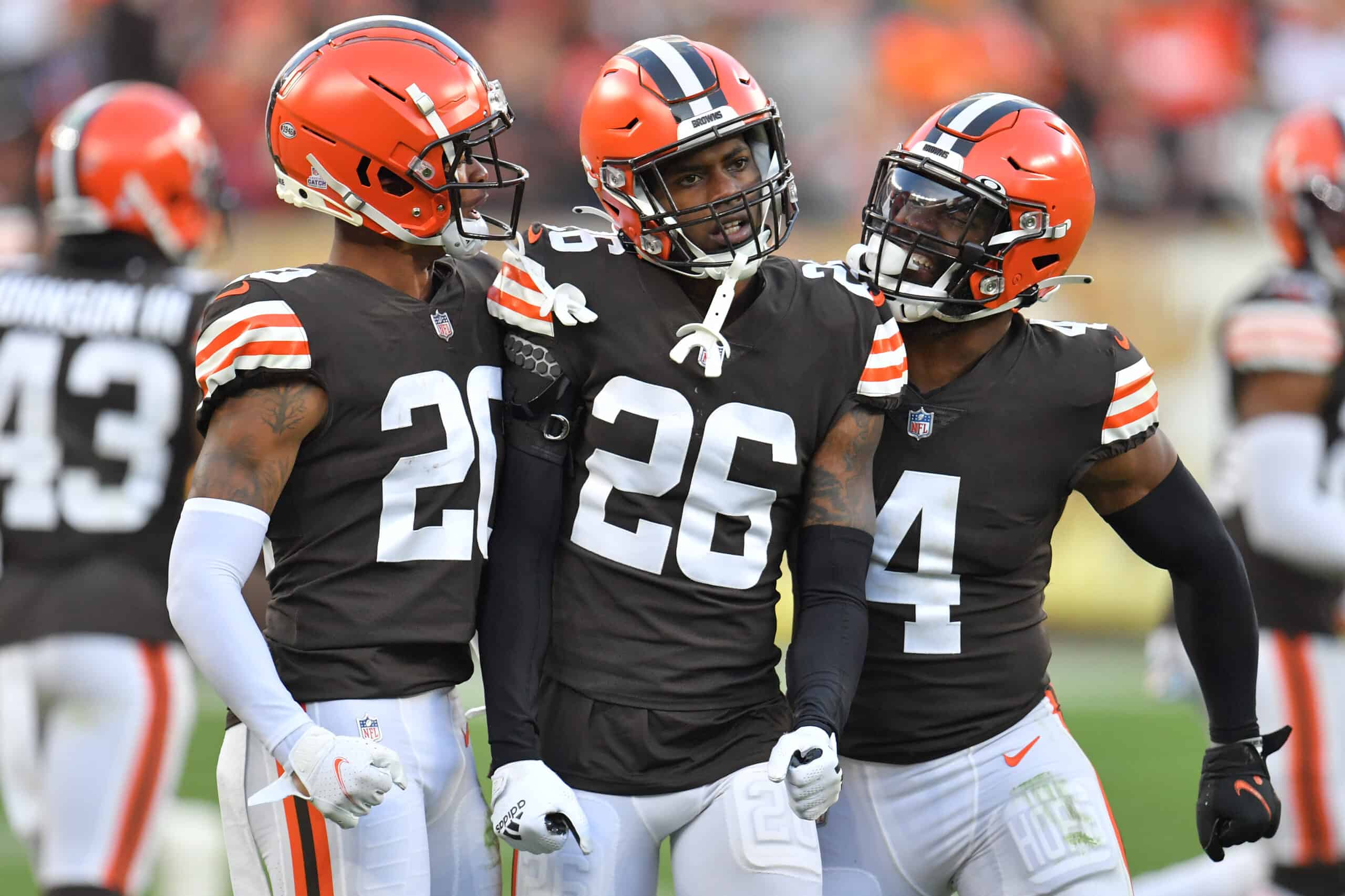 Only one of this week's Thursday Night Football contestants will sport a winning record heading into the weekend.
And the 3-3 Cleveland Browns expect to send the Denver Broncos home on the losing side.
But there are a lot of fans and analysts who aren't as sure of the outcome as they were just a few weeks ago.
The #Browns have 37% of the active roster listed on today's estimated injury report.

— Camryn Justice (@camijustice) October 18, 2021
Kevin Stefanski's troops are reeling from a harsh loss against the surprising Arizona Cardinals.
And a mounting list of injuries won't provide much help against the visiting Broncos.
Cleveland could enter this contest with as many as 7 important offensive players on the sideline.
And rookie sensation Jeremiah Owusu-Koramoah could be out for 6 weeks or more.
"We're moving on and we're full speed ahead on the Denver Broncos."

📼: https://t.co/FqV70jDC6B pic.twitter.com/TTBVIXOsNY

— Cleveland Browns (@Browns) October 18, 2021
And Joe Woods has to hear the calls for his dismissal as his secondary continues to fail.
But Denver has issues, too… and here are 3 reasons the Browns can still beat the Broncos.
1. Browns Defense Primed For a Big Day 
Memories of 74 points given up to the Chargers and Cardinals are front and center in Browns fans' minds.
But remember how Joe Woods' unit dominated the Bears and Vikings?
Well, the good news is the Broncos are far closer to the Bears than they are to the Cardinals.
And their offensive line has been a sieve against their last 3 opponents.
Highest-pressure rate this season among all defenders (min. 100 pass-rushes):

🥈Myles Garrett- 19.7%
🥉Jadeveon Clowney- 19.4% pic.twitter.com/71ncJfaKSE

— PFF CLE Browns (@PFF_Browns) October 13, 2021
This is a team the Browns can beat with just a 4-man rush, maxing out the secondary and linebackers.
One of the best-kept secrets of last week is how well the Browns handled Kyler Murray.
Teddy Bridgewater is no Murray, and he is nursing a bothersome foot to boot.
With Jerry Jeudy probably out and Noah Fant banged up, everything plays onto the Browns defensive hands.
2. Broncos Defense is Hurting, Too 
Denver announced after their last game that star linebacker Alexander Johnson is out for the season.
In fact, four Broncos linebackers were out of practice Tuesday with a variety of injuries.
Of course, they'll get no sympathy from the Browns' offense.
But with the second level limping around, D'Ernest Johnson and Demetric Felton might find things easier.
#broncos lose another LB for the season with a torn pec in Alexander Johnson. Denver has already lost Josey Jewell to the same injury. They'll also be without LB Baron Browning (concussion) against the #browns.

— James Palmer (@JamesPalmerTV) October 18, 2021
Cleveland might run up the middle early and often behind their powerful guards.
And that would help Mayfield (or Case Keenum) keep Von Miller and the pass rush honest.
Cleveland might be missing some real star power.
But Donovan Peoples-Jones, Rashard Higgins, Johnson, and Felton are more than reliable fill-ins.
3. Browns Determination Wins 
Cleveland Browns fans feel like things aren't going our way lately.
But we're in great shape compared to Denver.
Denver jumped out of the gate at 3-0, sparking talk of playoff football in Colorado.
But the Giants, Jaguars, and Jets were not a good barometer of Denver's football prowess.
Not as good as record:
4-2 Raiders
3-3 Broncos
4-2 Bengals
3-3 Steelers
3-3 Bears
3-3 Panthers
—
Better than record:
3-3 Chiefs
3-3 Browns
2-4 Colts

— Sam Block (@theblockspot) October 18, 2021
Three consecutive losses against better competition have the Broncos reeling.
Head coach Vic Fangio is on the hot seat again.
And a nationally televised loss to a team playing a large group of backups won't cool it off much.
Cleveland is determined to prove they are still a playoff team while Denver seeks answers about who they are.
And that provides a mental edge that wills the Browns to victory.