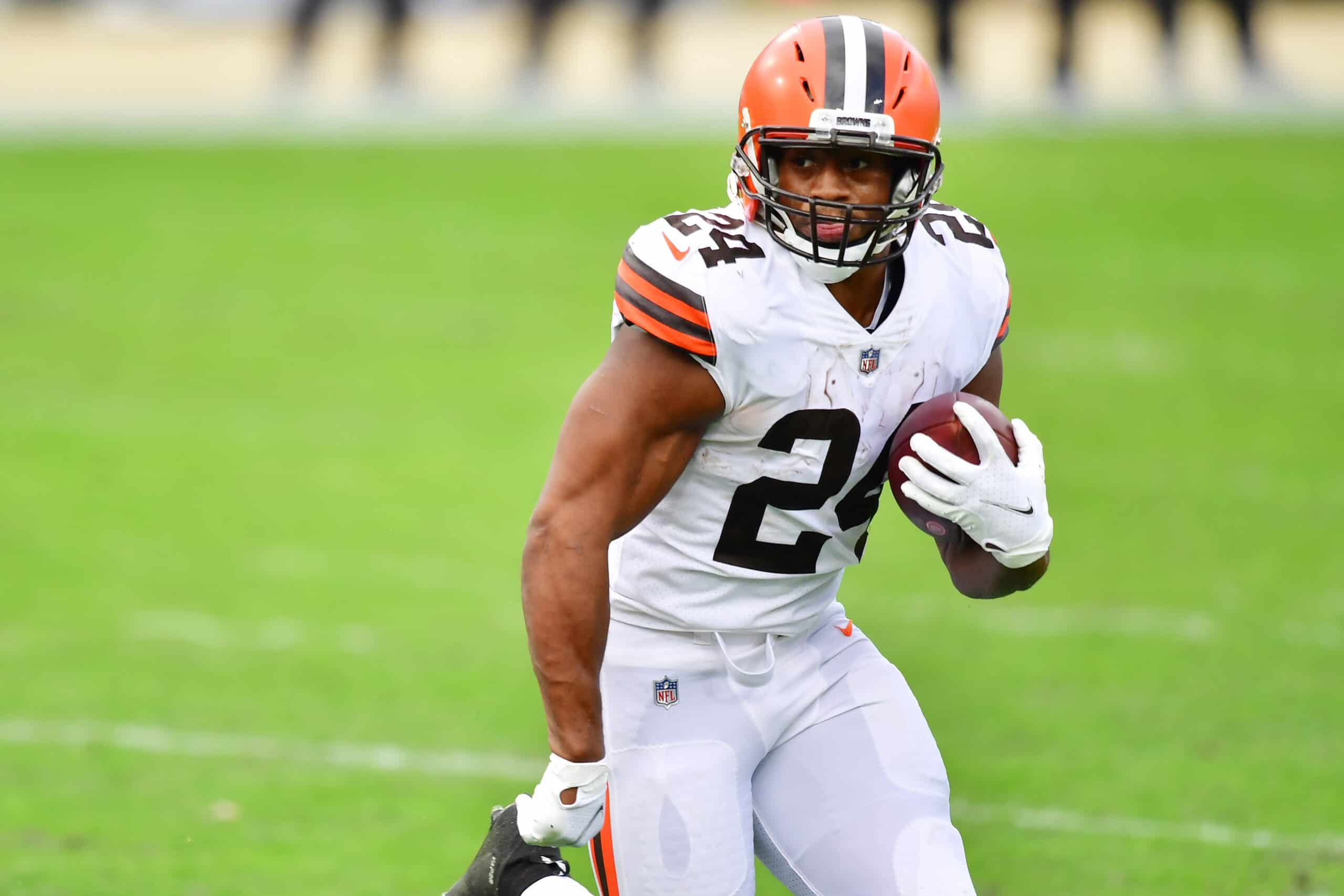 Cleveland Browns running back Nick Chubb is in the fourth and final year of his contract.
He could potentially become a free agent at the end of the 2021 season.
A contract extension for Chubb could be in the neighborhood of $48 million over four years.
RB Nick Chubb, likely the next candidate for a contract extension with the #Browns, should have his eyes set on Aaron Jones' 4 yr, $48M deal with Green Bay.

Valuation: https://t.co/LYeYUCMq4T

— Spotrac (@spotrac) June 19, 2021
Though the Browns certainly want to keep Chubb on the roster for a host of reasons including performance and character, perhaps they should wait to negotiate his extension until later this season or after the season is over.
Only Nick Chubb and Derrick Henry have rushed for over 2,500 yards over the past two seasons, but upcoming free agent Chubb actually had a slightly higher YPA and broke tackles more frequently in 2020. (@BleacherReport)

— The 33rd Team (@The33rdTeamFB) June 25, 2021
There are pros and cons to each approach.
Here are three reasons why the Browns should wait to pay Nick Chubb.
1. Salary Cap
The NFL and NFLPA have agreed to a $208.2 million salary cap ceiling for 2022, per source.

There is no cap floor as of now. The sides agreed last August to spread the COVID-related revenue shortfall from 2020 over several years, and the cap dropped to $182.5M this year.

— Tom Pelissero (@TomPelissero) May 26, 2021
The salary cap for 2021 is $182.5M; this is below last year's cap of $198.2M.
That is the first reduction in the salary cap in years.
NFL salary cap by year:
2014: $133.0M
2015: $143.3M
2016: $155.3M
2017: $167.0M
2018: 177.3M
2019: $188.2M

And now for 2020: $198.2M

— Field Yates (@FieldYates) March 15, 2020
In fact, it had been rising at a steady rate each year until 2021.
Hopefully, COVID-19's worst ravages are behind us, and stadiums can be filled with fans again, but no one knows for sure if that is the case.
Maybe the Browns should wait and see if they have a more "normal" season with fan participation.
Fan participation means more revenue dollars which equates to a higher salary cap in 2022.
This also means more money to spend on player contracts.
2. Part Of Overall Strategy 
Nick Chubb is only one prospective free agent.
Guard Wyatt Teller is another one.
Looking ahead to after the 2022 season, Baker Mayfield, Denzel Ward, and Kareem Hunt all could be free agents.
Perhaps the best approach is to figure out what the future holds for each of these players, with the Browns or not, and assign the appropriate dollars to their upcoming extensions.
This likely involves playing regular season games and seeing how successful the team is this year.
3. Franchise Tag
This Nick Chubb extension conversation is going to be interesting. Nothing about the Browns' front office would suggest they want to pay a running back big money, but the Browns have also had so few great players that it'd be tough to let him walk. Franchise tag could be in play.

— Ben Axelrod (@BenAxelrod) September 8, 2020
The Browns do not traditionally use the franchise tag to retain key players.
And it can certainly backfire in the sense that players can be overpaid the year after they are tagged.
However, they may consider using it for Nick Chubb.
Fans won't like it, and Chubb may not either.
It buys more time especially since no one knows how the Browns will perform this season.
There are talented players and great expectations, but until they play the games, we don't know how good they can be.
The tag also keeps the two-headed running machine of Chubb and Hunt together for two more seasons.
Sadly, running backs tend to have shorter career spans in the NFL.
With a newly expanded 17 game regular season, there could be more implications.
Both Chubb and Hunt are 25 years old so it is unrealistic to assume both will spend the duration of their careers in Cleveland.
Conclusion
I am happy that I am not Andrew Berry who has to wrestle with these decisions.
Nick Chubb is beloved by everyone (including me) so no one wants to see him leave Cleveland.
Berry is meticulous with draft picks and free agents so we can be assured that he has a plan for these situations also.