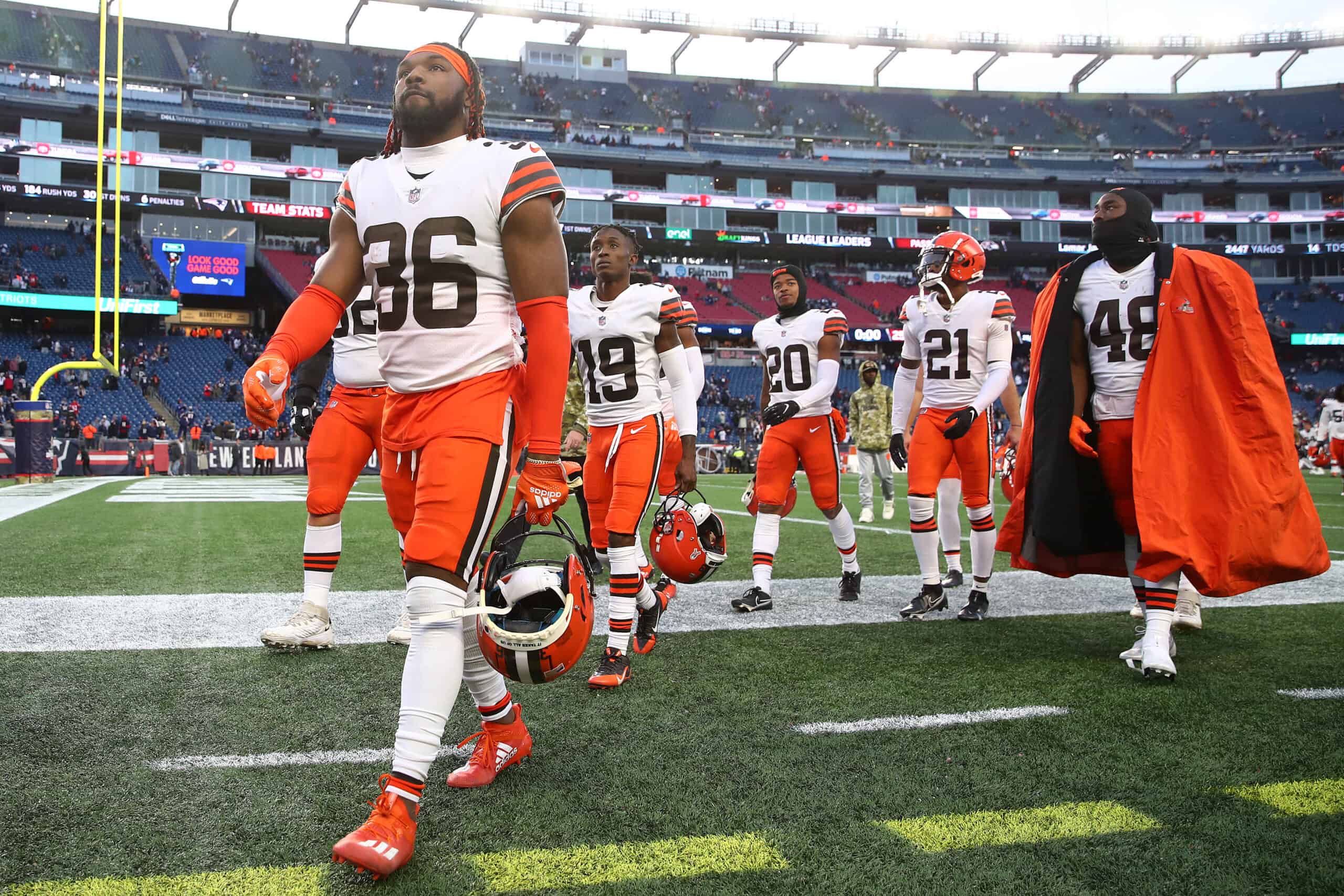 The Cleveland Browns are 5-5.
On the face of it, that is not a bad record.
However, this 2021 team had great expectations attached to it.
The roster is deep and talented.
The season full of promise is falling flat evidenced by yesterday's blowout loss to the New England Patriots.
Check out my TikTok discussing the disaster that was Week 10 for the Browns.
Here are three reasons Browns fans should be concerned about their team.
1. Inconsistent
#Browns are the most inconsistent team this season. You never ever know what you're going to get.

One step forward, two steps back.

Overplayed. Out coached. Out hustled.

You name it…Cleveland did the opposite of anything good today against the #Patriots. Woof.

— John Sabol (@John_Sabol) November 14, 2021
Who is this team really?
Are they the team that played excellent team football against the Bengals in Week 9?
Or are they the team that looked flat and unprepared against the Patriots just one week later in Week 10?
It is really hard to figure them out.
They did not have Nick Chubb yesterday, but he does not play defense so it is unclear how much of a difference he would have made in the end result.
Given how talented the roster is, they have not played up to their potential beyond the Week 9 Bengals game.
Every other game, they have had periods of dominating play in most games, then it goes away and sometimes returns.
2. Injured
Every single NFL team has injuries, but from the start, the Browns have had more than an average number of injuries.
The good news is that yesterday's scary and potentially most serious injury to Troy Hill is not as bad as it originally appeared.
Per #Browns: CB Troy Hill, who was taken to a Boston-area hospital after suffering a neck injury in yesterday's game at New England, was released from the hospital last night. Hill has been diagnosed with a cervical (neck) sprain and is scheduled to travel back to Cleveland today

— Nate Ulrich (@ByNateUlrich) November 15, 2021
In game contact injuries are unavoidable given the physicality of the game.
However, I am still bothered by Donovan Peoples-Jones suffering a groin injury in pregame warm ups a few weeks ago.
I don't understand how that happens.
The Browns have injury reports with 15 or more players listed on it.
With a 53 man active roster, having over a quarter of the team with an injury is not conducive to producing a winning effort week in and week out.
3. Coaching Miscues
#Browns coach Kevin Stefanski summarized it best with "it was bad football."

— Nate Ulrich (@ByNateUlrich) November 14, 2021
Honestly, Coach Stefanski and Joe Woods as the offensive play caller and the defensive coordinator should each have a deep dive of conscience as to what they are trying to accomplish on Sundays.
Stefanski was schooled by Josh McDaniels and Bill Belichick yesterday; Mac Jones played great.
They put together a game plan to maximize his opportunities.
On the flip side of the coin, if Joe Woods made some adjustments, perhaps Mac Jones would not have looked so good.
Myles Garrett in the postgame alluded to this fact also.
Myles Garrett's comments on lack of adjustments by #Browns is only going to increase heat on coordinator Joe Woods.

— Tom Withers (@twithersAP) November 14, 2021
How can a team of this caliber operate with a single game plan and not be prepared to adjust during the course of the game based on what's happening?
Bill Belichick does not operate that way, and yesterday the difference between the coaches was blatantly obvious.
Conclusion
If a team ever needed a bye week, it is the Browns this week.
They do not have that luxury; however, so they need to pick themselves up from this drubbing and get ready for Week 11.
Given how the Steelers and Lions game went yesterday, there is absolutely no guarantee that the 5-5 Browns can defeat the 0-8-1 Detroit Lions.