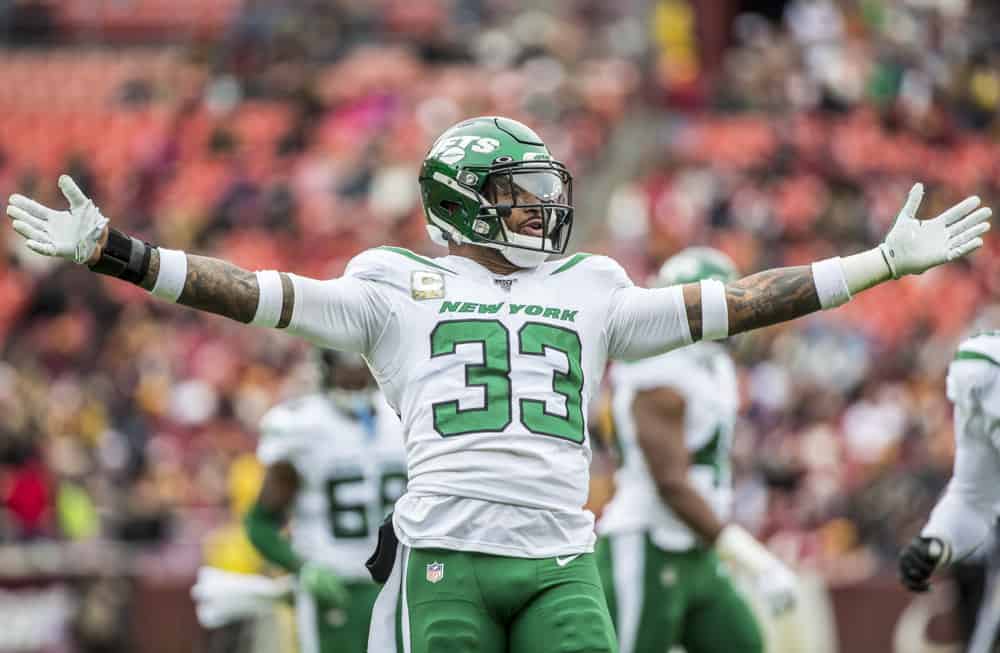 Training camp is quickly approaching and teams are adding their final touches to their roster before training camp.
The Cleveland Browns have already put together a strong offseason, but might not be done adding yet.
New York Jets two-time Pro Bowl safety Jamal Adams is reportedly on the trade block.
Adams requested a trade from the organization after they failed to come to an agreement on a long-term extension.
On paper, Adams is a superstar safety, but might not be the best solution for the Browns right now.
1. Price is Too High
The 24-year-old safety appears to be done with the Jets after the team failed to extend him this offseason.
He has already proven himself to be one of the best defenders in the league in a short period of time.
The Jets have Adams locked up for the 2020 season and accepted his fifth-year player option for the following season.
Adams is frustrated with the Jets, but they aren't going to give him up easily just because he requested a trade.
The Jets are likely going to want multiple high-value draft picks in exchange for Adams.
The Browns have suitable options at the safety position for the 2020 season, so there is no need to rush into a massive trade.
His price tag is only going to decrease as time goes on, but it's too high for any team to bother making the move.
Adams is arguably the best safety in the league right now, so the Jets aren't going to give him up easy.
2. Browns Have Options At Safety
There is no debate that Adams is an incredible player and would improve just about every organization.
However, the Browns aren't in desperate need of help at the safety position at the moment.
They signed Karl Joseph and Andrew Sendejo to short-term deals this offseason.
Both players are expected to start at the safety spots to begin the 2020 season.
The Browns added two veterans at safety, but they also added for the future as well.
Cleveland selected LSU safety Grant Delpit during the second round of the 2020 NFL Draft.
"With the 44th pick in the 2020 NFL Draft the Cleveland Browns select … Grant Delpit, Safety, LSU."

📺: #NFLDraft on ABC, ESPN + NFLN pic.twitter.com/x7C6Dj9WYu

— Cleveland Browns (@Browns) April 25, 2020
He recorded 65 tackles, two sacks, and two interceptions through 14 games during his senior year.
He'll likely battle for the starting free safety spot with Sendejo during camp.
Adding a player like Adams would be great, but the Browns don't exactly need him heading into the 2020 season.
3. Adams Wants Too Much Money
It seems that the salaries for NFL players continue to rise each season.
Teams need to be smart about which players they give out massive deals to.
Adams is no exception, as he reportedly is expecting a big payday from whichever team he lands on.
He is reportedly seeking a deal that is around $20 million per season.
Jamal Adams' future contract demands loom large in trade talks. If he wants pay among top defensive players – which one source whose team has looked into Adams believes – that's well above $20M per year, while safety market is below $15M. Tough for a SS, no matter how good.

— Jeremy Fowler (@JFowlerESPN) June 19, 2020
The Browns already need to worry about extending Baker Mayfield, Nick Chubb, and Myles Garrett.
Cleveland can't afford to pay Adams and keep all their superstar players.
It wouldn't really make sense for the organization to give up valuable assets just for Adams to walk away into free agency after the 2021 season.
Whichever team trades for Adams will have to extend him long term.
At the end of the day, the Browns are better off rolling with Delpit and veterans rather than an overpaid deal that will hurt them in the long run.
Vote