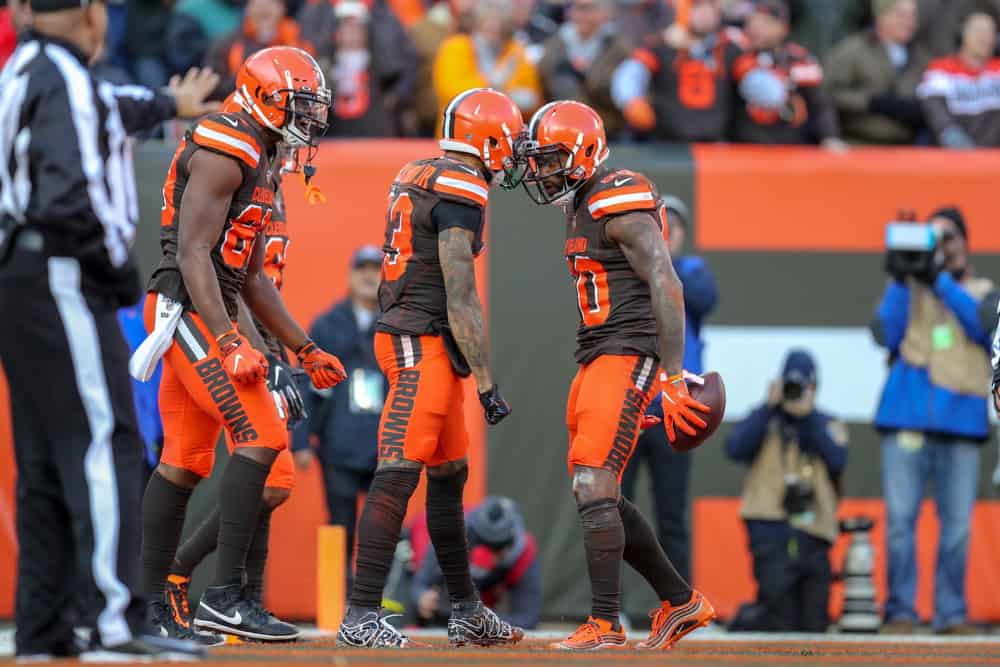 Training camp is right around the corner, so it's that time of year where we see predictions flying around for the 2020 season.
The Cleveland Browns are hopeful to have a better passing attack with a revamped offensive line.
Both Jarvis Landry and Odell Beckham Jr. had offseason surgery to repair injuries they suffered last season.
They have a brand new offensive scheme led by first-time head coach Kevin Stefanski.
Things appear to be looking up for the Browns offense, but how will the receivers fare after a mediocre performance last season?
1. Odell Beckham Jr. Goes Over 1,200 Yards
The 2019 season was the first year that Beckham was in the Browns system.
Cleveland traded for the superstar receiver in March of 2019, but injuries limited his performance last year.
The three-time Pro Bowl receiver has built high expectations for himself after putting up unbelievable numbers during his first few seasons in the league.
His first season in Cleveland didn't go perfect, but injuries played a big role in his performance last season.
.@obj and @CameronNewton back at it 😤 pic.twitter.com/uzSNtXPjyo

— B/R Gridiron (@brgridiron) June 16, 2020
Beckham had surgery over the offseason and is expected to be ready to go by training camp.
He hauled in 74 receptions, 1,035 receiving yards, and four touchdowns through 16 games last season.
Those were fairly solid numbers on paper, but Beckham was battling through injuries since the beginning of training camp.
Beckham mentioned that he has not felt fully healthy since suffering his broken ankle in 2017.
A fully healthy Beckham with an improved offensive line should be able to surpass 1,200 receiving yards for the 2020 season.
2. Rashard Higgins Earns No. 3 Receiver Role
The Browns are likely going to have a battle for the third receiver role in training camp.
Cleveland already has the first two starting spots taken by Beckham and Landry.
The third receiver job is up in the air right now, but Rashard Higgins appears to be the favorite to win it.
The Browns are giving him another chance after his disastrous 2019 campaign.
Higgins battled injuries during the beginning of the season, but also had a dispute with then-coach Freddie Kitchens, which led to more issues.
The #Browns announced that they've re-signed WR Rashard Higgins, their fifth-round pick in 2016. After a tough 2019 season, Higgins get a 1-year deal to prove himself.

— Ian Rapoport (@RapSheet) May 8, 2020
He was on the verge of having a breakout campaign in 2018 when he hauled in 39 receptions, 572 yards, and four touchdowns with Cleveland.
Higgins has a good relationship with quarterback Baker Mayfield and has more experience than the other players fighting for the same spot.
The Browns shouldn't expect Higgins to make the Pro Bowl, but he could be a reliable No. 3 option.
3. Jarvis Landry Surpasses 90 Receptions
The 27-year-old receiver has been selected to the Pro Bowl five times during his first six seasons in the league.
Landry has quietly become a superstar in the league, but sometimes gets overlooked.
He is coming off a 2019 campaign where he hauled in 83 receptions, 1,174 yards, and six touchdowns through 16 games with Cleveland.
During his six seasons in the league, Landry has already surpassed the 100 reception mark twice in a single season.
He has not been able to haul in more than 83 receptions in a single season since joining the Browns.
Landry is coming off surgery this offseason and is expected to be fully healthy for the 2020 season.
The Browns have a fairly stacked offense, so Landry could see less targets than he used to in Miami.
However, a 90-reception season from Landry is possible and would be a nice season goal for him in 2020.