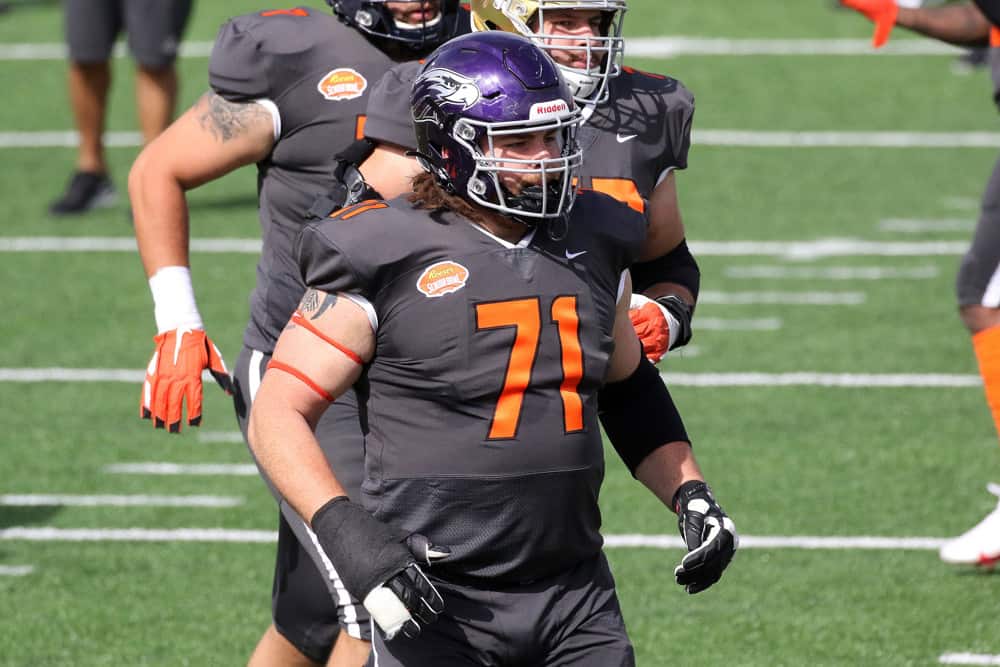 The NFL Draft is just around the corner and we are in heavy speculation mode as April 29 approaches.
With each passing day, the big names of the draft are frequently mentioned by talking heads who try to guess which team will select them.
It seems like an almost forgone conclusion where Trevor Lawrence, Zach Wilson, Justin Fields, and Kyle Pitts (among others) will play.
However, not enough attention is paid to the small school heroes.
These are the guys that not a lot of people know about but who could make just as much of an impact as the names above.
Small school players have filled NFL rosters for decades and some have even gone on to the Hall of Fame.
Jerry Rice, Walter Payton, Richard Dent, Darrell Green, and Charles Haley are a few examples of guys who went from relative obscurity to permanent members of a select group of enshrined individuals.
The Cleveland Browns have nine picks in the 2021 Draft.
One or two of those picks could be used on small school players that would fill positions of need, provide depth, and/or be utilized on special teams in '21.
Here is a look at three such prospects.

Quinn Meinerz, IOL, Wisconsin-Whitewater
Meinerz was a three sport star in high school and was named a Wisconsin All-State football player on both sides of the line.
Even with the accolades, he found himself without offers from larger schools and headed to Wisconsin-Whitewater, a D-III school.
After a freshman season that saw him play in only two games, Meinerz became a starter as a sophomore.
He was named a Second-team All-West Region selection by D3football.com.
In 2019, Meinerz was a rock on the Warhawks line.
He was so dominant that he was named the team's MVP and also selected as an AP First-team All-American.
@warhawkfb (C/OL) Quinn Meinerz made noise during the senior bowl week.He just recently completed his pro day as well. I love how he approaches the game. What day will Quinn go off the board???#NFLDraft #nflnews #whitewaterfootball #nflplayoffs #uwwhitewater #nflupdate pic.twitter.com/H5UnMV18Hf

— Sports Mentions (@sports_mentions) March 23, 2021
Scouts love the fact that Meinerz is a feisty, nasty blocker who lays opponents out.
He blocks efficiently, using leverage to his advantage with good arm and hand placement.
Meinerz' legs are in constant motion and he is patient in pass protection.
He is smart enough to let his opponents make mistakes and Meinerz uses those mistakes to benefit his team.
Meinerz is 6'3", 320 pounds, but he moves well for a big man.
He is athletic enough to get downfield if needed.
However, Meinerz' best skills are in the one-on-one game.
He will have to tinker with his footwork at the next level, but he does not have any glaring issues.
Although the Warhawks had to cancel their 2020 season due to Covid, Meinerz was still invited to the Senior Bowl.
Wisconsin-Whitewater's Quinn Meinerz at his pro day surpassed the 90th percentile historically among iOL in the 40, vertical, broad, short shuttle and 3-cone.

His stock skyrocketed after a dominant Senior Bowl and just got another boost with his pro day.pic.twitter.com/mtlFFtBz7s

— Anthony Treash (@PFF_Anthony) March 10, 2021
During the week of practice leading up to the game, Senior Bowl coaches began to take a shine to Meinerz.
He played well during the game against athletes with household names and had the second highest win rate total of the interior offensive linemen.
During his pro day, Meinerz posted some monster numbers.
Meinerz' vertical (32 inches), broad jump (111 inches), 40-yard (4.86 seconds), short shuttle (4.47 seconds) and three-cone (7.33 seconds) surpassed the 90th percentile among all interior offensive line prospects historically according to Pro Football Focus.
Look for Meinerz to be selected during Day 3 (possibly near the end of Day 2) of the draft.

Cameron Sample, EDGE, Tulane
Coming out of high school, Sample was a two-star recruit as a defensive end.
He had offers from D-II and D-III schools and chose to play for his only D-I offer, Tulane.
(Yes, Tulane is Division I, but it is "small" compared to its much larger D-I brethren).
Sample played as a freshman in 2017, registering 26 total tackles and one pass defended.
He played more in 2018, picking up 40 total tackles, four sacks, and one pass defended.
In a game against Ohio State that year, Sample had nine tackles and 2.5 tackles for a loss.
In 2019, Sample had 44 total tackles, 1.5 sacks, one fumble recovery, and four passes broken up.
2020 proved to be Sample's best season when he collected 52 total tackles, five sacks, one forced fumble, and one pass broken up.
After the season, he was named a First-team ACC selection and was invited to the Senior Bowl.
Cameron Sample: Most valuable DL in College Football (PFF Wins Above Average) pic.twitter.com/FUViK3DUsW

— PFF Draft (@PFF_College) December 9, 2020
At 6'3, 280 pounds, Sample can more than hold his own against any level of competition.
He is a powerful D-lineman who uses his hands well and uses leverage to separate from his opponent.
Against the run, Sample is an anchor and works through the mess after the snap to find the ball.
Tulane used Sample at various spots along the defensive line during his collegiate career.
From each position, he used his athleticism to churn and burn, utilizing a number of pass rush moves.
Sample has good closing speed and flips to pursuit mode quickly.
Scouts note that Sample doesn't have the best length and he does not always show explosiveness at the end position.
Sample could use more flexibility in his upper body and he does struggle against more athletic offensive tackles.
Scouts also note that Sample does not have consistent speed outside of the interior of the line.
Despite these negatives, Senior Bowl coaches loved what they saw in Sample during the week.
He did well in one-on-one drills and had seven total tackles, a half sack, and a half tackle for a loss during the Senior Bowl.
Sample's performance that day led to him being named Defensive MVP.
Tulane's Cameron Sample had a solid all-around day yesterday imo pic.twitter.com/prQf6GWPl0

— Billy M (@BillyM_91) January 28, 2021
Sample is projected as a Day 3 candidate, although some scouts think he could be a surprise Day 2 selection.

Robert Rochell, CB, Central Arkansas
Rochell's name has been working its way up the draft board for the past few months.
He was a gridiron stud at Fair Park High School in Louisiana, playing seven different positions.
Despite the obvious athleticism and versatility, Rochell was not offered by any major colleges.
Not to be deterred, he chose to matriculate to Central Arkansas.
After redshirting his first year, Rochell made the most of his playing time in 2017.
That season, he accumulated eight total tackles, seven pass deflections, one interception, a forced fumble, and a fumble recovery.
In 2018, Rochell started eight games and had 25 total tackles, 10 passes broken up, four picks, and a forced fumble.
2019 was Rochell's coming out party.
That season, he started 13 games and collected 44 total tackles, 13 passes broken up, a fumble recovery, and five interceptions.
Rochell was named a First-team All-American and a First-team All-Conference for the year.
Because of the up-and-down nature of the pandemic in 2020, Rochell only had three pass deflections and a forced fumble in seven games.
However, two of those pass break-ups were against potential 2021 first round pick Trey Lance.
Hey we know that FCS CB who broad-jumps almost 12 feet❗️ Congrats to Central Arkansas' Robert Rochell for landing on Bruce Feldman's 2020 Freaks List! #SouthlandStrong #FCS #BearClawsUp 🐻 https://t.co/SBrzDT6vmy pic.twitter.com/fAcVEImowI

— Southland Conference (@SouthlandSports) July 21, 2020
Even with the Covid setback, Rochell was still invited to the Senior Bowl.
He displayed great speed and was clocked during a workout at 4.38 in the 40-yard dash.
Rochell is explosive and comes out of his backpedal like a rocket.
He has amazing closing speed when heading toward the ball.
Rochell is 5'11" and 195 pounds but has the hops (41 inch vertical jump) to out-duel opponents for the ball.
He is confident and disciplined in man-to-man and zone coverages.
Rochell uses his length in run defense, both tackling well and knocking balls free for turnovers.
In a game against UAB in 2020, he knocked the ball loose and then returned it for a touchdown.
Robert Rochell will be in Mobile next week, but he also showed up on Feldman's Freaks list. Love his tenacity as shown on this strip return pic.twitter.com/rfW33Fo2mm

— Billy M (@BillyM_91) January 24, 2021
On the flip side, Rochell has a tendency to let his aggressiveness get the better of him.
He likes to challenge receivers, but the receivers who are as physical and athletic as Rochell will elude him.
That has led to defensive pass interference and holding calls against him.
Scouts have also pointed out that Rochell can be tardy when breaking laterally to stay with his assigned man.
Basically, his technique will have to be re-worked in the pros.
Rochell has the speed, talent, and explosiveness to make an NFL club.  He is most likely a Round 6 or 7 round pick.