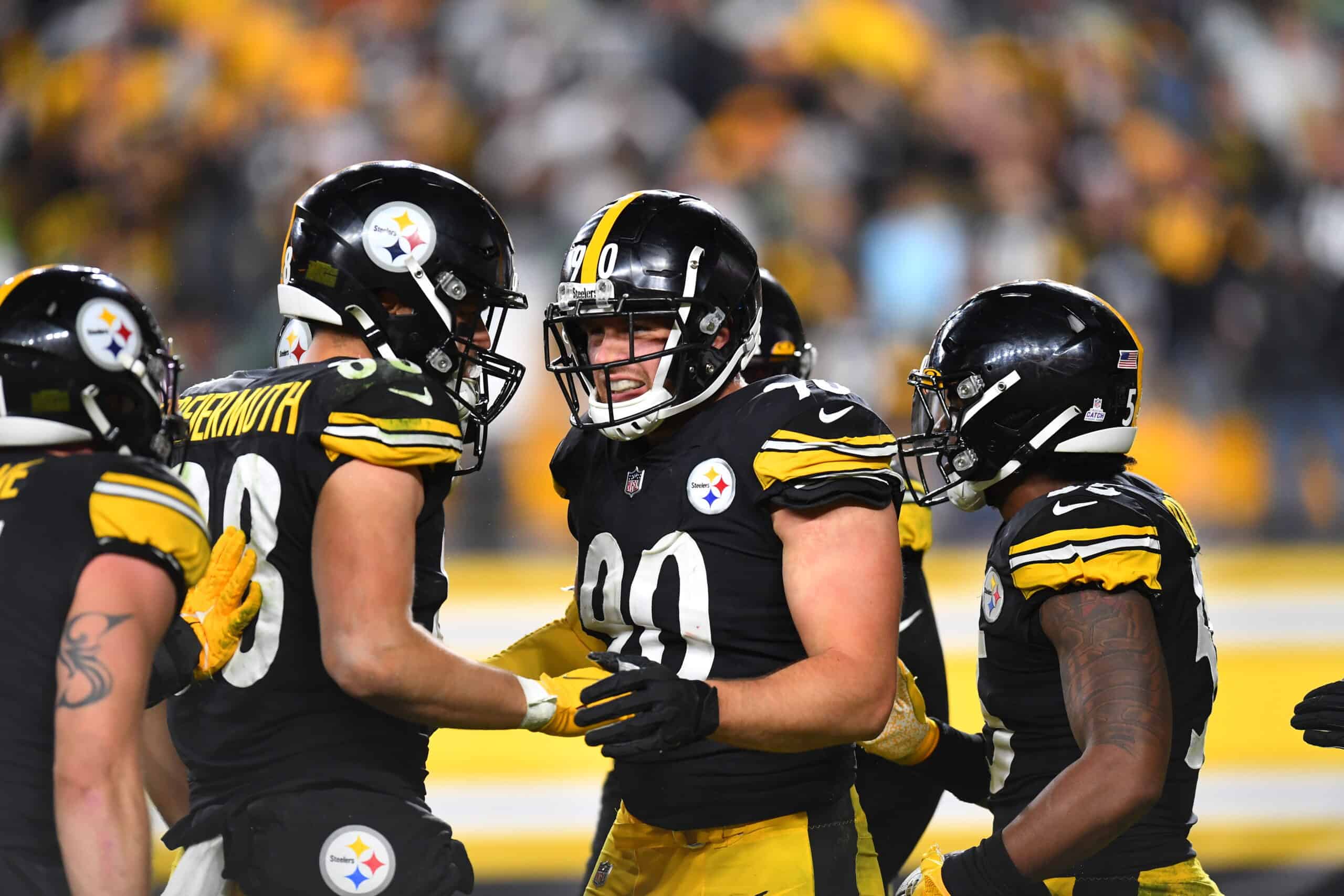 There are few events sweeter for Cleveland Browns fans than beating the Pittsburgh Steelers.
A two-game win streak over them, including a smashing in the AFC Divisional round last January, have been signature wins for the franchise.
Coming into this season, the Browns were viewed as the superior team, and for good reason.
With the Steelers playing better football as of late and injuries plaguing the Browns, the Halloween match-up looks even at this juncture.
Pittsburgh has rattled off two straight victories to maintain some optimism on their season.
That's happened because a couple of guys have elevated their play as the season has gone on.
Here are a few Steelers the Browns should be honed in on heading into Week Eight.
1. Najee Harris, Running Back
Pittsburgh took some flack for taking the Alabama product in the first-round of last year's draft.
With an offensive line that needed major improvement, selecting a running back looked questionable.
Depending on who you ask, it's still not a great pick.
However, Najee Harris' last few outings have been solid, and the young man seems to be gaining confidence weekly.
His improved chemistry with his offensive line is worth noting.
Najee Harris during Weeks 1-3:
– 123 rushing yards
– 3.1 yards per carry

Najee Harris during Weeks 4-6:
– 265 rushing yards
– 4.3 yards per carry

Seems like Najee and Steelers OL are starting to gel. Hopefully good results keep piling on after the bye week.

— Daniel Valente (@StatsGuyDaniel) October 22, 2021
He's a strong, physical runner that can hit the hole and get to the second level.
Harris has also become more elusive throughout the season.
He's consistently turned should-be short gains into longer runs.
Last night #Steelers RB Najee Harris turned a lot of what should have been 2-3 yard runs into 6-7 yard runs.

That's big time stuff from the rook. pic.twitter.com/lapHFX0eJN

— Mike Nicastro (@MikedUpSports1) October 18, 2021
Harris is the key to the Steelers being able to sustain long drives.
Limiting his production is the best way to force the aging Ben Roethlisberger to try and win the game.
2. Diontae Johnson, Wide Receiver
With JuJu Smith-Schuster out for the year with a shoulder injury, other guys in that Steelers receiving core need to step up.
One of those guys has been Diontae Johnson.
The former Toledo Rocket has taken the top off a defense on more than one occasion this year already.
Diontae Johnson being savvy with his route running.

DB is in a great position to cover the GO ball but Johnson teases the out route to make the DB freeze, allowing him to create separation deep pic.twitter.com/bEGIWgCvoM

— Receiver Life (@ReceiverLife_) October 21, 2021
Cleveland's secondary has been prone to some bad communication lapses the past few weeks.
Johnson is someone that the group absolutely has to stick with at all times.
Roethlisberger has struggled to deliver consistently accurate balls this season.
Gifting him an easy, over-the-top touchdown to Johnson is an easy way to get his confidence going.
3. TJ Watt, Defensive End/Outside Linebacker
TJ Watt deserved a gift from every other one of his fellow defenders after last Sunday.
With Geno Smith and the Seahawks on the hunt for a road win, Watt delivered the game-changing play in overtime.
TJ WATT FORCES THE FUMBLE. #HereWeGo

📺: #SEAvsPIT on NBC
📱: NFL app pic.twitter.com/SbUBpLy0qI

— NFL (@NFL) October 18, 2021
Watt's ability to deliver these momentum-swinging moments is part of what landed him his contract extension this offseason.
He's currently second in the league in sacks with seven, right behind none other than Myles Garrett who leads with nine and a half.
Watt also has three pass deflections, so his ability to disrupt throws at the line of scrimmage is something Case Keenum and/or Baker Mayfield should be ready for.
Pressure for Watt typically leads to a turnover.
Keeping him off the quarterback should be the primary focus of Cleveland's offensive line.
Others to Note
Two other guys the Browns should have tabs on are tight end Pat Freiermuth and defensive end Cam Heyward.
Freiermuth has his most productive game of the year last week with 58 yards on seven catches.
He'll be a check-down favorite for Ben, especially if Cleveland's defensive front creates pressure.
Heyward is someone who can create pressure of his own for Pittsburgh.
He tallied nine tackles, two tackles for loss, and one sack in Pittsburgh's Week Six win.
He'll be someone Pittsburgh looks to for creating pressure on the quarterback.
Highest-graded #Steelers through six games (min. 150 snaps):

1️⃣ Cameron Heyward, DI- 92.3
2️⃣ T.J. Watt, EDGE- 86.5
3️⃣ Chris Wormley, DI- 77.6
4️⃣ Pat Freiermuth, TE- 73.8
5️⃣ Diontae Johnson, WR- 73.7 pic.twitter.com/8tf2hquxbq

— PFF PIT Steelers (@PFF_Steelers) October 19, 2021