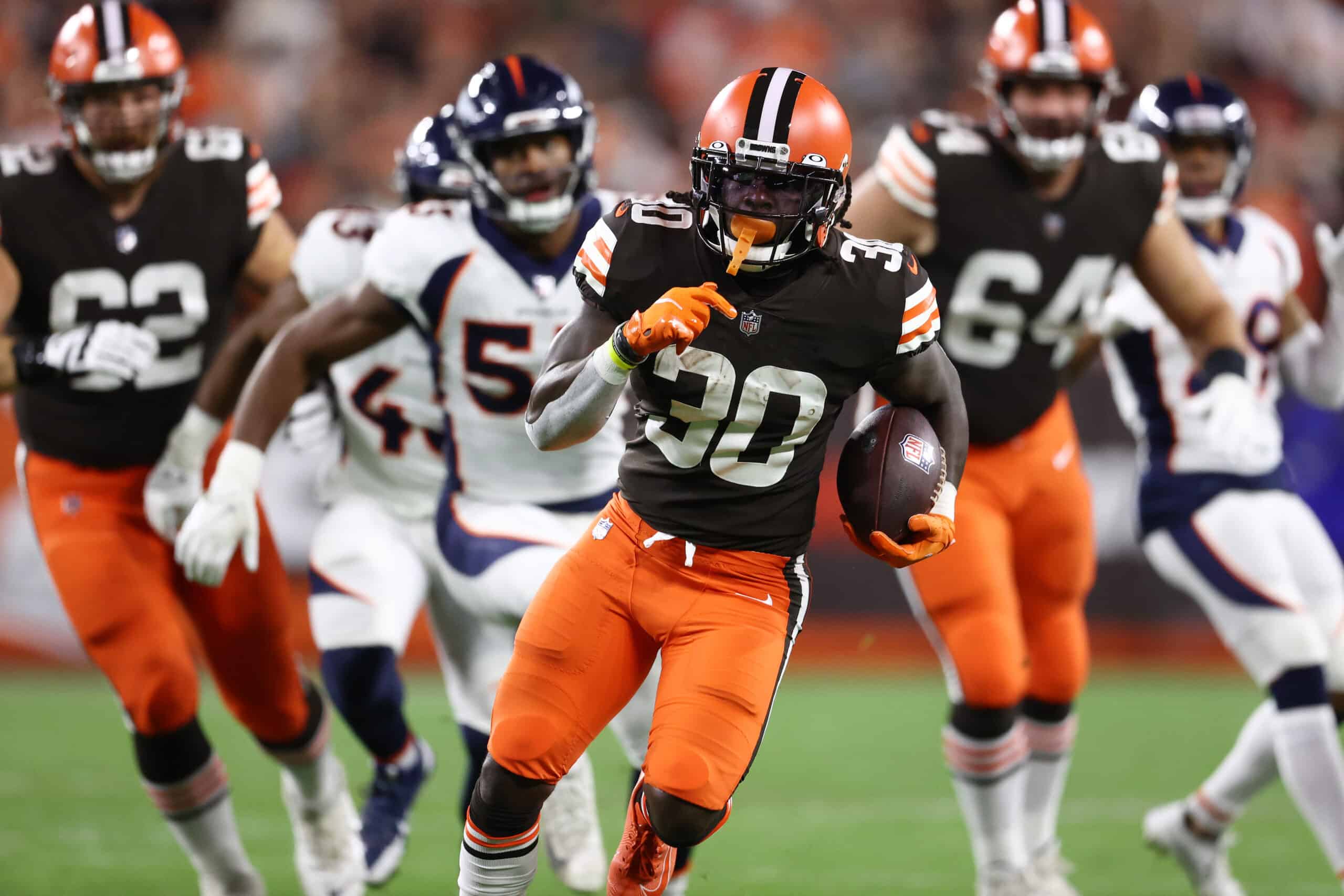 The Cleveland Browns won their fourth game of the year this past Thursday.
The victory stopped a two-game slide, but the Browns defeated a weak opponent.
By now, the entirety of the football universe, including writers and NFL fans, have voiced their displeasure at the 2021 Browns.
Dan Orlovsky said the #Browns are the most disappointing team in football. #Chiefs fans would like a word. pic.twitter.com/a6PSCWUDqX

— All Pro Lines (@AllProLines) October 24, 2021
This is not where many expected the team to be at this point in the year.
Even worse, with the number of injuries to starters piling up weekly, things may not get better.
However, instead of dwelling on the negative, let's look for some positives.
Despite the disappointing season, the Browns have had a number of players answer the call when needed.
The maxim of "next man up" has applied to this group and they should be applauded.
Here are three overachieving Browns at this point of the season.
1. Blake Hance
Offensive linemen are an unheralded lot.
They are relatively anonymous unless they blow an assignment.
If the quarterback is sacked, or the defense makes a tackle for a loss, everyone looks for the lineman responsible.
Cleveland has recently sustained injuries to Jedrick Wills and Jack Conklin.
That has made things difficult for Baker Mayfield.
However, Hance has done well filling in when and where needed.
He was a hero in last year's playoff victory over Pittsburgh and kept the Chiefs Frank Clark away from Mayfield the following week.
Hance was such an unknown before the postseason that Mayfield introduced himself to the lineman for the first time just before the Steelers game.
After the win, Mayfield praised Hance's play by mentioning, "a guy named Blake."
Got home to see this amazing shirt from @SzaboApparel had come. The legend of @blake_hance continues, I love it #Browns pic.twitter.com/11tYsYQ5Cq

— Jacob Roach (@roachizm13) October 22, 2021
Because of the line injuries this season, Hance has been called upon for the past month.
After seeing 30% and 14% of snaps in Weeks 2 and 3 respectively, Hance has started each of the past three weeks.
Furthermore, he has been solid against the likes of Joey Bosa, JJ Watt and Von Miller.
Before Thursday's game, Miller had vowed to "kill" Hance and other tackles he faced.
Instead, Miller left the game with an injury and two tackles.
The Browns hope to be back at full strength on the O-line soon.
However, it has to feel good knowing there's someone they can trust in a pinch.
This is a @DernestJohnson2 and @blake_hance appreciation tweet. Both guys stepped up to the challenge and performed excellent! Deserve nothing but respect from #Browns fans! pic.twitter.com/WO8qPhpIqS

— 🅱lef (@Vlef_) October 22, 2021
2. D'Ernest Johnson
Johnson was an absolute beast in the win against Denver.
Serving as an understudy to Nick Chubb and Kareem Hunt to begin the year, he had all of 11 yards before Thursday's game.
With both Chubb and Hunt out with injuries, Johnson rose to the challenge and busted loose against the Broncos for 146 rushing yards and a score.
He also added 22 yards in receptions.
D'Ernest Johnson: 90.0 PFF rushing grade vs the Broncos

That's the highest single-game rushing grade this season 😤😤 pic.twitter.com/zsggdLKuiv

— PFF (@PFF) October 22, 2021
Johnson has been the very model of patience as a pro.
He's actually been in Cleveland since 2019, but has received little playing time.
Before last week, his best performance as a Brown came in Week 4 of last season.
Against the Cowboys that day, Johnson ran the ball 13 times for 95 yards.
Before the Denver game, many commentators noted Johnson's game against Dallas as the reason they believed he would play well.
They proved prophetic as the man teammates call "Slow Grind" looked like he was playing against a JV squad.
With Hunt and Chubb's return up-in-the-air, Slow Grind will get more opportunities to prove his worth.
Assuming he continues to gobble up yardage, Johnson will have a plethora of teams vying for his services next year.
3. Chase McLaughlin
Before the 2021 season began, the Browns' kicking situation was pointed to as the team's biggest weakness.
Whenever Cleveland attempted to kick a field goal or extra point in 2020, fans held their breath or looked away from their televisions entirely.
McLaughlin was not seen as a better upgrade over Cody Parkey when he was signed in May of this year.
He had bounced around the league for years before arriving in Cleveland.
However, he has been Mr. Dependable so far.
Through the first six games, McLaughlin had not missed a kick.
He had a great game against the Bears in Week 3, going 4 for 4 including a 57-yard field goal.
#Browns K Chase McLaughlin made the franchises longest field goal since 1984 today at 57 yards. pic.twitter.com/inK2Yfuka8

— MoreForYouCleveland (@MoreForYou_CLE) September 27, 2021
During the Broncos game, McLaughlin missed his first kick.
Even though the attempt was actually blocked by Denver does not matter.
The NFL counts blocked kicks as missed attempts.
Regardless, McLaughlin has made all of his non-blocked field goal attempts this season as well as all his extra points.
Thankfully, Browns fans no longer have to cover their eyes when their kicker takes the field.