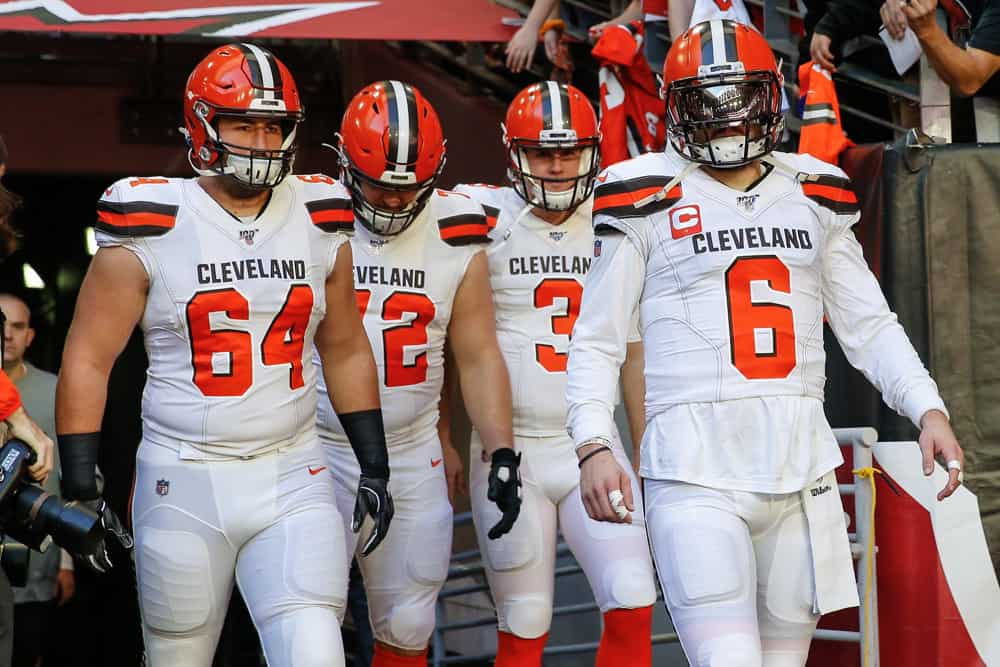 There is little debate the Cleveland Browns roster is stacked.
It seems like every day, another player or group is cited among the best or most-improved in the NFL.
So it stands to reason for fans to expect some stellar performances.
Maybe even some record performances are on tap for 2021.
The Pepsi Challenge, hoarfrost and, oh, an absolutely stacked roster.

Why the Cleveland Browns are legitimate Super Bowl contenders this season. https://t.co/eGi90fLmsF [+]

— Mike Clay (@MikeClayNFL) May 14, 2021
But while we marvel at the rapid turnaround of the current team, we need to remember something.
Before their 1999 rebirth, the Cleveland Browns fielded some formidable football teams.
The best performances of this century still won't measure up to some of their predecessors.
Jim Brown, Lou Groza, Otto Graham… these are names unlikely to disappear from the record books soon.
But there are a few records that will be challenged in the Browns' first 17-game season.
Myles Garrett: Sacks in a Season, and Career
Myles Garrett is a popular preseason bet for the 2021 Defensive Player of the Year.
And his anticipated sack total is a big reason why.
Last year, Garrett moved up to third on Cleveland's career sacks list, passing 4 players.
But one of those players, Reggie Camp, still owns the Browns single-season sack record of 14 (1984).
Camp's record has been in peril several times, saved by Garrett's 2019 suspension and by Covid in 2020.
.@AdamSchein's bold predictions for 2021 season: Browns DE Myles Garrett breaks single-season sack recordhttps://t.co/NEGzwZ8fpi pic.twitter.com/54EtenUlPQ

— Around The NFL (@AroundTheNFL) May 27, 2021
Garrett has his sights set higher than Camp, specifically on Michael Strahan's NFL sack record of 22.5.
But he could fall a bit short of that target and still set the Cleveland Browns career sacks mark.
Clay Matthews (62) sits just 19.5 sacks ahead of Garrett on the all-time list to start the season.
With all the added parts to the Browns' defense, Garrett can focus on his pass rush in 2021.
And that makes it likely he'll capture the team's single-season and all-time records before the playoffs.
Baker Mayfield: Single Season TD Passes, Yards
Baker Mayfield already owns 3 of the top 10 passing yards and touchdown pass marks in Browns' history.
Sometimes, the game changes to put records within reach.
Brian Sipe passed for 4,132 yards in 1980, still the only 4,000-yard passing performance in Browns history.
Mayfield's 3563 passing yards in Kevin Stefanski's offense was the lowest total of his 3-year Browns career.
But 2,049 of those yards came in the final 8 games, nearly a 4100-yard pace.
That's 18 straight completions [new Browns franchise record] and four TD passes today for Baker Mayfield.#OUDNA | #Browns pic.twitter.com/soTC67LbVt

— Sooner Gridiron (@soonergridiron) October 25, 2020
With a 17th game in what Stefanski says will be a more explosive attack, Sipe's record is at risk.
Also at risk is Sipe's single-season touchdown record of 30, also set in 1980.
Mayfield had 27 touchdowns in a partial rookie season, and 26 last year.
In this case, Mayfield's pace slowed in the second half, and 9 touchdowns in 2 games bolstered the total.
But fans can also expect a few games with clusters of Mayfield touchdown passes, and a record to fall in Week 18.
Franchise Record For Wins
Way back in 1948, the Cleveland Browns went 14-0 in the regular season on their way to the AAFC Championship.
The Pro Football Hall of Fame recognizes the feat as one of 3 perfect regular seasons and the second perfect overall season in history.
But the NFL does not, which is why the 1972 Dolphins still drink champagne every season.
Last year, Cleveland won 11 regular-season games for the 6th time in their NFL playing history.
But that is one less than the 1986 Browns, who went 12-4 before losing the AFC Championship game.
This is the best Cleveland Browns team since returning to the NFL in 1999.

Bliss. pic.twitter.com/NbG7nONjoD

— Nick Karns (@karnsies817) May 29, 2021
The 2021 slate of opponents does not spark debates over a potential perfect season.
But Cleveland has a legitimate chance at winning 8-9 of their home games, and a good shot at topping 12 wins.
And if the Browns can go 13-4, who is to say they can't steal the 14th victory to match the 1948 franchise mark?
As far as that goes, why can't they go 5-1 or better in the division and 10-1 outside the AFC North?
Well, the prediction here is a new NFL-Browns mark with an outside shot at tying the franchise record of 14 wins.