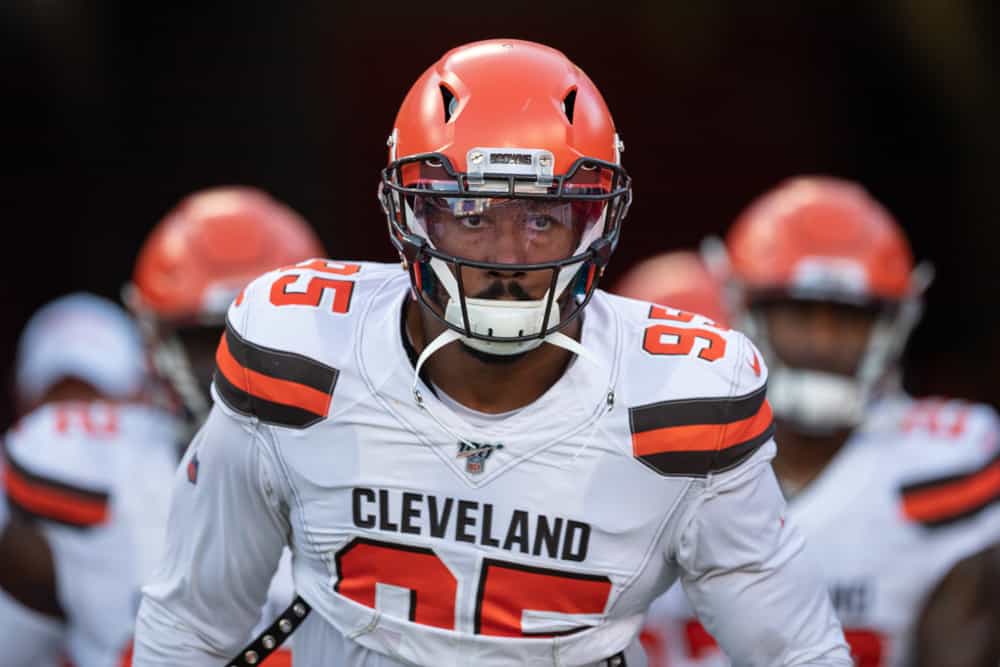 Myles Garrett spent a lot of this offseason sharing videos of his workouts and basketball exploits.
To see the Cleveland Browns star looking healthy and strong was a welcome sight to coaches and fans.
But in case there was any doubt, Garrett told reporters at the OTAs he is back in pre-Covid condition this week.
Myles Garrett: "I feel the best I have since before catching covid. The world is in front of me. pic.twitter.com/EzteqkMW6A

— Nick Karns (@karnsies817) June 2, 2021
And that is bad news for NFL quarterbacks facing Cleveland in 2021.
Garrett was among the leading Defensive Player of the Year candidates when he contracted the virus last November.
His 9.5 sacks and 14 quarterback hits in 9 games only partially reflected his impact.
When he became ill with the Covid-19 virus, it officially cost Garrett 2 games of playing time.
#Browns Myles Garrett said he feels great after dealing with COVID-19 effects last season.

— Camryn Justice (@camijustice) June 2, 2021
But the illness affected his play the rest of the season, as he explained to reporters Wednesday:
"Athletically, I felt like I had it. Conditioning-wise, I felt like I was like 50 percent. Once you get tired, you start losing the plays… you're trying to think about what you're supposed to do here. If you're thinking about what you're supposed to do, you can't think about the alternatives or the options off that…  things start to slip."
Garrett slipped out of the DPOY conversation, adding just 2.5 more sacks the rest of the season.
How Sick Was Garrett? 
Myles Garrett admitted he still had some breathing issues after the Giants game in December.
He described a massive coughing fit that knocked the wind out of him.
But even as he listed symptoms, Garrett never mentioned how ill he was during the two missed weeks.
Myles Garrett, on how he felt while being on the reserve/COVID-19 list: "Lost my (sense of) smell for almost two weeks. Had body aches, headaches. My eyes were hurting. Coughing, sneezing, fever — I was in pain. It wasn't great." #Browns pic.twitter.com/2PBEicFuk2

— Jake Trotter (@Jake_Trotter) December 4, 2020
Garrett's mother, Audrey, shared some details with Cleveland.com's Mary Kay Cabot back in April.
"What people don't realize is, Myles has asthma, and you don't view elite athletes as being, respiratorily challenged. But every year, Myles goes through a phase where he needs an inhaler, he goes through a bronchitis phase, a sinus infection, and it's happened since he was a little person. And it just so happened COVID hit him in that same time frame.''
In that same interview, his mother said she could see he was struggling to breathe between plays.
Garrett admitted he used more oxygen, earlier than usual in his first game back against Tennessee.
#Browns DE Myles Garrett still struggling after recovering from COVID-19. Said he had a coughing fit in the locker room tonight. Continues to get breathing treatments.

— Tom Withers (@twithersAP) December 21, 2020
Patients with asthma are especially prone to lingering effects of Covid-damaged lungs.
Fortunately, it does not appear Garrett is a "long haul" patient, that is, those who suffer long-term Covid effects.
But for more assurance, here is what his mother said after visiting Myles in Texas in April.
"He's back."
And it sounds like he's ready for another Defensive Player of the Year campaign.