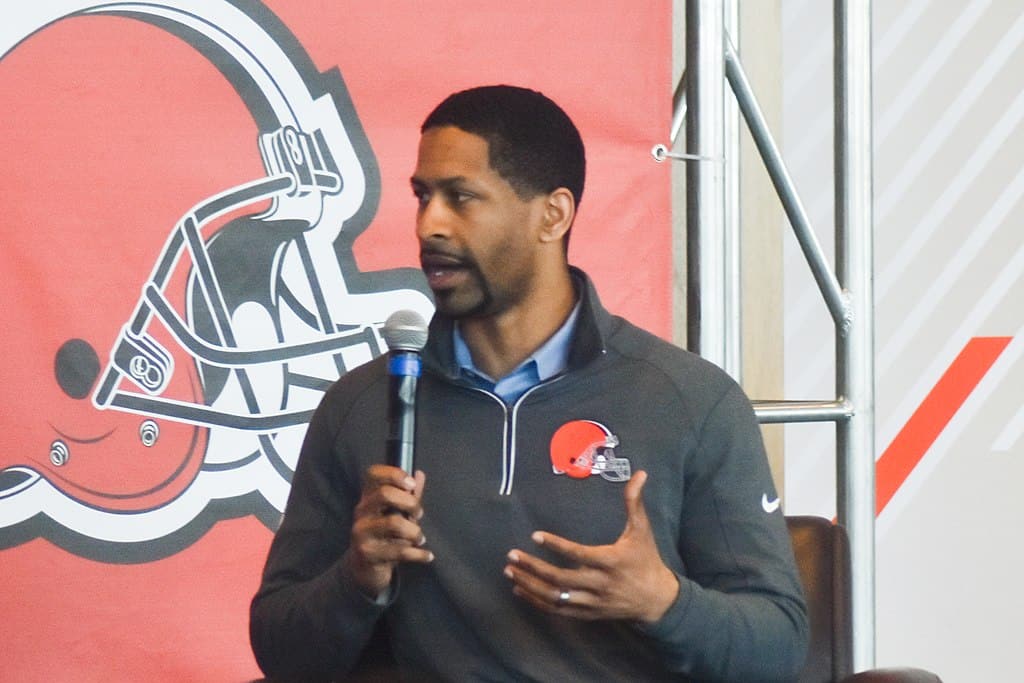 As new general manager of the Cleveland Browns, Andrew Berry has his work cut out for him.
Obviously, 2019 ended in disappointing fashion as the Browns limped to a 6-10 finish.
With new head coach Kevin Stefanski now the man in charge in Berea, Berry has a chance to make a big impact with this team.
What are 3 important things that new general manager Andrew Berry should do with the Browns?
Let's take a look.
1. Build Trade Value
John Dorsey built a talented team during his tenure with the Browns.
He obtained stars like Jarvis Landry and Odell Beckham Jr. in addition to drafting a potential franchise quarterback in Baker Mayfield.
Not all his moves were perfect, however.
The trading of Kevin Zeitler for Olivier Vernon left the Browns with a depleted offensive line that many blame for the regression of Mayfield last season.
Austin Corbett was an absolute bust, as well as Antonio Callaway.
Even talented players, such as Damarious Randall, had fans questioning their behavior and attitude throughout the year.
🎥: #Browns S Damarious Randall was asked if he thinks the decision to bench him and not make the trip to Pittsburgh on Sunday hurts his chances to come back after this season: "I don't know. Maybe you should ask them." pic.twitter.com/FypWlGrx9v

— 92.3 The Fan (@923TheFan) December 4, 2019
With an offensive line to bolster and a surplus of talent at certain positions, Berry should look to evaluate some trade value around the locker room.
Two guys in particular, Olivier Vernon and Kareem Hunt, leap off the page in terms of potential value.
Vernon is a Pro Bowl talent that struggled last season while dealing with a knee injury.
Hunt is a former league-leading rusher that can't seem to avoid off-field distractions.
Myles Garrett is the star of the defensive front and Nick Chubb was less than 50 yards from being the NFL's leading rusher last year.
The Browns should be able to manage just fine without those two.
Of course, their presence helps, but an upgrade on the offensive line should be the priority.
Vernon is also set to make $15 million in 2020, the most out of anyone on the roster.
If Berry can find a way to flip Vernon for a meaningful draft pick or offensive tackle, consider that a win.
Same goes for Hunt.
If the return is a king's ransom, maybe even consider moving Beckham.
2. Align The Team Vision
All off-season Browns fans have heard that the Browns building needs to be "aligned" and "maintain the same vision".
Well, that seems to be the goal with the pairing of Stefanski and Berry.
Andrew Berry getting settled in his new home 🏡

📸's of his first day on the job » https://t.co/BeaQxHI3CO pic.twitter.com/KsFU3ZEXvq

— Cleveland Browns (@Browns) January 28, 2020
But, just because they share an analytical-friendly approach doesn't mean everything will come easy.
Regardless of having similar mindsets, a first-time head coach and general manager pairing is sure to go through some speed bumps at the start of its regime.
Both men will be looking to make an impact to prove that they were the right men for their respective jobs.
Being overly prideful can lead to some poor decisions, so establishing a shared vision for the team and sticking to it will be crucial for this to work.
Making sure that other members of the front office are aligned with that same mentality will also be important to obtain success.
3. Stay Patient
It's fair to say the Browns have made some panic decisions in the past.
For example, the drafting of Johnny Manziel to steal the spotlight was a huge misfire.
This time around it seems that Jimmy Haslam wants to avoid that as both Stefanski and Berry were given long-term deals.
New #Browns GM Andrew Berry signs his five-year contract, locking himself into a battle with @BrownsPJB for the best beard in Berea. https://t.co/nqc6ObeVNr

— Nate Ulrich (@ByNateUlrich) January 28, 2020
With that in mind, there's no need to make those same panic decisions anymore.
Being given a five-year contract shows that even if ownership isn't 100% sold on things working right away, they're at least willing to be patient with it.
If the owners are being patient, then the front office should be patient and make the proper decisions.
Trying to make a "splash" draft pick or free agent signing at the cost of the team's culture or identity will no longer be necessary.
Keeping everything aligned (there's that word again!) and building a winning culture should be the main focus.
What else do you think Andrew Berry should try and do to start off his general manager career?
Comment your thoughts below!