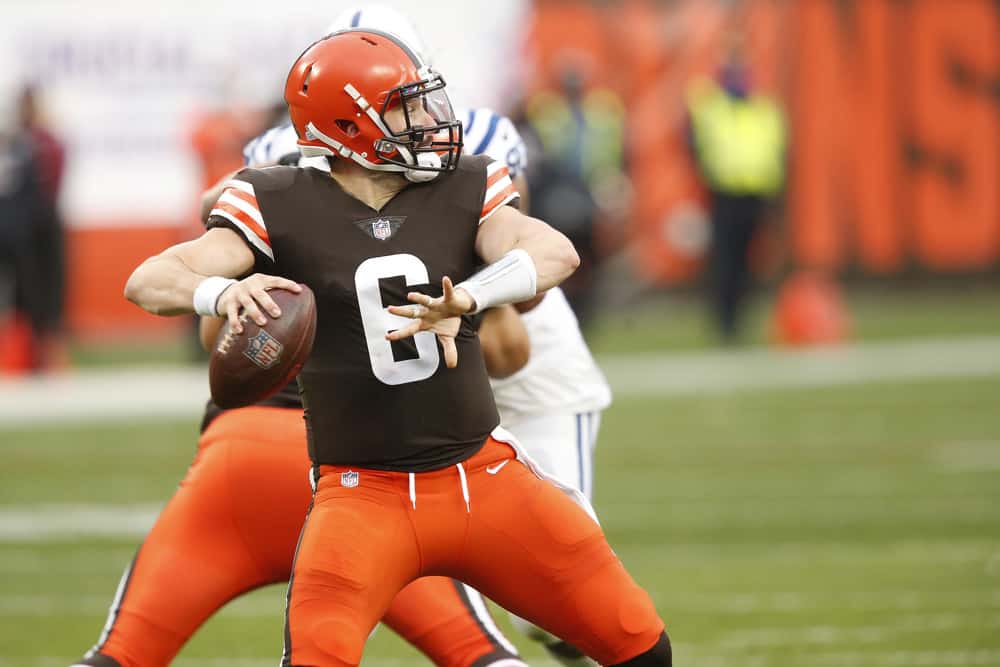 Baker Mayfield and his Cleveland Browns disappointed fans with a Week 8 loss to the Oakland Raiders.
But at least their 5-3 record left them in the 6th AFC playoff position heading into their bye week.
Then the Raiders and Miami Dolphins pushed the idle Browns into 8th place in Week 9.
Suddenly, there is less solace in Cleveland's 5-3 record.
Cleveland Browns :
The AFC playoff picture is getting muddy, there are a few teams improving week to week
BAL 6-2
Colt 5-3
LV 5-3
MIA 5-3
CLE 5-3
Safe to say BAL is a lock so 2 spots left. Here is the bad news, everyone of those teams have a better defense than the Browns pic.twitter.com/CDZfgDqy5f

— al (@al_asifyouknow) November 10, 2020
Five teams are battling for the three AFC wild card spots.
Baltimore has the upper hand with their 6-2 record and victories over the Colts and Browns.
Las Vegas's 3-2 conference record gives them the 6th overall playoff spot.
Extended tie-breakers give the Dolphins a slight edge over the Browns as things stand now.
Cleveland has a win over the Colts, which leaves Indianapolis (2-3) with the worst conference record of the group.
How will it all shake out?
Injuries and the Covid crisis could affect the second half of the season as much as the first.
Nick Chubb, Wyatt Teller, Austin Hooper and Jacob Phillips were all back at practice today for the #Browns.

— Camryn Justice (@camijustice) November 9, 2020
While the Browns are getting healthier, nobody can predict what other challenges lie ahead.
Three teams behind the Colts have reasons for optimism, too.
Winning streaks from Denver, New England, or Cincinnati could propel any of them into the Wild Card hunt.
But Cleveland needs to focus on the teams out front.
Here are three things that could clinch a playoff appearance for the Cleveland Browns.
1. Cleveland Can't Look Past Anybody 
It might be difficult to fathom the Cleveland Browns would take any opponent lightly, given their losing history.
But they are human, and their most recent history has them in playoff contention.
Five of the Browns' last eight games are against teams with losing records.
At least four of them will be out of playoff contention at game time.
Here are the five easiest remaining schedules in the NFL, per ESPN Analytics:

1. Ravens
2. Packers
3. Browns
4. Vikings
5. Steelers

NFL's toughest remaining schedules:

1. Falcons
2. Jaguars
3. Broncos
4. Rams
5. Cardinals

— Jamison Hensley (@jamisonhensley) November 10, 2020
Philadelphia will visit Cleveland as NFC East division leaders at 4-4-1 or even 3-5-1.
Despite their leader status, they will be desperate to prove they can beat a playoff-caliber opponent.
Losing to the Eagles, Texans, or Jaguars over the next three weeks won't kill their chances, but it would deliver a blow to the Browns' playoff hopes.
Later in the season, Cleveland comes off tough games with the Titans and Ravens to face both New Jersey teams.
Both the Jets (0-9) and the Giants' (2-7) have defenses that can keep them in games allowing any mistake to lead to an upset.
And anything less than 5-0 against their lesser foes could cost the Browns a 2020 playoff entry.
2. Beat the Titans in Tennessee 
Tennessee leads the AFC South with a 6-2 record and a 4-2 conference record.
But they face the 5-3 Colts head-to-head over the next three weeks, sandwiched around a game in Baltimore.
The Titans could host the Browns in Week 13 as a formidable 9-2 runaway division leader.
Just as easily, they could be a reeling 6-5 team desperate to get back into the playoff hunt.
The next three weeks will be huge in the AFC South:

Week 10: #Colts at #Titans on TNF
Week 11: #Titans at #Ravens, #Packers at #Colts
Week 12: #Titans at #Colts

Could see a three game swing plus the tiebreaker in either direction between now and the end of the month.

— Mike Herndon (@MikeMiracles) November 9, 2020
Cleveland can't let down against the Titans regardless of the situation.
A 6-6 conference record is not a strong position to be in for tie-breakers.
Beating the Jaguars, Texans, and Jets would give the Browns 6 conference victories.
But they need to steal a seventh win against the Steelers, Ravens, or Titans to strengthen their playoff position.
Beating the Titans could make tie-breakers a moot point as it could leave the Browns with a formidable 11-5 overall record.
3. Settle Things By Week 16 
As we see heading into Week 10, all that might not be enough to assure a playoff spot.
Las Vegas and Miami are in the driver's seats as things stand now.
But a 5-3 or 6-2 record is not as easy as it sounds for most teams in the NFL.
Cleveland Browns RBs

Among the top 30 RBs in touches/game:

N Chubb
▫️ RB1 in Yards Created/Touch (3.40)
▫️ RB5 in Evaded Tackles/Touch (36.7%)

K Hunt
▫️ RB5 in Yards Created/Touch (1.95)
▫️ RB6 in Evaded Tackles/Touch (33.8%)

Efficiency + 8th easiest ROS RB schedule = 🔥🔥🔥 pic.twitter.com/GS0g1eZkc0

— Marvin Elequin (@FF_MarvinE) November 4, 2020
Five of Miami's next six games are against non-playoff contenders, starting with the Chargers in Miami.
Three of their remaining games are against teams dreaming big- the Broncos, Bengals, and Patriots.
The Raiders' schedule also appears favorable, but they face the Broncos twice and still have their second game against the Chiefs along the way.
You can see why Denver believes their playoff hopes are still alive.
If the Raiders or Dolphins slip along the way, their Week 16 matchup in Las Vegas could decide their playoff fates.
Since one of them has to lose, that game could decide Cleveland's fate, too.
In Week 17, Miami travels to freezing Buffalo, Vegas deals with the thin air of Denver, and the Browns host the Steelers.
Any of those teams would do well to lock up a playoff spot before their final game.
Or The Browns Could Just Win Out 
Cleveland's prior matchups with Pittsburgh and Baltimore don't offer much hope for a victory in their second.
But crazier things have happened and we never know what Kevin Stefanski has up his sleeve.
There is a reason they play the games, and last season's big win in Baltimore is a prime example of "on any given Sunday."
Stefanski hopes the team can get a 'big boost' from a bye that provided plenty of healing up and self-reflection

📰 » https://t.co/snFeXDM4pu pic.twitter.com/nxSmMFqoYO

— Cleveland Browns (@Browns) November 10, 2020
After their Week 8 loss to Oakland, fans can be forgiven for worrying about all the games on the Browns' schedule.
Improving their overall defensive play and getting healthier will go a long way toward winning out.
But Baker Mayfield is the key, and that is better news than many of his detractors will admit to.
Even in the Raider's loss, Mayfield played better than he did earlier in the season.
The flair and confidence we saw in the second half of his rookie season look ready to break out again.
And getting Wyatt Teller and Nick Chubb back in the huddle won't hurt.
Another 5-3 effort could do it, but 6-2 is better, and 8-0… Well, we can dream!