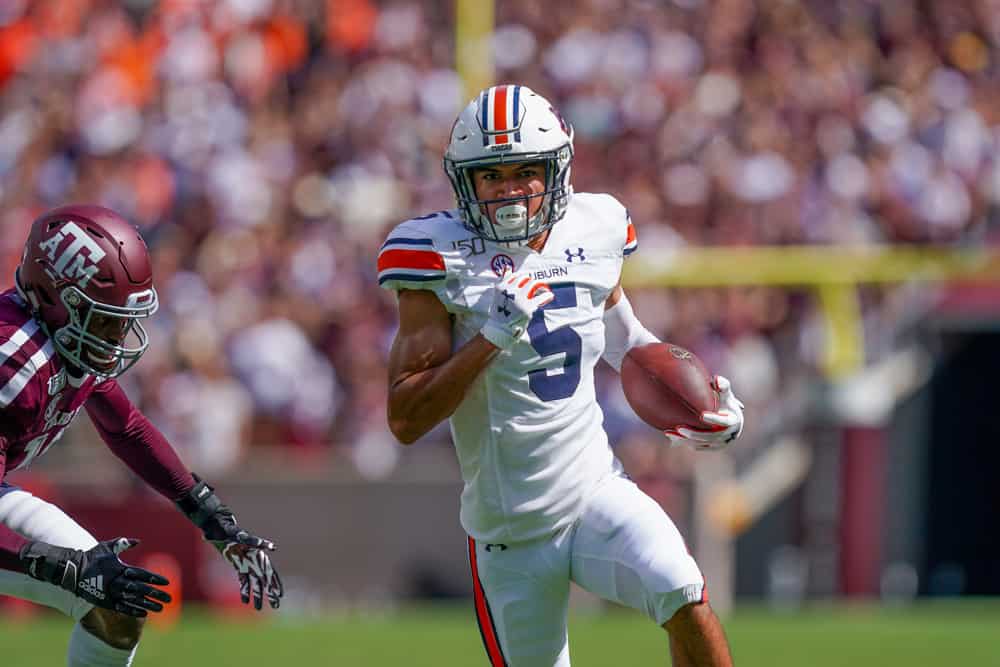 After a near-total overhaul of the Cleveland Browns defense, Andrew Berry finally got offensive.
Wide receiver Anthony Schwartz of Auburn joins the Browns after being drafted with the 91st overall selection.
And if the goal was to get a fast receiver, Berry might have over-achieved again.
At No. 91, the #Browns select #Auburn WR Anthony Schwartz who can absolutely fly. Maybe the new fastest player in the NFL.

— Ian Rapoport (@RapSheet) May 1, 2021
Schwartz is a world-class sprinter, with a series of gold medals and records under his belt.
He was a member of Team USA's 4×100 meter relay team at the 2017 Pan American Games and the 2018 U20 World Championships.
Both teams took home the gold, while Schwartz also took a silver in the individual 100-meters at the World Championship.
Schwartz can certainly take the top off a defense and force safeties to lean his way in coverage.
Browns just got the fastest player in the NFL Draft, Anthony Schwartz💨

— PFF Draft (@PFF_College) May 1, 2021
And when Jarvis Landry and Odell Beckham Jr are on the field with him, Baker Mayfield's job becomes much easier.
Most pre-draft analyses expected Cleveland to go after a fast wide receiver.
Despite waiting until the third round, Berry grabbed the fastest receiver on the draft board.
How Schwartz Fits Into The Browns Offense
Berry's third-round pick is far from guaranteed a role in the 2021 game plan.
Speed kills, but it helps if a wide receiver can track a deep ball and catch it.
Auburn did not boast a stellar passing game, and that hurt Schartz's opportunities to impress.
But more than a few analysts feel he might surprise in a pro-level offense with a more accurate passer.
And since Baker Mayfield is among the most accurate deep passers, Schwartz will get a chance to thrive.
Welcome to Cleveland, Anthony Schwartz!#BrownsDraft pic.twitter.com/NyPo8dl5Df

— Cleveland Browns (@Browns) May 1, 2021
Besides his speed, Schwartz brings a typical wide receiver presence at 6′ and 186 pounds.
He sports a career 12.90 yards-per-reception average at Auburn with 117 catches and 1433 yards.
But for a deep threat, his low total of 6 career touchdowns stands out.
He'll need to work on adjusting to the ball and improve his short game if he wants to see the field more.
If he can tackle, a role as a gunner might put him on the sideline for gadget plays right away.
Schwartz is a speedy question mark that Kevin Stefanski will try to answer quickly.