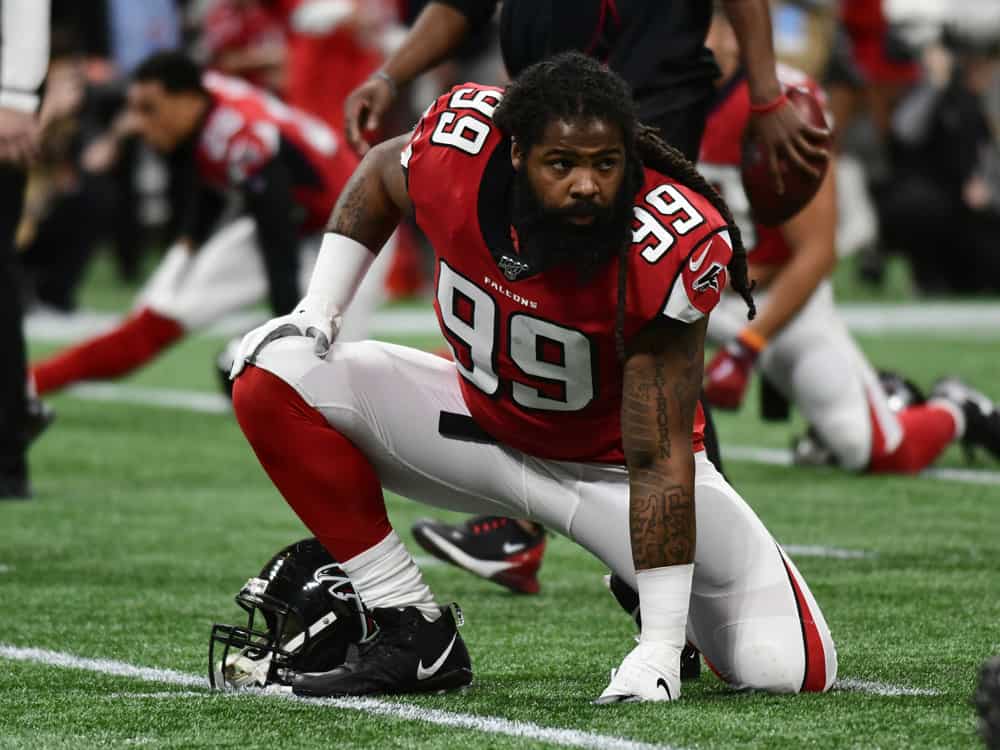 On Tuesday, the Cleveland Browns signed veteran DE Adrian Clayborn to a two-year deal.
Adrian Clayborn is set to make $5.75 million over the course of the next two seasons but could make up to $6.75 million in incentives.
At 31 years old, the 2020 season will be his 10th season in the NFL.
Here are three things to know about the Browns' new acquisition.
#1: A Successful NFL Career
Honestly, we would break this part up, but there is just one word to describe Clayborn's career, which is successful.
Clayborn is a former first-round pick that spent his first four seasons with the Tampa Bay Buccaneers.
During his tenure, Clayborn sustained two season-ending injuries, which led to his eventual release.
His best season came in 2013, where he recorded 64 tackles.
Since Tampa Bay, Clayborn has been used as a rotational piece, but also a fill-in starter.
The top 5 edge rushers with 200+ snaps in pass rushing win rate according to PFF last year:

1.JJ Watt (25.3%)
2.Myles Garrett (25%)
3.Joey Bosa (22.9%)
4. Za'Darius Smith (21.2%)
5. Adrian Clayborn (21.1%)

Love this signing as a rotational/depth piece #Browns https://t.co/gJ0M8CJAwK

— Johnny Blitz (@johnnyblitzz) March 31, 2020
Clayborn has spent four of the last five seasons with the Atlanta Falcons, where he has appeared in at least 13 games.
Last season he appeared in 15 games and recorded 18 combined tackles, 7 tackles for loss, and 4 sacks.
#2: Clayborn Suffered Erb's Palsy
When Clayborn was born, he was diagnosed with a condition called Erb's Palsy.
The condition is something that is caused during birth by an injury to the nerves surrounding a child's shoulder.
He suffered nerve damage resulting in loss of some movement and weakness in his right arm.
This loss happened because his head and neck were pulled to the side as his shoulders passed through the birth canal.
During his younger years, Clayborn underwent physical therapy and eventually overcame the limitations.
If that wasn't enough, when Clayborn was 10, his older brother was shot and killed in northern St. Louis.
In high school, Clayborn was a two-time all-state selection and the 2005 Missouri Player of the Year.
In 2018, ESPN wrote a feature on his work towards becoming an NFL athlete.
This week's "football journey" is with veteran DE Adrian Clayborn (@AJaClay), who has been an inspiration to many by making it to the NFL despite Erb's palsy. https://t.co/t2mowsw9VA

— Mike Reiss (@MikeReiss) September 21, 2018
#3: Six Sacks In One Game
As of today, Clayborn is the Falcons' record holder for most sacks in one game.
In a Week 10 matchup against the Dallas Cowboys, Clayborn recorded a franchise-record six sacks.
He was one sack away from breaking the NFL record of seven (held by Derrick Thomas), as the Falcons defeated the Cowboys 27-7.
Adrian Clayborn, you are a MONSTER.

A franchise-record SIX sacks in one game! pic.twitter.com/YlBIrNmCYh

— Atlanta Falcons (@AtlantaFalcons) November 13, 2017
Clayborn was named the NFC Defensive Player of the Week just days later.
It turns out that one day amounted for nearly one-fifth of his career sack total.
In his career, he has 36.5 sacks.
It was later revealed that Clayborn considered retirement, but his wife talked him out of it.